Boo! It's October.

Now we'll grant you, it's October everywhere but October in Cape May is not all ghouls and goblins – for one thing Oktoberfest, sponsored by Historic Jackson Street Neighborhood Association, is like TODAY, so if you're reading this some other day, you missed it.

You are not too late, however for Victorian Week, October 7 -16, a time in which we celebrate all things Victorian. For another thing – the birds are here. The Cape May autumn migration – specifically the Hawk watch - runs from September 1 through Nov. 30th. October, however, is the peak period. In fact the 58th Annual N.J. Audubon Weekend/The Bird Show is October 28-30.

Experts are on hand at the Hawk Watch Observation Platform at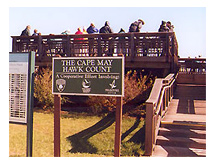 Cape May Point State Park to help beginners identify the many species of raptors and birds which fly by on their way south. Their real job though, is to count the numbers of raptors. Cape May Point is a world famous migration capital. No place in North America offers more spectacles more consistently than Cape May, NJ and nowhere else will so many birds and so much birding talent be assembled in one place - at one time.
The annual Autumn Weekend, offers some friendly, easy-paced birding with field trips to Cape May's birding hotspots, boat trips, indoor and outdoor programs and workshops given by expert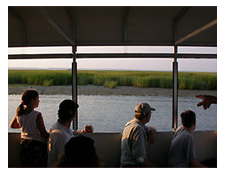 naturalists, book signing, live hawk and owl demonstrations. And Cape May Convention Hall will be filled with vendor exhibits including wildlife artists, carvers, gifts and crafts, conservation organizations, tour and optic companies, and more. Something for everyone - this is one celebration you will want to be part of, whether you are a first time birder or a seasoned naturalist looking for that something special that Cape May brings to birding. Takes place at Convention Hall from 10am-5pm. Please visit their website or call 609-884-2736 for more information.

You know what else we have that no one else has? The Lima Bean Festival. At one time, we were the
lima bean capital. We celebrate the Lima Bean and honor it at this very cute October 15th festival held at the Wilbraham Park in West Cape May from 9 a.m. to 5 p.m. There'll be food – all things lima bean plus other stuff too. There'll be entertainment and best off all – the crowning of the Lima Bean Queen.

Victorian Week, of course, dominates the month. Sponsored by the Mid-Atlantic Center for the Arts, (MAC) the 33rd annual Victorian Week is Cape May's 10-day extravaganza of tours and events t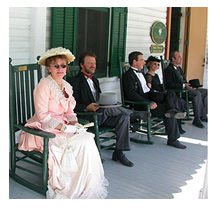 hat celebrate the Victorian lifestyle. Highlights include Historic House Tours, which showcase the unparalleled collection of famous restored Victorian bed and breakfast inns, guesthouses and hotels that are the signature of this National Historic Landmark City. Featured activities also include: Private Homes Tours, murder mystery dinners, antiques and crafts shows, Victorian fashion shows, glass blowing demonstrations on the lawn of the 1879 Physick Estate, brass band concerts, workshops, tours and lectures.

Whew – that's a lot of stuff to do. But wait – don't forget Halloween.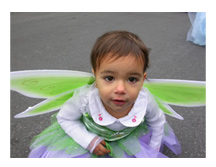 There are ghost tours a plenty.
The most popular activity, however, is still the annual Halloween Parade. Held this year on October 23rd. Registration begins at 1:30 on Lyle Lane behind City Centre Mall. Judging will begin at 2 and the parade starts at 3 p.m. The parade travels down Carpenter's Lane onto Ocean Street and then down Washington Street where it ends at the Emlen Physick Estate where there'll be a little party for the participants.

Also the Washington Street Mall Association is sponsoring a Trick-or-Trick Sunday October 30th from 2-5. Participating merchants will have a sign in their window telling Trick-or-Treaters which stores are ghoul friendly.

Other ghoulish activities include a variety of ghost tours including the Original Haunted Cape May Tour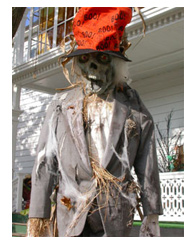 which begins on the Promenade at the corner of Howard Street and Beach Avenue, across from the very haunted Hotel Macomber. Tickets can be purchased ahead or at the Boo-Tique located under the Hotel Macomber on Beach Avenue. For more information and schedules call 609-463-8984 or visit their website.
In addition, you can enjoy an "Evening Ride with the Ghost Writer. The tour, based on the writings and findings of psychic medium Craig McManus, is offered every weekend beginning Oct. 8th but on Oct. 27-Oct 29th , the author himself will be your guide as you explore Cape May's spookiest sites. The tour begins and tickets are available at the Washington Street Mall Information Booth. To reserve tickets in advance, call (609) 884-5404 or (800) 275-4278 or visit www.capemaymac.org.
If you're interested in an adult evening out – costume required of course, try the Phantom of the Opera Dinner, Friday, October 28th at the Mad Batter or Saturday, Oct. 29th Congress Hall is sponsoring its Phantom Ball.
Phantom of the Opera Dinner includes a three-course dinner. There will be a Halloween Costume Contest with prizes for the best and worst costumes. $45 per person. For more information or to make reservations, call 609-884-5404 or 800-275-4278.
Congress Hall's Phantom Ball celebrates the spookiest night of the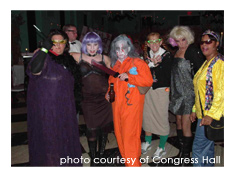 year at Congress Hall. The annual Phantom Ball has great food, frightening fun and a host of great prizes. Costumes are a must...and must see! Congress Hall is offering it's Phantom Ball package; a 2 night weekend package - including 2 tickets to the Ball on Saturday night, 2 tickets to a ghost tour on Friday night and breakfast each morning. For more information please call 609-884-8421 or visit their website.

Here's the thing, yes, we have a lots of stuff going on to bring you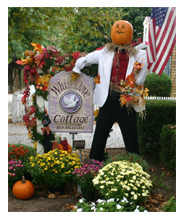 down here and keep you entertained, but the weather, especially the first two weeks, is usually still very warm and very fabulous. Crisp, clear, sunny skies, great sand, and fabulous views. The crowds are dwindling – although – be prepared – because weekends are still VERY busy so you do want to make sure you make reservations not only for your accommodations but for dinner as well. Saturday night is Saturday night and the tables fill quickly. Bottom line? It's a great time to visit. So come on down.