The Promenade
Cape May's promenade runs parallel to Beach Avenue and stretches for nearly two miles, taking you on a scenic walk or run past Cape May's spectacular beaches. Though it's referred to as the "Boardwalk," our promenade is actually paved (the last wooden boardwalk was destroyed in the 1962 nor'easter).
The promenade is your gateway to the beach and unparalleled views of the ocean. There are a handful of businesses along the way, including candy stores, arcades, and ice cream.
The end of the promenade (or the beginning, we suppose, depending on your point of view) is a covered pavilion that overlooks the Cove beach and is a popular location for weddings.
Promenade Rules
Bicycle riding is permitted before 10am. No roller blades are permitted on the promenade.
Dogs are not permitted on the promenade.
---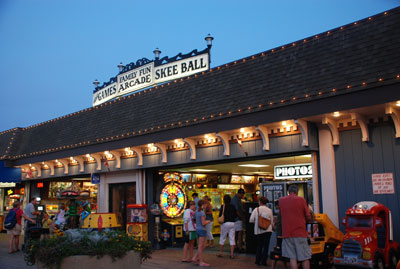 Located on the Promenade
Arcades
Want to try your hand at Skee-Ball or a racing game? Hit the Cape May promenade and check out the arcades. Cape May's arcades are seasonal.
Cape May Arcade
406 Beach Avenue, Cape May - (609) 884-1311
Family Fun Arcade
732 Boardwalk, Cape May - (609) 884-7020
Cape May Beach Patrol
Cape May Beach Patrol
Beach & Grant St
Cape May, NJ 08204
Cape May Convention Hall
Find out about Cape May's Convention Hall
Comfort Stations
See locations of public restrooms
Dining and Shopping
There are a few stores and restaurants located along the Promenade, including Morrow's Nut House, The Original Fudge Kitchen, Pete Smith's Suft Shop, and McGlade's on the Pier. These are all in the vicinity of Convention Hall.