Tennis Courts in Cape May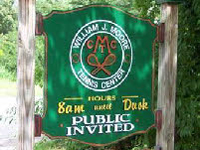 The William J. Moore Tennis Center, located next to the Emlen Physick Estate, is open year-round. The club is open to the public and has on-site parking. There are 16 courts. Clay composition and hard surfaces available. Fees apply.
There are free public tennis courts in Middle Township (about a 20 minute drive) just off of Exit 11 on the Garden State Parkway. There are three courts, all hard surfaces. Courts close in early evening. Warm weather only (nets are removed during the winter). These are part of Cape May County Park Central (which includes the zoo, located across the street).