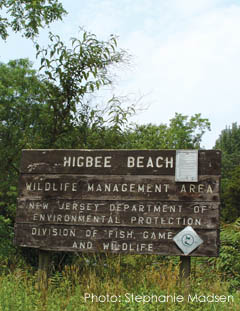 This one-and-one-half mile stretch of beach at the tip of Cape Island, along the Delaware Bay, draws people passionate about all sorts of natural pursuits: bird watching, sunbathing in the nude, picking beach plums, picnicking with the family, hunting for Cape May diamonds, taking the dogs for a run, fishing and hunting. Higbee is a stage for some of the best bird watching in the world. It has lured botanists for decades searching the dunes for nearly extinct brambles and flowers.
You can find Higbee Beach as New England Road dead ends, and opens into the thick woods and swamp that shelters the beach from view. A right hand turn and the road diverges into the trees, hanging heavy with entangling wild white roses and pale yellow honeysuckle. The dirt road ends at the beach, the bay and the Cape May Canal. The scent of the flowers on a calm, cool June morning is a rare delicate perfume. The horizon opens wide, the Cape May-Lewes Ferry Landing straight ahead across the canal. The ferry heads out into the bay and disappears in the mist. The fog horn sounds every 15 seconds.
You can see the entire stretch of Higbee Beach, containing the last remnants of coastal dune forest on the bay shore. The dunes soar more than 35 feet high in some places, the sand cliffs dropping sharply to the shoreline. The forest of holly, red cedar, sassafras, persimmon, northern bayberry, scrub oak, wild black cherry, common wax myrtle and beach plum stabilize the dunes, despite winds that whip across the 12 mile wide bay, at its confluence with the Atlantic Ocean.
Several hundred acres of woodland upland shroud the beach with a dense under story of tangled vegetation. There are a freshwater marsh, two fresh water ponds, a hardwood swamp and old farm fields, all of which combine to provide a perfect environment for migratory songbirds, raptors and butterflies. The 1,069 acre Higbee Beach Wildlife Management Area grows frequently as the state of New Jersey buys land threatened with development. It is managed by the Division of Fish and Game and overseen specifically to provide a habitat for migratory birds. Higbee Beach is comprised of six different locales: Signal Hill, Davey's (or Davis) Lake, Pond Creek, Sassafras Island, Hidden Valley, and the Magnesite Plant.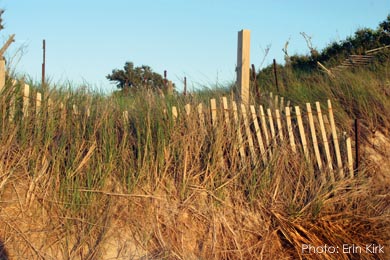 Each has its own characteristics and characters who frequent it. Davey's Lake is a spot on the southern end of Higbee where local boys played hooky, went skinny dipping, and teens gathered to sip their first surreptitious beer. Hidden Valley was once a 92-acre farm between Bayshore Road and the Pond Creek Marsh. The Dickinson family, preferring it be preserved rather than developed, sold it to the state in 1986. Part of the acreage is known as Hidden Valley Ranch, and is leased for equestrian activities. The fields, trails and swamps are well known to birders.
The history of Higbee Beach goes back to the time of whaling here in Cape May County. According to Cape May County: A Pictorial History, written by Herbert Beitel and Vance Enck; "Higbee Beach played a prominent role in the early history of the county. One branch of New England Creek emptied into the bay where the canal is now located. A deep 'hole' in the bay offered an excellent mooring site, at first for whaling fleets and later for sloops that carried wood cut by farmers eager to clear the land, to Philadelphians desirous of warming their homes."
Higbee Beach has had an illustrious intellectual past. The Cape May Geographic Society listed as its members scientific men of letters. A member until the Society disbanded in 1991, Keith Seager of Cold Spring has explored, photographed and shared his Higbee finds for 40 years. Among his photos are pictures of a very rare wild orchid, Spiranthes oderata (pictured bottom left), which grows only at Higbee. He is most proud of his picture of coast bedstraw (pictured bottom right), a ground cover. "It took me 20 years to find it," he says.
Seager cherishes his affiliation with the Geographic Society and sought out an expert book binder to preserve the Society letters. They included botanists, geologists, and specialists in paleontology from the University of Pennsylvania, the Academy of Natural Sciences and Franklin Institute in Philadelphia. Their 1946 charter promises to explore, collect and exhibit materials related to the marine life, birds, other fauna, plants and the geological background of South Jersey. They agree to share their writings in a newsletter, and to provide a weekly column for the Cape May Star and Wave.
The curator was Otway H. Brown, a highly respected Cape May botanist, though he only went to the third grade. He supervised the plantings at the Physick Estate in Cape May, lived on the fringe of Higbee Beach and was an intimate of the Higbee family. Brown's 1877 home (now yellow) still stands at the intersection of New England and Bayshore Roads.
Geographic Society member Robert Alexander chronicled some history of the beach's namesake: "At one time all of the land between the two creeks (New England, where the Cape May Canal is now, and Pond Creek) was owned by Joseph S. Higbee…" He began purchasing the land in 1823, "and came in full possession of the whole plantation in 1830. This plantation remained in the Higbee family for over a century."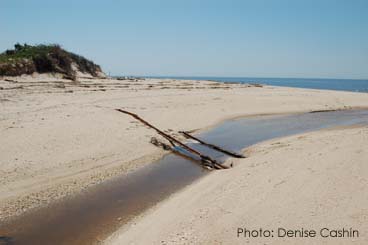 As early as 1807, there was a tavern at the mouth of New England Creek where travelers procured food and drink and lodging. This tavern was owned by Thomas and Rhoda Forrest from 1807 to 1823, and was called "Aunt Rhody's" or "Rhoda's Hole."
The Hermitage Hotel, according to Alexander's account, "was a large building comprising three distinct parts apparently erected at different times. Upstairs there were the bedrooms for guests and the employees. Among the legends about the inn is one telling that pirates brought their captives here, forcing them to go up the narrow stairway scarcely wide enough for passage, to the attic where they were securely bound and held for ransom. The inn, which stood at the south side of the present dirt road, remained a landmark until about 1940." Seager claims there is still evidence of the foundation in the woods, as New England Road forks right toward the bay.
Alexander's research found that Delaware River pilots, of which Joseph Higbee was one of the most famous, and sailing vessels used Higbee's beach as a landing spot "bringing passengers down the river from Philadelphia before the landing was established near Cape May Point. After spending the night at the inn, the passengers resumed their journey to Cape Island, the old name for Cape May City, by stagecoach. "
Joseph Higbee died in 1872 at the age of 75. Despite the sometimes wild and raucous 184-year history of the woods and beach he owned, he rests in peace behind a heavy filigreed wrought iron fence in the family plot at the 1714 National Historic Landmark Cold Spring Old Brick Presbyterian Church Cemetery on Seashore Road, four miles from his namesake beach. His tomb stone reads: In memory of Joseph S. Higbee, son of Joseph S. and Martha Higbee, October 9th, 1796, February 4, 1872.
Stories have been written that his brother Thomas Horres Higbee, who inherited the property, devised a scheme to keep the plantation in the family as long as possible.
Thomas told his friend Jeremiah Eldredge as they sat under a big old cherry tree at the inn, "I want Etta (his niece) to have this place after I am gone, and if I am buried here, I know she won't sell it." Years later when Etta died, Thomas' remains were removed from the beach to a vault prepared for the two of them at the Old Brick Church. And the property was sold, leaving the Higbee family tree about seven years after Thomas' death.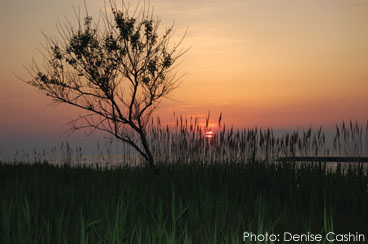 The Higbee name for this special place lives on as does its colorful and sometimes notorious life.

With the advent of World War I, Higbee Beach moved into a different limelight – the industrial one. Eugene C. Grace, president of Bethlehem Steel, who was from Goshen and familiar with Cape May, needed "proving grounds" for munitions testing of artillery shells. In 1915 he purchased a tract of land along Higbee Beach for that purpose. It shut down shortly after the war ended, but remnants of its past lingered on the beaches. Joe Jordan's book Cape

May Point –the Illustrated History: 1875 to Present quotes Dave Rutherford who remembered that his father discovered a five and a half inch artillery shell along the beach one day in the 1920s which he kept in the house until his death. When the Navy Weapons Depot in north Jersey took possession of it, they had it exploded . "It had blown a crater in the ground big enough to swallow a bus."

During prohibition (1920-1933), Higbee Beach was the site of a bootlegging operation. According to

Jeffery Dorwart, author of Cape May County: The Making of a Seashore Resort: "Rumrunners unloaded Scotch whiskey from freighters beyond the three-mile limit off the Jersey Cape." The high dune called Signal Hill got its name because it was a look-out for rumrunners.

More recently, Higbee Beach has had its share of controversy. The area's unique nature lures all kinds of people. Many of them are interested in mating and migration rituals – although not always of the fine feathered variety. Several micro cultures over the years have laid claim to Higbee and, at times, there is intense conflict over the type of natural expression that can be enjoyed on the beach and along the trails that snake up and over the dunes and around the open meadows and fresh water ponds.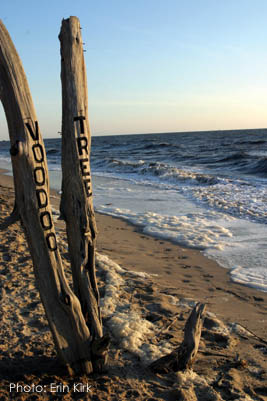 Locals always skinny-dipped in the bay and romanced on lovers' lanes far off the beaten path. The 1960s produced more travel and tourists everywhere, and Higbee, known mostly to locals and birdwatchers, began to draw crowds, especially those who preferred to go nude. Higbee became a naturist's destination – with nudity on the beach unchallenged for many years.
Jordan writes in his Cape May Point book: "The public's interest in nudists may be curiosity, lust or indignation. Besides the occasional passersby, the bathers were to be found in the binoculars of countless seafarers and fishermen, whose power boats assembled close to the shore for a really good look. Even the giant ferryboats listed to starboard or port as their passengers gathered at the rail to see what they could see on Higbees Beach as they were entering or leaving the nearby ferry terminal."
Conflict did erupt. Neighbors on New England Road and Sunset Boulevard confronted Lower Township officials declaring there was lewd and lascivious behavior going on at the beach. The township answered, passing a law in 1986 banning nudity. This was an important beach for naturists and they continued to take off their clothes, contending that since it was owned by the state, Lower Township had no authority. It was a battle fought in the courts, and the naturists won that one. A decade later state courts did a flip flop: no more nakedness on Higbee Beach.
Nudists took issue. They were being stripped of what they had been enjoying for many years: a safe, secluded environment, "to relax and enjoy the beauty of the human," says Robert Morton, who helped fight for the nude beach in his position as executive director of the National Naturist Society.
"Losing Higbee Beach is a great failure for us," says Morton. "Naturists treasured this special beach. We fought the New Jersey state legislature, which in 1999 wrote a law on the grounds [alleging] there was illicit sex on the beach. Members of the legislature questioned how are authorities to make a distinction between good and bad naked people? They punished everyone and took the naturists' liberty," says Morton.
The new law allowed municipalities such as Lower Township to police and enforce nudity laws on state land. To give the bill some bite, the state awarded Lower Township police a $120,000 grant for enforcement. Authorities began sting operations using undercover officers to seek out indecent exposure and nudity. Last year Lower Township police issued 20 citations. Virtually all pleaded guilty and paid the $100 fine for first offense.
Bird watchers are the big winners in the passionate territorial struggles over the lands that are Higbee. Their numbers grow, and they are big business to Cape May's ecotourism economy.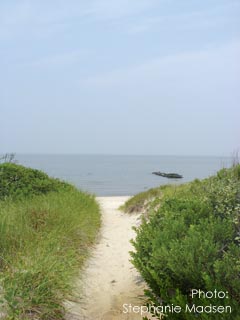 "Ask almost any birder in North America to name the best place to see fall migrating warblers and the answer is usually Higbee Beach," writes Paul Kerlinger, bird book author and outdoor columnist who lives in the Cape May countryside. "Night migrating songbirds and day migrating hawks move into the Cape May peninsula and find themselves surrounded by water. Higbee Beach is a haven that provides shelter, food, and a place to rest. For a birder, it provides wonderful opportunities."
One of America's best known birders and authors, Peter Dunne, executive director of the Audubon Society's Cape May Bird Observatory, says that some of the most exciting experiences in birding happen at Higbee. "The greatest fallout ever recorded in the history of bird watching occurred at Higbee Beach in the spring of 2005. The fields were just festooned with birds. There were birds in the treetops and in the grassy sites by the side of the road. The birds were feeding in the fields – there were about 1,500 orioles in one spot, and we would walk a step and kick up waves of birds. A warm southerly flow of air had stopped migration in its tracks.
"Witnessing bird migration is a window into the power of the universe at a time species are increasingly estranged from their environments," says Dunne. "It is remarkable that unspoiled Higbee Beach is within a three hour drive of 50 million people. People come here and see a spectacle that is the equal of any natural history phenomenon on the planet."
This spring Dunne and his team shattered the old national record of species identified in 24 hours during the World Series of Birding in Cape May. They chose Higbee Beach and a site near Davey's Lake as their required 17-foot circle to record the birds by sight and sound. In 20 hours, from midnight to 9 p.m., with two folding chairs, one cot, two coolers, flanked by spotting scopes, they recorded 139 species, shattering the old record of 129.
But before birders and way before nudists, there were folks who just lived there. These were gentler times at Higbee when local families journeyed there on horseback for picnicking and gathering beach plums. Nancy McPherson was a Taylor whose great-great-great grandfather George Taylor settled on Cape Island in 1675. He became a large plantation owner, and his family still operates No Frills Farm on Seashore Road. Through the generations beach plums became a ritual. "My father was Sheppard B. Taylor, who operated a store on Columbia Avenue in Cape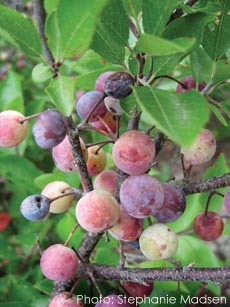 May, now Cliveden Cottage," says Nancy. "He had a horse-drawn produce and milk route. Each of us four children had our own pony. We rode into Cape May on Sundays after church, and we trotted out to Davis Lake at Higbee and in season, carried along buckets and brought home gallons of beach plums."
To this day, Nancy, now 76, makes beach plum jelly – lots of it. It is her art form, her passion. Last year she put up 1,100 half-pints. She distributes her clear rose-colored jars to local produce stands for sale. A few years ago Nancy gave up picking the fruit in the August heat and mosquito and poison ivy-infested Higbee dunes. Now she has several trees flanking the driveway of the old Taylor homestead where she lives, on Seashore Road. "I sit on a stool and pick a few quarts a day," she says. "Christmas would not be Christmas without my gifts of Nancy's beach plum jelly."
So, the next time you visit Cape May or if you're a local – drive, or bike on down New England Road. Walk the paths that lead to the beach and see if you can find the special places that make it Higbees. There are plenty to choose from: the voodoo tree, remnants of the Hermitage Hotel, old railroad tracks, the man in the tree.
And is it Higbee Beach, or Higbee's Beach or Higbees Beach or Higbees Wildlife Management Area (which is what the state signs say)? Just depends on who you are talking to, and who writes it.
---
This article originally appeared in the August 2007 issue of Cape May Magazine.