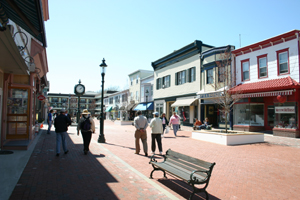 Although there are many events throughout the month, Saturday, June 21 as a "must go to Cape May day." The city has spent the winter months cleaning up her petty coats and is ready to show off her trousseau. June 21 is the first Harbor Fest celebrating the new Harbor Park, on Delaware Avenue (off Pittsburgh Ave.) and is also the rededication of the Washington Street Mall.
Thirty-seven years ago the city fathers and the Department of Urban Renewal got together and decided to turn Washington Street into a pedestrian mall. In November of 2007, city officials began the renovation of the mall which included replacement of the infrastructure (sewer and water lines), pavers and the landscaping. Seven months later, the mall has a brand new look! The city, in conjunction with the Washington Street Mall Merchants Association, has invited the public to the "Welcome Home Again" celebrations which will begin with a ribbon cutting at 10 a.m. in the 500 block of the mall near Our Lady Star of the Sea R.C. Church. Activities will continue throughout the day culminating with a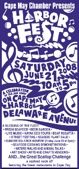 Dancing Under the Stars at Rotary park on Lyle Lane beginning at 4 p.m. with the Al Raymond Orchestra and concluding with the rock and roll songs of Bluebone (7-10.) For additional information about the event call 608-884-0555 or visit www.washingtonstreetmall.com.
Harbor Fest, which runs throughout the day on Saturday, June 21, is a celebration of seafood and song; the sea, its culture, and its ecology. Activities include a Summer Solstice Bonfire, story telling, song fest and marshmallow roasting; a summer night skies with the Willingboro Astronomy Club from the deck of the Nature Center of Cape May's Trucksess Center; a street festival with prepared fresh seafood, live musical entertainment, vendors and related displays, crafts and art; a blessing of the commercial fleet, a wreath laying at the fisherman's memorial,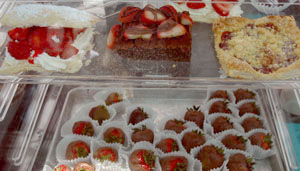 Harbor Safaris, Wharf Tours, a Coast Guard demonstration and kayak eco-tours. For additional information about Harbor Fest contact the Chamber of Commerce of Greater Cape May at 609-884-5508.
Another key June event is the annual West Cape May Strawberry Festival, Saturday June 7 at the Wilbraham Park, corner of Broadway and Perry. Strawberries abound in both edible and non-edible form. Rain date, June 8. Call 609-884-9325 for information.
As you can imagine, Cape May is quite the fishing spot and South Jersey Marina is the penultimate host for some of the most lucrative sport fishing in the U.S. The 28th Annual South Jersey Shark Tournament takes place Thursday, June 12 through Sunday, June 15. This is the richest shark tournament in New Jersey. In 2007 the purse totaled $270,930, not including the $50,000 Monster Shark Bonus. Please call 609-884-2400 or visit www.sjmarina.com for more information.

Friday, June 13 marks the opening of the Mid-Atlantic Center for the Arts' (MAC) Fourth Annual Designer Show House. This year's redesign is the Otis Townsend residence on 115 Reading Avenue, currently owned by David and Myra Kurkowski. The 1915 Craftsman style house has been restored to its original glory and made over by some of the region's top designers and suppliers. The 2008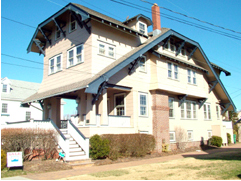 Designer House is open through Sunday, Oct. 19 from 10 a.m. to 3 p.m. daily and 7 p.m. to 9 p.m. Sunday through Friday. Admission is $20 for adults and $15 for children (ages 3-12). Dinner and show house tour combinations will be available at selected restaurants Sunday-Friday. Breakfast at Aleathea's at the Inn of Cape May, 7 Ocean St., and show house tour combinations are available Sundays at 9 a.m.
There's still time to catch the 19th Annual Cape May Music Festival which concludes June 15. Concerts take place on Sunday, Tuesday and Thursday evenings. Because of the closing of Convention Hall some venues have changed. All concerts begin at 8 p.m. On Sunday, June 1 the Montreal/Philly-based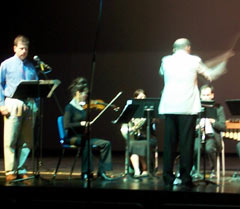 group Shtreiml will play at Cape May Elementary School on Lafayette Street. They offer a high-octane mix of not-so-traditional Eastern-European Jewish and Turkish music. The Bay-Atlantic Symphony: Heartstrings will play at Congress Hall on Thursday, June 5 and will feature violin soloist, Rachel Lee. The venue for June 8 (the Dixie Hummingbirds) as well as June 15 (local favorite George Mesterhazy and Friends) goes off the island to the Paul W. Schmidtchen Theatre at Lower Cape May Regional High School in Lower Township. Call MAC for details. There will be a shuttle bus to take you there and back. And it's back to Congress Hall Thursday, June 12 for another Bay Symphony offering: For the Birders. For Information or tickets, call 609-884-5404 or visit www.capemaymac.org. Credit card orders may also be made by phone at 800-275-4278 or 609-884-5404.
In the world of art, Sandra Bloodworth's oil painting will still be on exhibit at SOMA Gallery in Carpenters Square mall at Perry Street and Carpenters Lane until June 15. June 20 a new exhibition opens. Hot Fun – the provocative oil paintings of Sean Taylor will run through July 27. Meanwhile on Jackson Street at the Mad Batter Restaurant water color paintings by artist Nancy Trombino will be on display until July 16 as well as the pastels and water color/pen and ink landscapes of Glenn and Linda Fellenbaum (running through June 25.) Meanwhile water color artist Marie Natale's exhibition Summer Sisters, depicting the nature and people of the Jersey Shore, with its long tradition of creating "summer families" runs through June.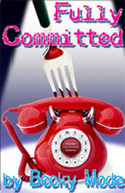 In the world of theater, Cape May Stage's production of Fully Committed by Becky Mode runs through June 28. In the basement of Manhattan's trendiest and hottest new restaurant, Sam Peliczowski is an out-of-work actor who mans the red-hot reservation line. With the phones ringing off the hook, Sam juggles a range of eccentrics – from scheming socialites and name-dropping wannabes to fickle celebrities and egomaniacal bosses. It's a frenetic 90-minute circus high-wire act featuring 40 characters and only one actor! Shows run Wednesdays through Sundays at the Robert Shackleton Playhouse at Bank and Lafayette Streets. Please call 609-884-1341 or visit www.capemaystage.com for more information.

Over at the First Presbyterian Church on Hughes and Decatur streets, East Lynne Theater opens their 2008 season June 18 with a 1923 comedy by Philip Barry – You and I. After the children are grown, do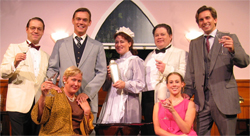 parents get to do what they want to do? Maitland gave up painting to become a successful businessman, so his wife, Nancy, and his children would be financially secure. When his son declares he's going into business instead of pursuing his passion for architecture, Nancy suggests that Maitland leave the business world, and paint. They can live off the money they would have spent on furthering their son's education. Or can then? The production runs through July 12. Performance Days (except where noted): Wed., Thurs., Fri., Sat. at 8:30 p.m. For more information or to reserve tickets call 609-884-5898 or visit www.eastlynnetheater.org.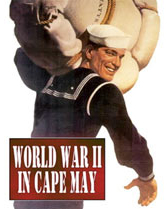 Of course there is always a plethora of tours sponsored by MAC, the highlight of which this month is World War II Weekend – Friday, June 6 through Sunday, June 8. Cape May went from resort town to a pivotal part of America's homeland defense efforts during the war years. On the weekend of the anniversary of D-Day, this is your chance to reminisce about the war years and learn about how World War II affected the town and the residents. The weekend includes a program of music from the war years, lectures, presentations, a Naval Air Station Wildwood Tour, a World War II boat cruise, trolley tours, and a Veterans Memorial Ceremony at Sunset Beach. Ticket prices vary per activity. For more information or to reserve tickets call 609-884-5404 or visit www.capemaymac.org.