[an error occurred while processing this directive] Cape May Beaches, Cape May NJ Beaches, New Jersey Beach Vacations, Best Beaches in NJ [an error occurred while processing this directive] [an error occurred while processing this directive]
Cape May Beaches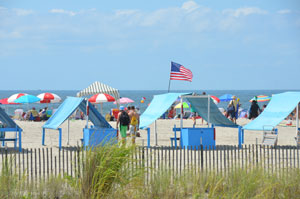 Cape May has some of the most beautiful beaches in the country. From Higbee Beach to Poverty Beach, Cape May is a beach-loversí paradise.
Lifeguards
Lifeguards protect swimmers and surfers until 5:30 PM daily during the summertime.
From now to the end of the month, lifeguards and cleanup crews will getting the beaches and lifeguard headquarters ready for winter. During this winterization process, lifeguards will still respond to emergencies if necessary, but they are not officially on duty.
2015 Beach Tag Rates
Beach tags are available at the City Hall Tax Office and at all beach entrances during the summer. Rates are per person. Children 11 & under free.

When are beach tags required in Cape May? In season, you must have a beach tag to use Cape May's beaches. Tags are required between the hours of 10:00 a.m. and 5:00 p.m., from Memorial Day Weekend in May through Labor Day in September. Beach tags are required for all beachgoers 12 and over and will not be supplied by your accommodations.
Where can I buy beach tags in Cape May? In season, beach tags can be purchased at any beach entrance from beach patrol crews and at City Hall. A maximum of five (5) seasonal tags, per individual may be purchased.
How can I buy beach tags by mail? If you have questions, call the City at 609-884-9525 (but they won't let you order by phone). To order beach tags, send a check to 643 Washington Street, Cape May. There is a flat $3.00 shipping fee per order. A maximum of five (5) seasonal tags per individual may be purchased.
Please note: The City of Cape May prohibits the transferring of seasonal beach tags. This means that no one is allowed to give you a tag to use on a temporary basis, be it an individual or a commercial establishment. It is also illegal to "rent" or pay a deposit fee for the use of a seasonal tag. In the event you are offered and use a seasonal tag that you do not own, you could be subject to the confiscation of the tag and a fine.
Beach Rentals
888-473-6964
www.geareduprentals.com

Geared Up Rentals provides bicycles, linens, beach gear, and more straight to your rental property, hotel, or B&B. Simply order online and they will deliver your order to you on your check in date free of charge!

(609) 884-3058
stegerbeachservice.com

Steger Beach Services has proudly served the beaches of Cape May for over 80 years. Our family owned and operated business accommodates beach goers with all amenities required for a good old fashioned day at the Jersey Shore.
Beach FAQs
Food and Drinks

You can bring coolers and food onto the beaches. However, alcohol is not permitted on Cape May city's beaches. There are a variety of food and drink vendors located across Beach Avenue, all along the beachfront, serving up your favorites from pizza to hot dogs to funnel cakes.

Is there parking near the beach in Cape May?

Metered parking is available along the beachfront. Free parking is located several blocks in on smaller side streets. See Parking in Cape May

Can I bring an umbrella, tent, or canopy to the beach?

Yes! There are no restrictions on beach tents, beach umbrellas, or beach canopies as long as they are not permanent structures. You are welcome to bring them with you for daytime use. (You are not permitted to camp overnight on the beaches, however.)

Are dogs permitted on the beach?

Dogs are not allowed on Cape May City beaches during the summer months. They are allowed along the Delaware Bay year-round, and on Higbee Beach during certain parts of the year. More about pets in Cape May

Are bonfires or cooking allowed on the beach?

By city ordinance, fires are not permitted on Cape May City Beaches, nor may any portable device be used for cooking. By state law, fires are not permitted on Higbee Beach Wildlife Management Area.

Where are the nearest restrooms?

Comfort stations are located along the promenade.

Are there volleyball courts in Cape May?

Volleyball nets are available at Steger Beach (Beach Ave & Jackson St) and at 2nd Avenue Beach (2nd Avenue & Beach Ave). They've on the beach, so you will need a beach tag to play. BYOB - Bring Your Own Ball.

Surf Chairs

The beach patrol provides surf chairs free of charge to persons with mobility impairments. Surf chairs are to be signed out prior to 4:00 pm on the day of the request and are to be returned the same day. Chairs cannot be reserved in advance. Use of the surf chair is restricted to the promenade and beach front. Please contact the City of Cape May at 609-884-9525.

Which beach should I choose?

Whether you're interested in seeing friends, returning to a traditional spot, convenient food and beverage, solitude, or nearby shopping, there's beach that's just right for you in Cape May. All of Cape May City's beaches are family friendly and clean, and close to restrooms and food. Read "Which beach is THE beach?" to learn more about the different beaches in Cape May.

What is the address of the beach?

A lot of people ask for the address of the beach, so they can punch it into their GPS systems. The beach doesn't have an address, so we'd recommend simply looking at a map or zoom out on your GPS until the water is visible on screen, then drive toward it. The beach runs parallel to Beach Avenue.

If you must use your GPS, punch in 251 Beach Avenue. That will put you in front of Congress Hall, and you can't miss the beach once you're there.

Are there public locker rooms or showers?

There aren't any public lockers or showers in Cape May. If you don't want to carry something with you, we'd recommend leaving it in your car. There are showers along the beachfront for washing off sand, but they are not enclosed. Still, they should let you get enough sand off that you would be comfortable for the ride home! There are public restrooms along the promenade also.

Is there a public swimming pool in Cape May?

There are no public swimming pools in Cape May. Many hotels and motels offer this amenity, so consider this accommodation choice if a pool is on your must-have list. If you need an indoor pool, the Grand Hotel and the Wilbraham Mansion B&B offer this option. In fact, the Wilbraham Mansion is the only B&B in Cape May with a swimming pool.

Is Higbee a nude beach?

No. Higbee Beach Wildlife Management Area is owned by the State of New Jersey and is subject to state laws. It is not and has never been a nude beach. Because the State did not actively patrol the beach, several years ago, people took advantage of this technicality and bathed in the buff. However, local police now have the authority to arrest you — and they will arrest you — if you are found sans bathing suit. Higbee is a great place to take your dog in the off-season and a great beach for birders.

Can I fish on Cape May beaches?

According to city ordinance, fishing is permitted along the beaches, groins and jetties east of Baltimore Avenue; and within an area 100 feet east and west of the Queen Street jetty and on the Queen Street jetty.

The Evening Flag Ceremony at Sunset Beach

The evening flag ceremony is held daily during the season (May through September). All flags flown at Sunset Beach are veteran's casket flags that families bring with them. Visit sunsetbeachnj.com for more information about the ceremony or to reserve a flag ceremony date.
[an error occurred while processing this directive]