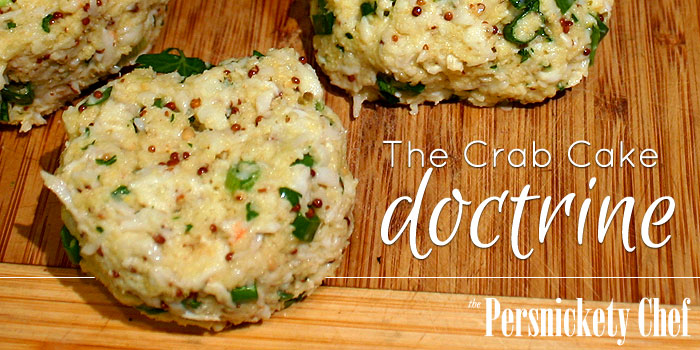 The Pacific Northwest has their salmon. New England has their lobster. In the Mid-Atlantic States we tend to be a little crabby. For the truly crabby, only Blue Claw Crabs will do. Don't waste your breath talking Dungeness, King or Stone. In these parts we know what we want and it is Blue Claw Crabs. Steamed and tossed on a picnic table garnished with cases of beer and sweet corn, swimming in cream and vegetables in a soup or methodically manipulated into a patty, we enjoy our Blue Crabs. The last variation may be the most popular. Making a great crab cake is a badge of honor that chefs and cooks wear proudly. Sadly, many crab cakes miss the boat on achieving greatness. What makes a superior crab cake?
In my, not so humble, opinion, the key to success is honoring the main ingredient. Too many chefs contaminate their cakes with ingredients that mask the delicate flavor of crabmeat rather than enhance. Green and red peppers are an abomination. Green peppers add a bitterness that disrupts the palate. Red peppers can be used in a sauce or relish with the crab cake, but need to be put in their place. They are a supporting player not the star. Scallions and chopped parsley are okay adding contrast without overpowering. Mince or chop secondary ingredients finely, the only large chunks you want in a crab cake are the sweet nuggets of jumbo lump crabmeat. That leads to the next key to success, mixing.
When buying crabmeat – the bigger the lumps of crab, the bigger the flavor and the bigger the hit to your wallet. The most common and unforgivable crustacean crime is turning jumbo lumps into crab sawdust. Fold your binding ingredients GENTLY into the crabmeat. Use your hands carefully turning the crab into the liquid mixture as you pour. The binding ingredient should be added next. This ingredient has only one function: to hold the jewels of crab in place. Many chefs over think this step and try to add a kitschy item like pretzels or potato chips as a binder. Keep it simple. I prefer panko bread crumbs for their neutral flavor. Crustless bread cubes will also do the job and blend into the background leaving the crab flavor at center stage. Mix your binder into the liquid ingredients and let sit for a few minutes for the best results. When adding seasonings, remember less is more. Some crab cakes have sent me into an old bay induced coma. This spice mixture should be used sparingly.
I prefer to griddle or pan fry my crab cakes since they aren't cloaked in breadcrumbs as opposed to deep frying.
Good chefs know when to let the ingredients speak for themselves. Creativity in crab cakes is best saved for sauces and accompaniments. With crabmeat costing close to $25 a pound, I want my crab cakes to taste like sweet east coast Blue Claw Crab.
Enjoy my award-winning crab cake recipe and video (not award winning, but helpful and informative all the same). Until next month, Bon Appétit.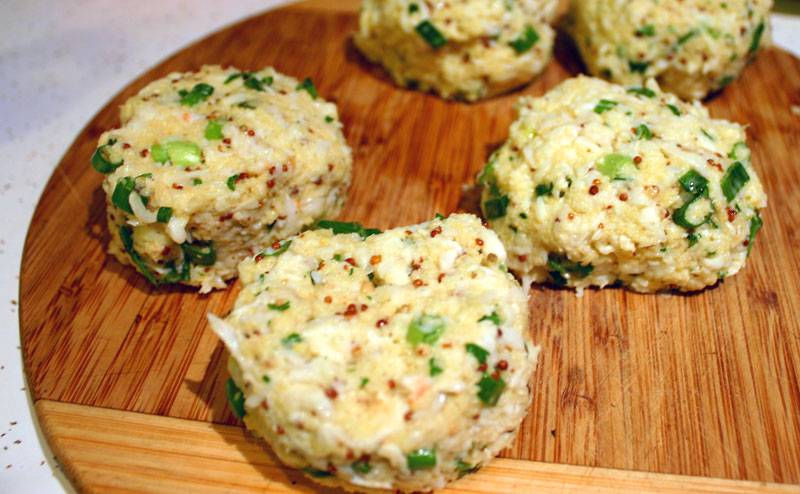 Persnickety Chef's Award-winning Crab Cake Recipe
Ingredients
1

pound

jumbo lump crab

1

bunch scallions

minced

2

Tbsp

minced parsley

1

tsp

Old Bay Seasoning

2

eggs

1

cup

mayo

1

cup

panko bread crumbs

Salt

pepper

2

Tbsp

whole grain mustard
Instructions
Mix all ingredients gently.

Let mixture rest 30 minutes.

Pan fry by heating sauté pan. Add oil to lightly coat pan. Cook 4-5 minutes per side.
Video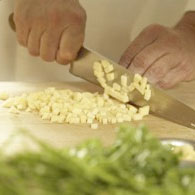 Jon Davies is a graduate of Johnson and Wales University of Culinary Arts. His work as a chef has taken him to Aspen, Colorado; Cape May, NJ; and the odd private jet for culinary gigs for the rich and famous.