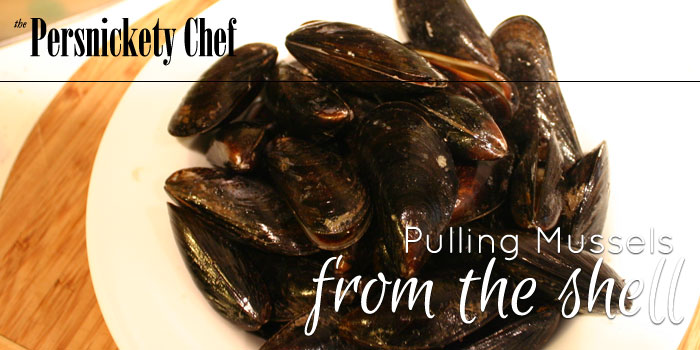 I never understand why some foods are more popular than others. Mussels are the black sheep of the shellfish world. Inexpensive to buy and simple to prepare, mussels are shunned by the public more readily than an Amish teenager with body piercings and a sports car. Lacking the sex appeal of oysters and not as boldly flavored as clams, mussels need some muscle in the P.R. department.
No shucking required. Mussels, unlike oysters and clams, don't exact a blood sacrifice on behalf of the kitchen staff. Cleaning mussels only requires the ability to yank the "beard" which doesn't take a whole lot of effort. There is no strenuous activity needed on the part of the diner in eating mussels, unlike crab or lobster and they pair well with beer or wine.
The best quality mussels come from cold water sources. The black shell varietal that hail from Prince Edward Island and are marketed by the brand name PEI mussels are my personal favorites. This Canadian province harvests some amazing seafood. The line grown mussels are a shining example of sustainable aquaculture. Mussels are also high in protein and low in fat in cholesterol in comparison to other shellfish. As a chef this makes me feel better about adding cream and butter to my mussel dishes.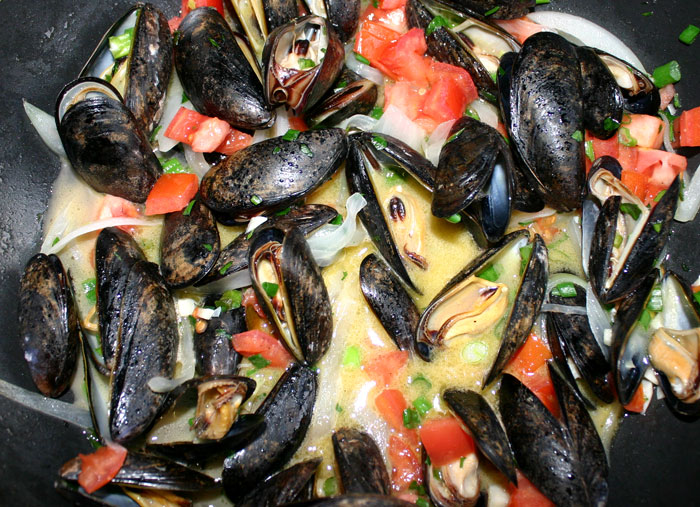 All a cook needs to make a tasty mussel dish is a deep sauté pan with a tight fitting lid. Armed with these tools, mussels can be transformed into a vast array of dishes by utilizing the same basic technique and varying the aromatic ingredients you choose to add. The mussels will steam releasing their nectar gleaned from the sea laying the foundation for your sauce.
Heat your pan over high heat, and then choose your sautéing fat. Most of the time I opt for olive oil, rendered bacon however is always a close second. Next you are going to add your vegetables, onions, leeks, shallots, carrots, fennel or a combination of all the above. Lower the heat slightly. The goal is to draw out the flavors from the vegetables to accent your sauce. Now it is time for seasoning. Garlic, red pepper flakes, thyme, mustard, red or green curry paste. Sweat these aromatics out and let the flavors fill the air. Toss in your clean mussels and some liquid, such as beer, wine, coconut milk or your favorite red sauce. Cover and wait. Luckily you won't have to wait long since the aromas will have you salivating.
After about 8-10 minutes, peek to see if all the shells have opened relinquishing their treasures. At this stage a finishing technique such as whipping in chunks of whole butter or splashes of heavy cream can be applied for those who crave rich and decadent flavors. For some extra panache, squeeze a fresh lemon and add chopped fresh herbs into the sauce. Ladle the mussels and sauce into bowls, slice some crusty bread to sop up the sauce and enjoy. Watch the video for a basic mussel preparation. I look forward to hearing about your variations and experimentations. Until next month, Bon Appétit.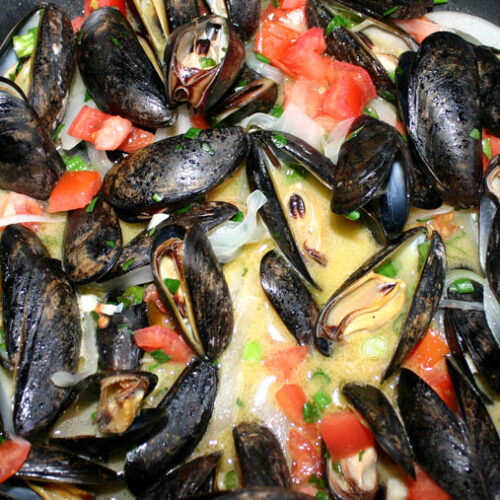 Mussels in Wine Sauce
Ingredients
2

lbs

Prince Edward Island

PEI mussels, scrubbed

1

onion

diced

4

cloves

garlic

minced

¼

cup

olive oil

1

cup

white wine

3 to

matoes diced

1

bunch scallions diced

3

Tbsp.

butter

Kosher Salt and pepper
Instructions
Heat large sauté pan over medium heat. Add oil. Sweat onions over medium heat 2-3 minutes.

Add garlic, tomatoes and mussels.

Add wine. Cover. Steam 7-8 minutes.

Add scallions and parsley.

Whisk in butter season and serve.
Video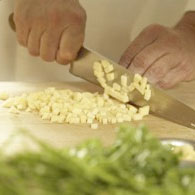 Jon Davies is a graduate of Johnson and Wales University of Culinary Arts. His work as a chef has taken him to Aspen, Colorado; Cape May, NJ; and the odd private jet for culinary gigs for the rich and famous.