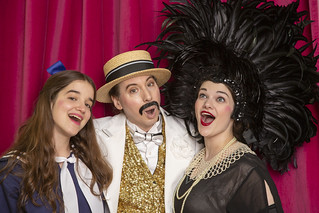 REV Theatre presents 'How Ya Gonna Keep 'Em Down on the Farm' Victorian Vaudeville at Physick Estate- CANCELLED
(CAPE MAY – Oct. 6, 2020) REV Theatre in association with Cape May MAC Museums+Arts+Culture) presents "Victorian Vaudeville: How Ya Gonna Keep 'Em Down on the Farm" at the Physick Estate's outdoor stage Saturday, Oct. 10 & Sunday, Oct. 11 at 1 p.m.
'How Ya Gonna Keep ''Em Down on the Farm" is a diverse display designed to dazzle and delight. This show includes such razzamataz, ragtime favorites as "Toot Toot Tootsie," "When The Red, Red Robin Comes Bob, Bob Bobbin' Along," "Some of These Days (You're Gonna Miss Me Honey)," "Bye, Bye Blackbird" and "Makin' Whoopee," with many other favorites that made Vaudeville great.
Roll your stockings down, rouge your knees and shimmy your beads over to REV's Vaudeville for a thigh-slappin', toe-tappin' heck of a good time! Performances are one hour and admission and parking is free. Donations are welcome. Bring your own chair and blanket and spread out on the expansive Physick Estate lawn.
Cape May MAC (Museums+Arts+Culture) is a multifaceted, not-for-profit organization committed to promoting the preservation, interpretation and cultural enrichment of the Cape May region for its residents and visitors. Cape May MAC membership is open to all. Visit capemaymac.org/support/membership to learn more. For information about Cape May MAC's year-round schedule of tours, festivals and special events, visit capemaymac.org. For information about historic accommodations, contact Cape May Historic Accommodations at capemaylodging.com. For information about restaurants, accommodations and shopping, call the Chamber of Commerce of Greater Cape May at 609-884-5508. For information on the city's COVID-19 response, please visit capemaystrong.org.