This month's column tackles a subject matter that rears its ugly head each November. This topic has been known to cause rifts in families and stir deep-seeded emotions. No, I am not talking politics. I am talking about the proper way to cook your Thanksgiving turkey. An impr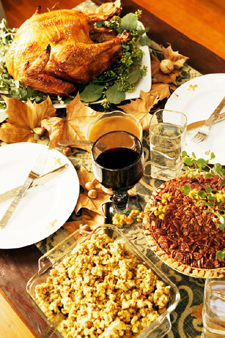 operly cooked turkey can ruin the whole day that no amount of window dressing can save. In other words, you can't put lipstick on a dry turkey.
Everyone has the perfect foolproof way to prepare their Thanksgiving bird. After relentless polling among fellow chefs and home cooks, three cooking methods are the front-runners in Turkey Decision '08. Each candidate has strong advocates as well as detractors. The candidates in Turkey Decision '08 are Oven Roasting Plain, Brined Roasted Turkey and Deep Fried.
First, is the Traditionalist Party candidate – Old-fashioned Oven Roasting. This candidate may lack the flash of the more contemporary candidates, but has a proven track record and broad popular support. When oven roasting, it is necessary to provide some extra fat, but no pork, under the skin. This will create a self-basting turkey and the trickle down effect of the extra fat will ensure a juicy turkey. Traditional roasting takes the most time 4-5 hours for a 20-pound turkey at 325 degr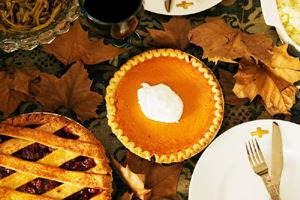 ees. This veteran method should be seasoned with salt pepper and fresh sage and thyme. All turkeys should be cooked to 165 degrees internal temperature, and should be allowed to rest 20 minutes to let the juices settle. In years past this candidate was stuffed with extras, but this is now considered unsafe and may have an ill effect on the constituents.
Candidate number two – Brined Oven-Roasted Turkey – is prepared much like its conservative cousin oven roasted turkey. This candidate's appeal is enhanced by a spread the flavor approach. Brining requires advanced planning preparation and space to work successfully. Brining is a mix of salt, sugar and water. Balance is important; otherwise the result can be unpalatable. Additional spices o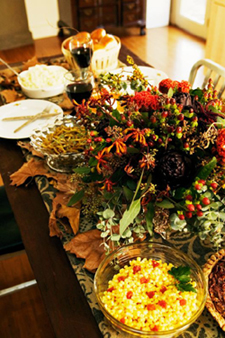 r seasonings can be added to create a unique personal result. This candidate yields the most flavorable turkey but may have limited appeal to a broad-based constituency.
The third candidate – Deep Frying – is the newcomer to Thanksgiving and the most controversial. The mere mention of its name divides people immediately. Traditionalists say it's greasy and even dangerous. More open-minded people like its short cooking time, excellent flavor and moist texture. Opponents and proponents both have valid points. First the negatives. Deep-frying requires a special infrastructure investment. You need to invest in a turkey fryer. You also need outdoor space. Dirt or a grassy knoll are recommended. Avoid wood decks. Oil will stain concrete. Good weather is another essential component. Rain and frying turkeys is a bad combination. Other resource investments include: oil (approximately five gallons), drill baby drill, canola or peanut work best due to high smoke point; an injector for marinades; a flavor stimulus package; and a thermometer and turkey fryer basket for safe removal of turkey are also necessary.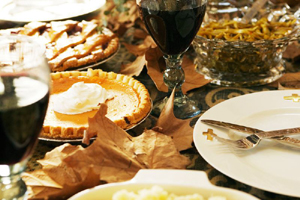 All of the additional costs are long-term investments since they are renewable resources. Sadly, the oil is an expensive investment that is not renewable, but essential to the success of this candidate. Deep-frying is the trickiest technique, but its proponents swear by the results. Its positive points include a moist turkey that takes about 3 minutes per pound to cook. A 15 pound turkey can be cooked in 45-50 minutes. Another downside – no pan drippings for gravy – turns many constituents away from this candidate.
This column strives for a fair and balanced approach to each candidate. To make an informed decision, peruse the candidates' profiles below and in Persnickety Thanksgiving style, cook early, cook often. Until next month, Bon Appétit.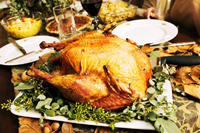 Traditional Roast Turkey
1 Turkey
8-12 sage leaves
½ Pound butter, softened
Kosher salt
Black pepper
Fresh thyme
Chop herbs and mix half with softened butter. Place under skin of turkey and spread all over under breast. Season inside of turkey cavity with salt and pepper and place extra fresh herbs inside cavity with a couple pieces of celery carrots and ½ onion.
In roasting pan place large chopped mirepoix (celery, carrots and onions.) Place turkey breast side up roast at 325° for approximately 15 minutes per pound. Note always use a thermometer when cooking turkey. Turkey should be cooked to 165°. Failure to do so can result in food borne illnesses. Cover turkey with foil for first half of cooking process. Remove foil for second half to brown skin. Baste every twenty minutes with pan drippings.
Apple Cider Brined Turkey
½ Gallon water
½ Gallon cider not juice
½ Cup kosher salt
½ Cup Demerara sugar
6 Crushed juniper berries
1 Tablespoon cracked black pepper
3 Bay leaves broken
1 Teaspoon cracked allspice
1 Teaspoon mustard seed
1 Teaspoon red pepper flakes
3 Cloves
1 Teaspoon dill seed
1 Teaspoon coriander
3 Cloves garlic
In large saucepan combine all ingredients, except cider. Bring to boil. Simmer 2 minutes. Chill. Add chilled cider.
In plastic roasting bag (Use only food safe bags, otherwise brine might leach chemicals into turkey.) place turkey pour brine over turkey. Tie tightly. Let brine 12-24 hours. Remove turkey from brine. Pat dry for crisp skin. Dry turkey for 6-8 hours in refrigerator. Roast at 350° until 165° is reached on thermometer.
Deep Fried Turkey
When deep-frying a turkey consult the directions of your turkey fryer to determine the amount of oil necessary. Use marinades only if you are using an injector.
• Pre heat oil to 375°
• Turn off burner before lowering turkey into hot oil
• Make sure turkey is very dry before frying
• Make sure you maintain frying temp of 350° throughout frying process
• Drain on paper towel and let rest 15 minutes before carving
• Never fry a stuffed turkey
I am the Persnickety Chef
and I approve of these cooking methods.
---
Editor's Note:
The following restaurants will be open for Thanksgiving dinner, November 27:
Blue Pig Tavern at Congress Hall
205 Beach Avenue
Seating 1 p.m. until 7 p.m.
For reservations call 609.884.8422
Ebbitt Room at the Virginia Hotel
25 Jackson Street
Seating from 2 p.m. until 7 p.m.
Kids half-portion and half-price
For reservation call 800.732.4236
Harbor View
954 Ocean Drive
Regular menu, plus special additions
Seating from 2 p.m. until 8 p.m.
For information call 609.884.5444
Peter Shields Inn & Restaurant
1301 Beach Avenue
Seating from 2 p.m. until 7 p.m.
4 course meal
For reservations call 800.355.6565
Union Park Dining Room
727 Beach Avenue
Seating from 3 pm until 8 pm
For reservations call 609.884.8811