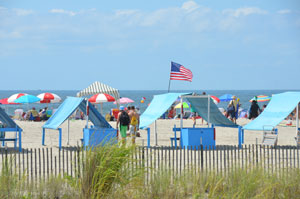 In 1976 the entire city of Cape May was declared a National Historic Landmark. Possessing one of the country's largest collections of 19th century framed buildings, Cape May is New Jersey's jewel in the crown.
Media
Cape May, the Queen of the Seaside Resorts, distinguishes herself in many ways. We have the pristine beaches, promenade, and all the amenities that make any seashore town lovely, but we also have a rich history and an architectural diversity equal to none.
Access our photo bank of high-resolution Cape May photographs
We have high-resolution photographs of Cape May's beaches, lighthouse, and Victorian homes available for editorial use. If there is a specific photo subject you need for your article or broadcast, please let us know.
To request access, write to media@capemay.com with the following information:
Your name and company
The title of the publication, TV show, or website
Subject/focus of the article or program
Expected date of publication/broadcast
Important: We are not affiliated with the City of Cape May. Do not contact us with advertising information or requests for lists of upcoming events/opportunities for media coverage. If you need assistance fact checking an article, we might be able to help, time permitting (we publish our own magazine).
---
Purchase Cape May stock photography
We offer single-use commercial licenses in our Commerical Stock Gallery. Photographs may be used in print only. For digital use, please contact us at 609-898-4500.