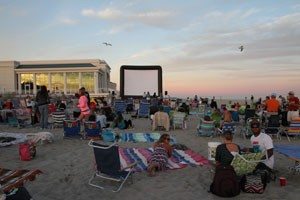 Bring a beach chair and a blanket, and enjoy free movies on the beach this summer in Cape May. No beach tags are required since this is a nighttime event.
2015 Movie Lineup
July 9 – E.T.
July 16 – Field of Dreams
July 23 – Hook
July 30 – JAWS
August 6 – Elf
August 13 – Spaceballs
August 20 – The Karate Kid (1984)
August 27 – Back to the Future
Where? Near Convention Hall (roughly across from the Beach & Stockton intersection). You'll see a giant, blow-up movie screen. It's hard to miss!
When? Thursdays at 8:30pm in July & August. In the event of rain, movies will be shown inside Convention Hall.