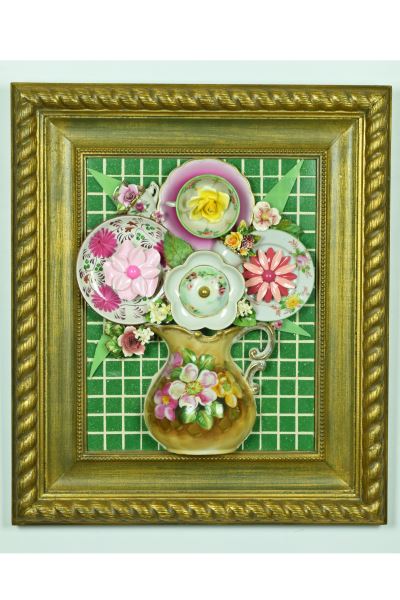 Carla Schaeffer and Laura McPherson Featured at the Harbor Gallery in Cape May
The Harbor Gallery is pleased to announce their featured local artists for the month of May. Mosaic artist, Carla Schaeffer and varied artist, Laura McPherson will display their works with an opening reception to meet the artists on May 7th from 4-6pm. All artwork is for sale, with a portion of sales going to support the Nature Center of Cape May. The show will remain on exhibit for the month of May. The Harbor Gallery is located at New Jersey Audubon's Nature Center of Cape May at 1600 Delaware Ave, Cape May. The Nature Center will follow all CDC Covid safety guidelines. Face coverings are required.
Carla Schaeffer brings new life to vintage treasures. "I have always been an avid re-cycler/re-user/re-claimer, and after furnishing and filling my home with vintage finds, it is only natural that this would eventually carry over into my artwork." Explains Carla. "As a mosaic, assemblage, ceramic, and jewelry artist, I enjoy piecing things together." Carla's unique found art floral displays are lovingly created using vintage treasures that she has rescued from antique shops, thrift shops, and flea markets. Her love of gardening and the vibrancy of color in life is reflected in every piece she creates.
When asked about the challenges of her work Carla adds, "By incorporating found objects into my mosaics, I have been able to take my search, rescue, rehabilitation, and upcycling skills to a whole new level. I love working with chipped, mismatched, broken, forgotten, or otherwise imperfect treasures. It gives me great pleasure to find ways to hide their flaws and turn them into beautiful objects of art. I especially enjoy the challenge of taking man-made objects and repurposing them to reflect the beauty we see all around us in nature."
Carla often uses objects that remind the viewer of their personal history or relationships, such as a mother's china pattern or a favorite enameled pin. This allows her to make a special connection with others through her art. "Every bouquet I create is like solving a puzzle while painting a picture, and it's all wrapped up into one very meditative process that challenges my brain and heals my soul."
Laura McPherson, a local native to West Cape May with a rich family history, celebrates her artistic talents in various mediums. The breathtaking natural environment that surrounds her on Cape Island inspires Laura. Pottery and jewelry making are her first passions. She often creates press molds from natural objects she finds on the beach to create her unique ocean themed pottery and jewelry. "Every piece of work I do has a little bit of that pride and love I have for the land and sea where it's made. Like me, my art is locally grown here in the southern part of the Garden State where my family has called home for generations." Explains Laura.
The Harbor Gallery will feature two local artists each month with an opening reception on the first Friday of the month. June's exhibit will feature the work of Janet Payne and Mary Byrne. For more information please contact Nature Center of Cape May 609-427-3045.