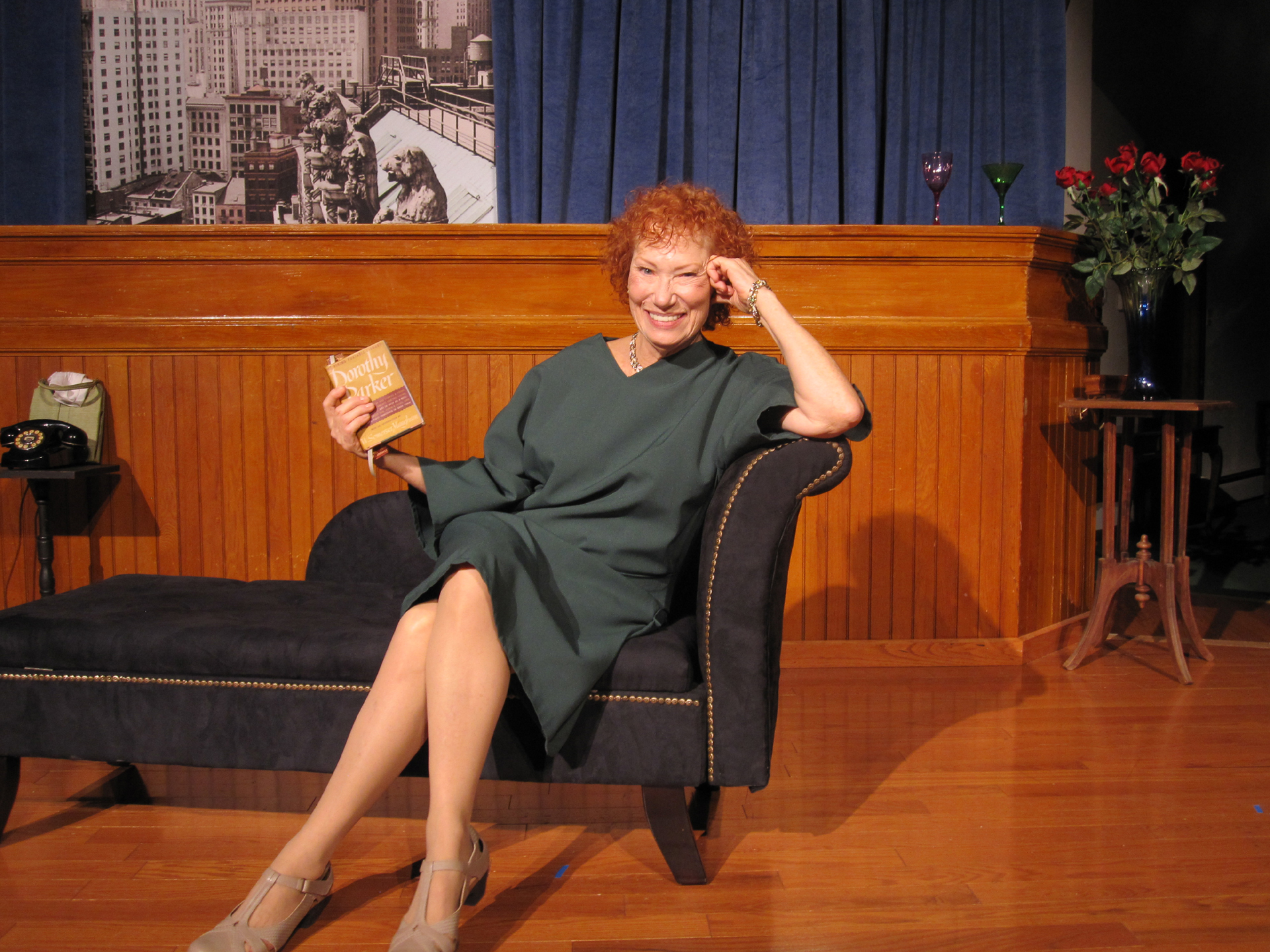 East Lynne Theater Company presents DOROTHY PARKER: A CERTAIN WOMAN
"When you see DOROTHY PARKER: A CERTAIN WOMAN, expect an evening of listening, learning and laughing." – Carol Emmens, "The Cape May Star & Wave"
"Dorothy Parker: A Certain Woman" was so successful when it premiered at the Equity professional East Lynne Theater Company during the fall of 2021, that ELTC is bringing the live production back in the spring of 2022, and is offering the filmed version from February 23 – March 5, Wednesdays through Saturdays at 8:00 PM. Ticket price is a minimum of $15, with the option to give more. ELTC is giving half of the ticket revenue to the NAACP. To purchase tickets, visit
Starring Suzanne Dawson, "Dorothy Parker: A Certain Woman" was compiled by James Rana and dramaturged and directed by Gayle Stahlhuth.  Bits about Parker's life are intertwined with her poetry and stories, such as "A Telephone Call," "Interior Desecration," and "Lady with the Lamp." This one-woman show is fully-memorized – not a reading.
Dorothy Parker (1893-1967) was a poet, journalist, critic, screenwriter, human rights activist and philanthropist. She was called a wit, a wise-cracker, and a nut. But above all, she was a Certain Woman. She was a member of the Algonquin Round Table, a popular writer for "The New Yorker," and a collection of her work, "The Portable Dorothy Parker," has never been out of print.
Suzanne Dawson's off-Broadway productions include "CBS Live" and "The Great American Backstage Musical." Her regional credits include "Sylvia" at Florida Studio Theatre and "Rumors" at Paper Mill Playhouse in NJ. She toured with "Rumors," and opposite Gavin Macleod in "Last of the Red Hot Lovers." ​In 2011, Dawson first performed "A Telephone Call" in ELTC's "The World of Dorothy Parker," created by Stahlhuth. Other ELTC productions include "Berkeley Square," "The Legend of Sleepy Hollow," adapted by James Rana, and recently, "Arsenic and Old Lace."
James Rana is currently in the national tour of 'The Band's Visit." He was also in the Broadway Tony-winning production.  Over the years, he's appeared in several ELTC productions including "Dracula" and "Strictly Dishonorable" and works he's written for the company include "A Year in the Trenches" that was commissioned by The New Jersey Historical Society.
Artistic Director Gayle Stahlhuth has performed Off-Broadway, in regional theaters, and in film and television.  Since 1999 she has been Artistic Director of ELTC, producing over 100 different plays and musicals for this company, and directed most of them.
NOTE: When you purchase your tickets through Ticketleap, you don't need to download your ticket, but it is advisable to download your receipt, and keep the receipt open on your computer until you check your-e-mails.  If you don't see an e-mail from Ticketleap either in New Mail or Spam, then save your receipt to your computer.  Both the receipt and the e-mail have "Live Stream."  When this is hit, you're taken to the countdown to when your show will air, and this is where you should be to watch the show on the day and time for which you purchased.  To watch on a Bigger Screen, hook your computer up to your flat screen tv with an HDMI cable. Closed Captioning is available on our YouTube Channel. Enjoy!