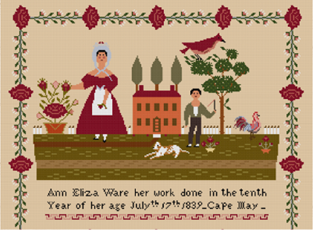 Historic Sampler Stitch-Along
The Museum of Cape May County is a treasure trove of historic samplers made by local women, and boasts one of the largest collections in New Jersey. Come stitch along with us as we recreate 10 year old Cape May resident Ann Eliza Ware's beautiful sampler from 1839. Ann Eliza Ware was born in Cape May on October 12th, 1829, to Samuel Fithian Ware (1800-1877) and Esther Teal (1801-1868). She married John Rutherford in 1847 and together they had eight children. Ann passed away on October 21st in 1905 and was buried in Cold Springs Presbyterian Cemetery.
We'll provide the pattern and kit, including floss and a stiff Aida fabric that does not require a hoop. You may bring your own hoop if you prefer to work with one. Please bring your own scissors (or share ours). We will not finish the entire piece in one meeting, so feel free to finish on your own or attend future stitch alongs (you won't need to pay for a ticket in the future since you'll have your kit already).
We'll be at the Museum Saturday, February 4th, from 10:00 am to noon, but feel free to join us at any time during that window.