The Beach Theatre, slated for the wrecking ball just three months ago, now appears to be on the brink of being saved. An agreement between a group of private citizens, spearheaded by City Councilman David Kurkowski and Mayor Jerry Inderwies, and Frank Management, owners of the 1950 complex, may be imminent.
City Solicitor Tony Monzo, representing a newly formed non-profit organization designed to acquire the Beach Theatre property, has been feverishly negotiating (pro bono) with the Franks' lawyers to come away with an option agreement. Funding for such an enterprise would have to come from a combination of private and public grant monies.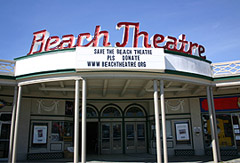 In addition, a plan has been proposed by Steve Jackson, who owns a home on Columbia Avenue, to renovate the theater, and bring it back to its 1950 luster, with a high-tech attitude and make it a "Mecca for filmmakers." Jackson is a high-powered advertising executive and senior vice president of the global division DDB Worldwide, one of the largest ad agencies in the world. Jackson is the creative genius behind such ad campaigns as Budweiser's Spud MacKenzie, "Whassup," and the Bud Light frog commercials.
According to the Jackson proposal, "The Beach Theatre will be the foundation to a plan that will establish Cape May as the
Sundance film capitol of the east coast."
Kurkowski said Jackson's proposal is "a good idea, a damn good idea.." He said the first order of business is to get a signed agreement with the Franks.
Negotiations to purchase the property got into full swing following a November Historic Preservation Commission (HPC) meeting in which the Franks applied to the commission for permission to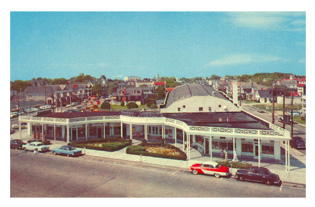 demolish the 1950s structure to make way for renovated retail areas and second-story residential condominiums. The HPC turned down the request stating that the application was incomplete and postponed the hearing until December 11th. In the meantime, Mayor Inderwies, City Manager Lou Corea and Monzo met with the Frank family January 4th in a "negotiation session" to discuss the possibility of acquiring the theater and eventually creating a center for performing arts. The results of that meeting gave city officials one month to come up with a proposal to save the theater. Kurkowski then took up the task of bringing together private citizens as well as organizations like the New Jersey State Film Festival (NJSFF), to form a separate non-profit organization which would take over the operations of the project once an agreement has been signed.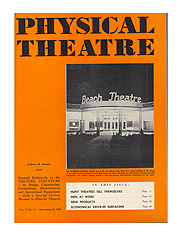 Many, including NJSFF founder Ron Rollet, believe the Beach Theatre, the brainchild of movie cinema mogul William C. Hunt, to be "an architectural gem." In 1949, Hunt determined that he would build a movie theater that was unlike any other movie theater. He conceived of this with architect William Harold Lee, a much sought-after Philadelphia architect. Beach Theatre is one of the last theaters remaining which Lee designed and which Hunt built. In a city known for its architecture, it is not surprising that Lee was a protégé of world renowned Philadelphia architect Frank Furness, who designed the Emlen Physick Estate on Washington Street. Lee was thought to be a world leader in movie theater design.
What Hunt proposed and what the architect came up with was a movie theater that was designed to have retail as a component part.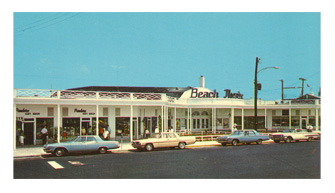 Although there is record of some movie theatres having adjoining storefront space such as the Somerville Theater (built in 1914) in Massachusetts, it was unheard of in the New Jersey/Philadelphia area. According to Rollet, it is quite possible that the Beach Theatre is the first example of a movie theater being built with retail to support the financing of the movie theater itself. This was necessary because Hunt was going to run the movie theater 12 months out of the year.
Already a movie theater mogul, Hunt opened one of the first "Nickelodeons" in the United States in Camden, NJ. in 1906 with an investment of $150. Hunt picked a seaside resort with a few wrinkles on her skirts and some dust on her bonnet in late 40s when he decided to build his movie theater masterpiece in Cape May.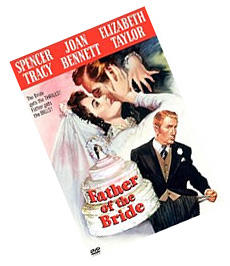 When it opened June 29, 1950 with the showing of Father of the Bride, starring Spencer Tracey and Elizabeth Taylor, Cape May was quite different than it is today. There was very little year round presence in the resort. The population and the income level were both quite low. Still, Hunt conceived of one of the largest theaters in the area with a seating capacity of 860, to be built in, all of places, Cape May.
"The money he put into that theater is astounding. He had the carpet design made specifically for the Beach Theater. He had the interior wood paneling designed specially for that movie theater. It had a sound system which was truly state-of-the-art, along with projection equipment also state-of-the-art," said Rollet. "I don't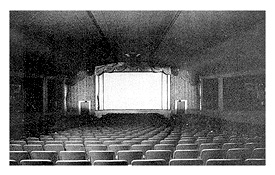 know any movie theater in this entire area that could seat over 800 people for a single screening in an auditorium. So you can see how large his vision was."
The following appeared in a Philadelphia trade magazine The Exhibitor in September, 1950: "Two eagles with wings spread full dominate the patriotic motif of the huge gold medallion mounted on the green side walls of the auditorium. An intriguing plethora of pastel colors is found in the various stage curtains, while the drapes on either side of the proscenium are in golden fabric."
It had a large lobby which could, according to Paul Andrus who managed the theater for over 30 years, accommodate over 200 people. It contained a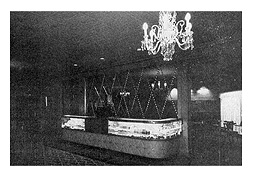 hand painted mural of the ferry coming into Cape May Point which incorporated, at Mr. Hunt's direction, historic figures that relate to Cape May. "One thing most people don't know," said Andrus, "is the original design had a spot for two ticket windows. The plan was to build a twin movie theater along the side where Louis' Pizza is. No one thought of doing anything like that in those days." Andrus said the Hunts had a policy of always renting to a candy store in all of their theaters. Even though it looked as though it was competition for the theater concessions, their thought was the rent they garnered from the candy store more than offset any candy smuggled into the theater.
"Behind the foyer candy counter, with its quilted leatherette front and glass top, is a comfortable lounge with table and chairs for those who to eat while they relax. On either wall are hung lighted photo murals of old Cape May, while crystal chandeliers hand from the acoustic tile ceiling." – The Exhibitor
"One of the things about his (Beach Theatre) design which will give you an idea of the kind of vision he had," said Rollet, "is that he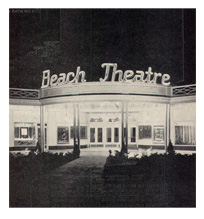 designed, right integral in the movie theater itself, a room which was called the Television Room where patrons could go in and experience this new form of media called television. (It was) shown in between screenings. One of the interesting issues about that is that when he built it Cape May didn't have television capabilities." There was no broadcasting (signal) down here. It would take two more years before he could actually use the television room. "It's a charming idea because you can imagine he was creating what we take for granted – a medium unknown to the public. I don't know of any movie theater" which incorporated that idea.
Former Cape May Mayor and local historian Bob Elwell remembers the television room and t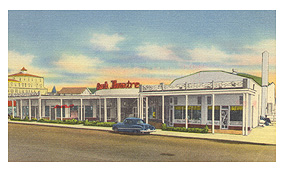 he lush gardens in front of the theater. "We didn't have a television back in those days," said Elwell, "and it was a great place to go. And I remember the flowers the Hunts planted in front of the theater." Although the planter was later cemented over, Elwell said the sight of hundreds of beautiful red geraniums from the promenade was striking.
"Modern conveniences and a green and gold color scheme (decoration by David Brodsky Associates) prevail throughout the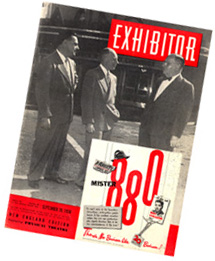 house. Natural wood paneling, exhibits of contemporary artists, and an adjacent television lounge are special features of the foyer." – The Exhibitor
"All this indicates," said Rollet, "why this is such and important historic theater because these elements as far as I know didn't exist in any other movie theater in this country. To destroy this kind of historic architecture - cinematic arch would be a terrible loss. And for a city that prides itself on its ability to retain and restore various examples of architecture, if we can't as a community restore the beach theater, then it's very poor reflection on where our values are."
SAVE CAPE MAY'S BEACH THEATRE!
Make a tax-deductible donation on-line
Go to BeachTheatre.org!
Or mail a donation to:
Beach Theatre Foundation
P.O. Box 258
Cape May, NJ 08204

Watch a piece on the Beach Theatre on YouTube HERE
Watch Channel 40 (NBC) coverage HERE