Imagine this – a weekend at a Victorian B&B or perhaps a Craftsman-style inn with a trained chef at your disposal. I don't know about you, but that is my dream weekend. Wrap in the ocean and a quaint, small town to go with it and you have – oh! – you have Cape May. So, when I heard Cape May has two, count them, two (that I know of) B&Bs with gourmet chefs doubling as innkeepers, I say to myself, oh what a wonderful world.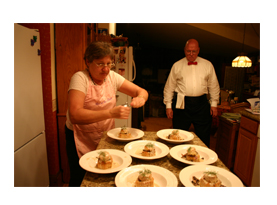 Both the Inn at the Park on Washington Street and Rhythm of the Sea on Beach Avenue offer their guests a chance to live The Life of Riley.
Three times a year innkeepers Jay and Mary Ann Gorrick offer their weekend guests a wine dinner. Served on a Saturday night, during the "shoulder seasons" the guests are treated to a five-course affair which includes hors d'oeuvres, appetizer, entrée, salad and dessert, each course accompanying a wine or champagne selected by Chef Jay, who received his training at the Culinary Art Institute (C.I.A.), following his departure at I.B.M. Mary Ann took courses at the C.I.A. as well, but only lays claim to being the sous-chef.
"The main thing you need to know is that Jay has two rules," says Mary Ann as she rolls out the dough and pours the filling into the tart pans and slides them into the piping hot oven, "Stay out of his way and do what he tells you to do. I try to, but I'm very nervous and like to move things along."
Food is part of the experience at Rhythm of the Sea everyday if the guests so desire. Chef Wolfgang (Wolf) Wendt and his able first mate, Robyn Wendt, offer dinner, as well breakfast, at this circa 1913 Craftsman-style inn. Wolfgang trained to be a chef back in Berlin, Germany. He immigrated to Canada and shortly thereafter came to America to work as a chef for the Sheraton Hotel chain. But he comes from a long line of entrepreneurs so it wasn't long before he opened his own café, eventually relocating to Winter Park, Colorado where he and his partner opened a ski lodge and where he met and married New Zealander, Robyn.
I recently decided to investigate what goes on behind the scenes at Inn at the Park and Rhythm of the Sea with absolutely no ulterior motives regarding imbibing and partaking whatsoever.
On a warm October evening, I arrive one hour before the appointed time at Inn at the Park. Hors d'oeuvres are to be served by fellow innkeepers Linda and Bob Steenrod of the Billmae Cottage, also located on Washington Street, at precisely 6 p.m. and consist of Smoked Blue Fish Paté served on endive spears topped with salmon caviar; Greg's (the Gorrick's son-in-law) Seven Layer Fiesta Dip served with tortilla chips and a French Onion Tart made with pâté brisée pastry and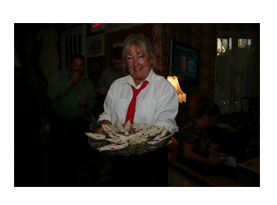 Bermuda onions. All served with a Charbaut & Fils, Cuvee de Reserve. Translation? A French brut champagne. All righty now – that's what I'm talking about. Not that I came here for the champagne and wine. I'm all about the story.
Chef Jay is already in his white coat and shorts – this is Cape May after all, it simply doesn't do to be too formal. He is pouring over his cookbook, his mind already two courses ahead. Meanwhile his sous-chef, Mary Ann, is busy rolling out the pâté brisée pastry for the onion tart. Jay begins to slice the wide variety of mushrooms – among them Portobello, crimini and shiitake – to be used as the filling for the puff pastry, served with a Calvados-laced cream sauce. A California Alma Rosa, Pinot Noir, 2005, will be the accompanying wine for this appetizer course.
While Mary Ann pours in the filling for the tart, he shows me how to deglaze the pan to make the base for the cream sauce. The smells in the kitchen are already heavenly – the beef tenderloin has been prepared ahead of time and is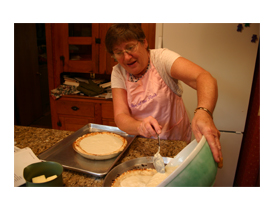 sitting waiting to be carved. It will be served with a Béarnaise sauce over garlic mashed potatoes with corn and broiled asparagus, all served with a Chateau Lagrange, Saint-Julien, Bordeaux, 1989 from Jay's private collection. The asparagus bunches sit stoically on the stove soaking in olive until it's their turn.
Just as the Steenrods arrive to begin serving the hors d'oeuvres, Mary Ann looks in the oven and realizes she has made a mistake. The pie shells were to have been baked ahead of time.
"What should I do?" she asks anyone who will venture an answer.
Jay looks askance over his reading glasses, but does not comment right away since he is looking for the shallots which need to be added to the cream sauce.
"There's only thing to do," I say, not quite able to resist the temptation of putting my two cents in, "Dump the filling back into bowl and bake the pie crusts. See what happens."
Jay is still looking for his errant shallots, but turns and nods his head in agreement. "You have to," he says, "otherwise the crust will be doughy."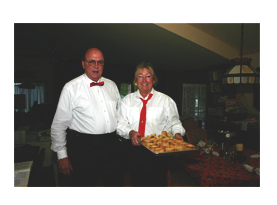 The guests have arrived and Bob opens the champagne bottle. A loud popping sound breaks the quiet of the kitchen. All eyes are on Bob. He gets a particularly stern look over the rim of the glasses from Jay.
"I'm sorry," says Bob, immediately. This is the third wine dinner the Steenrods have served. Bob looks over at me. "I'm not supposed to pop the cork like that, it ruins something in the champagne."
Linda looks up, "Jay's daughter told us there are two things you need to know about Jay when you're working in the kitchen with him – stay out of his way and do exactly what he tells you to do."
Bob takes the champagne bottle into the parlor and begins filling each guest's glass. Meanwhile, back in the kitchen, Linda puts the finishing touches on the pâté – and gently, as instructed by Jay, sprinkles bright red salmon caviar eggs onto the blue fish. Then off she goes with her platter.
There is about an hour to wait until the first formal sit-down course begins and I am encouraged to try the hors d'oeuvres. Yes, twist my arm. I was out the swinging door, through the dining room and into the parlor before you could say Jiminy Cricket. I try to be civilized and not stand over the platters like a hovering hyena, and I think I manage it pretty well. As I walk back into the kitchen, Mary Ann is taking the onion tart out of the oven. This is the moment of reckoning. I stand nearby while she cuts into the tart and slips a slice onto a pie cutter. Underneath the crust is firm and golden. Voila! But how does it taste?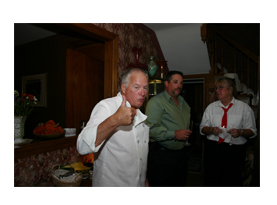 So, naturally, I had to try a piece – as Mary Ann pointed out – you simply cannot serve without first testing. Test away. And I hear myself start to sigh with approval as the taste of the first morsel hits my palette. I gave it my seal of approval and off it goes to the lucky 12 dinner guests.
Everyone in the front parlor is having a great time, but those of us in the kitchen watch as Jay finishes the cream sauce and begins to plate the appetizer. The puff pastry is cut and looks like a mini bread bowl. Each is filled with the mushroom mixture. The cap of the pastry is replaced and the Calvados-laced cream sauce is ladled over the finished product. A sprig of dill and the guests are asked to be seated.
The rest of the evening goes like clockwork and while the front room enjoys their appetizer with a glass of pinot noir, the back room sits down to enjoy our first course as well.
Good food and good wine always help to make an evening a great social success, an added component is familiarity with your dining companions. Most of the 12 guests in the front room are repeat participants and there is a natural camaraderie making the innkeepers task that much easier. I left Inn at the Park a happy camper and from the sounds of it, I trust the guests felt the same way.
My next culinary foray was breakfast with Chef Wolf and Robyn. The cranberry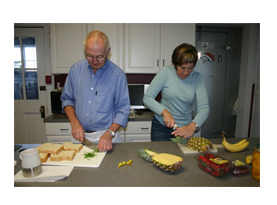 muffins are already in the oven and ready to go when I arrive at this spacious oceanfront B&B with mission oak furnishings from L.& J.G. Stickley. Robyn is preparing a Banana Split (a fresh fruit dish) with expert precision when it comes to cutting a pineapple just so. Wolf bakes his own brioche the night before and begins to cut thick slices of it for his famous "Hole in One" dish. He is, first and foremost, a pastry chef, but is equally comfortable in all aspects of the kitchen. The Hole in One, by the way, has a hole in the middle of the brioche slice which Wolf fills with an egg after he places it on the stove. He then covers it with havarti cheese and slides the whole thing into the broiler. Served with a tomato slice and a cranberry muffin, a bit of mushroom truffle oil is sprinkled on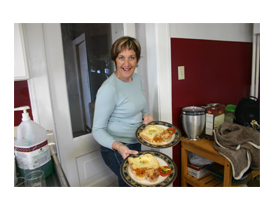 each plate. And the leftover bread hole from the brioche? It is toasted with a bit of marmalade on top. And I can tell you from personal experience; it is like nothing you have ever tasted. The difference in the taste of a homemade brioche, the lightness in texture of the muffin, the wholesome taste of good old-fashioned home cooking, the ocean view and I'm thinking – what a great way to start the day.
Often, especially on Sundays, Wolf bakes a special brioche with a cinnamon swirl through it for French Toast. It is accompanied with a bit of custard in the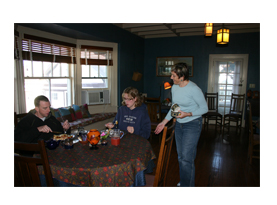 center and surrounded by a beautiful assortment of fruit. But where Rhythm by the Sea distinguishes itself from other B&B is their willingness to also cook dinner for their guests. Robyn says she and her assistant innkeeper Julie often send out sample menus to old and prospective customers with the following message at the top: Our resident chef/innkeeper Wolfgang, brings you modern food with casual charm. When you make your room reservations with us consider reservations to join us for a relaxed dinner to celebrate your special day or just to get away from the restaurant crowds.
The 4-course menu selection reads like a five star restaurant. The entrée selection ranges from Lamb Shank Osso Bucco style to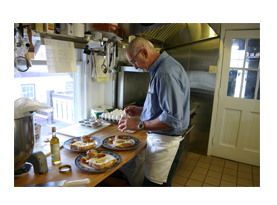 Wolfgang's German specialties – dishes like Wienerzshnitzel and Sauerbraten. Desserts? Oh yeah! Crème Royale, Molten Chocolate Cake, Peach Cobbler. Dinner is served at 6:30 and includes a beautiful view of the ocean.
Well, I don't know about you, but I'm hungry and since I've already got a free meal from the Inn at the Park and Rhythm of the Sea, I think I'm going to have to do my own cooking tonight. But, while I'm peeling those potatoes, I'll be thinking about those gracious innkeepers who go the extra mile to make their guests feel right at home.