Oh, that's right. It's October and she's out looking for those elusive ghosts again. You'd be correct. But what I was really looking for this time was an excuse to climb the Lighthouse at night. If there were any ghost around – well – that would just be an added bonus. This year, my annual search for ghosts led me to a new trolley tour.
Three years ago psychic-medium and author of The Ghosts of Cape May Book One, Book Two and soon to be Book Three, partnered with the Mid-Atlantic Center for the Arts (MAC) and developed two trolley tours. This year they added a third which is called, appropriately enough, Ghost of the Lighthouse.
To say these ghost tours are popular is an understatement. On a Saturday night – a very warm Saturday night in September – I knew I was in the right place – the corner of Ocean and Washington streets – by the long line of folks patiently waiting for the red trolley to open its doors and let all, who have purchased a ticket, come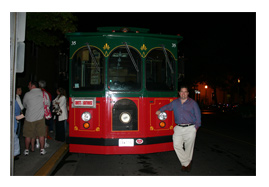 aboard.
Usually one of the very capable MAC tour guides handles the program, but on this night, Craig himself was our guide to ghostly sightings.
Craig has always wanted to include West Cape May in his tours but, as he says, "Cape May has so many ghosts; he had spin off a separate tour." The Lighthouse was the perfect spot and it is, according to Craig, "both magical and haunted."
Well, and why not? The lighthouse has had three incarnations - The first known lighthouse built near this spot was completed in 1823, although accounts that predate that suggest it might not have been the first. When that structure succumbed to beach erosion, it was replaced by another, poorly constructed tower in 1847, which fell into disrepair. The present lighthouse was completed in 1859 – its first-order Fresnel lens first lit on Halloween night that year. (That lens can now be found at the Cape May County Museum.)
Today, the U.S. Coast Guard maintains the lighthouse; and Mid-Atlantic Center for the Arts (MAC), which leases it from the state, has been restoring and operating it as a historic site since 1986.
But I get ahead of myself. In order to get to the Lighthouse, the trolley first heads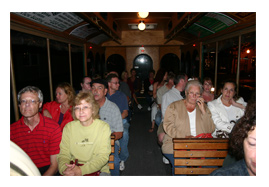 through West Cape May. West Cape May has never suffered a massive fire like Cape May in which so many of our buildings were destroyed. Some of the haunts in West Cape May, therefore, date back to the 1700s. However, even those houses which have been leveled and new ones built in their place or moved to another location can still be haunted, according to Craig, because the ghosts tend to stay with the areas or dwelling they were most familiar with when alive.
Our first stop is a gift shop called The Nest on Lafayette Street (and still in Cape May.) But wait! What is that screeching? Are the spirits annoyed with us? Oh no, volunteers one of the regular Ghost of the Lighthouse tour guides, Marie Lawrence. It would seem that Craig cannot hold the microphone and the trolley pole (so he can hold on while we make our turns) without causing some kind of ungodly sound. Sounds like ghosts to me, but he's the expert. Now where were we? Oh yes, The Nest.
Craig investigated the building, which is an old bath house moved from the Colonial Hotel on Ocean Street and Beach Avenue. When Craig first investigated i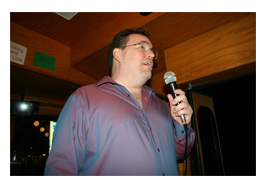 t, it was called Tradewinds and operated under a different proprietor. When the new owners took over, Craig stopped in and asked if there had been any incidents. When the new proprietress said no, Craig turned to leave. "That's funny," he said, "because the old ghost used to throw clocks." Well, he didn't get a chance to turn around before the woman stopped him and related the following tale: One day a customer left the store, closed the door, with no bang or disturbing sound, and for no reason five clocks came flying off the wall. One went 20 feet. The customer came back in to see if the clerk was all right. She was ok but oh those clocks. Craig's conclusion? The ghost in that building always goes by the motto "Time Flies."
Moving around the corner onto Jackson Street, we pass a cluster of stores which include The Guardian, and Mariah's. This is the former Richardson's Hotel, an Afro-American hotel with a gaggle of ghosts roaming about. The signs include noises, slamming of doors, or unexplained unlocking of doors, footsteps and, the most common sign of all – furniture dragging. Which, Craig says, does not yield the actual act of furniture being moved about, but rather just the sound of it. He likens this phenomena to that of thunder – an explosion of ghostly energy which manifests itself as the sound of furniture moving.
We cross over into West Cape May and find ourselves in front of the Wilbraham Mansion. Now about the Wilbraham Mansion.
John Wilbraham's first wife died young. He married his brother's wife, Anne, after his brother passed. Both John and Ann lived in Cape May, in their later years, until they died. They originally came from Frankford Avenue in Philly and he had bought the Cape May property for a summer home around 1900. He turned it into a grand showplace and eventually left his mansion in Philly to The Frankford Hospital. It was knocked down about five years ago. Ann had six children from the first marriage and three died young. She and John had no children together. The house in Cape May was left to one of Ann's daughters. When she got older she had a live-in Austrian housekeeper named Margaret. Craig is pretty sure Margaret, the maid is haunting the place. What is with those maids? And they are ALWAYS roaming around the third floor. Of course that makes sense because that's where the servant quarters usually were located. Margaret eventually changed her last name to Wilbraham and inherited the estate after the niece of John Wilbraham died.
"I think either the niece or the housekeeper (who died in 1978) is still roaming about the place," said Craig. "I have sensed Ann Wilbraham on the third floor and have also recorded her voice on tape during one investigation in the old attic. She is a very good presence and is often accompanied by one of her deceased children. I think this may even be the reason she stays behind, to be with the child who will not cross over.
"I asked the ghosts to give me a sign as to where they were on one investigation. A loud "ping" sound came from the dining room. Someone or something had struck one of the crystal water glasses. I asked for a repeat of the sign and the glass pinged again. I felt this may have been the niece, who was apparently unable to climb the stairs in her final years."
We pass some more hauntings but I am anxious to get to the lighthouse and am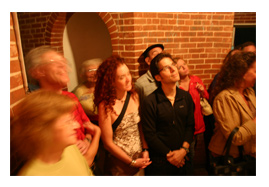 especially happy when we turn onto Lighthouse Avenue in Cape May Point. Ghost or no ghost, the lighthouse is an eerie place after dark – the grounds lit by the single beam which rotates way at the top. It is easy to imagine in this darkness how comforting the beam must have been to generations of sailors and is still to this day, because let's face it, electronic equipment can fail, but the beam is always there waiting to light the way.
I am the first one to start the 199-step climb because I want to feel the silence and to look through the various port holes at each landing, imagining what it must have been like to climb this with only the light of a lantern and carrying a receptacle for the whale oil to light the lamp at the top. Like a kid, I stop dead in my tracks on the second landing – "Looky! Fireworks!"
"Oh those are coming from Wildwood," said Jane McNutt the lighthouse keeper. Craig, by the way, has remained down on the grounds outside – seems he has vertigo issues.
And then, there I am at the top looking up at the giant light bulb rotating above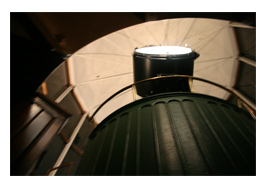 me. And I imagine all those lightkeepers keeping vigil in this small but cozy room. Stepping outside the lighthouse is a whole other experience. I am divided between the awe of looking up into the star-filled sky and looking down over the sleepy hamlet of Cape May Point. Blessedly it is not a windy night as it was the last time I was out on the edge, just a little over 157 feet in the air, albeit during the day, but still scary. And before the other tourists come out on the deck, I have for just a brief moment the luxury of listening and watching the crashing of the waves against an oncoming harvest moon-lit beach. So, I say to myself, if there are ghosts here, they must be very happy ones.
Later, down on the ground, standing beneath the rotating beam, Craig is dwarfed by the white cylindrical building and is telling ghost stories to a mesmerized crowd. He said there are at least a couple of hauntings that come with the lighthouse – one is of a woman standing on the spiral staircase with a lantern in one hand, holding a child with the other. She is dressed in a flowing white gown and seems stuck on the first landing. The other is quite near where I am standing and is the ghost of a man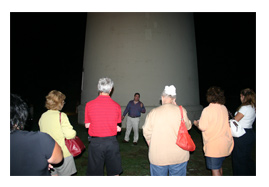 who found a way to squeeze through the railings at the top, plunging to his death in 1995. That's a very sad tale and a little too recent. I prefer my ghosts to be at least 100 years old.
So, it's time to board the red trolley and head on back to Cape May. Once on Broadway, we make sure we pass one of Craig's favorite haunted places – Moonfish Grill Restaurant, formerly Daniels, and, way back when, a whaler's cottage. Craig says most of the restaurants, including The Black Duck on Sunset and especially Union Park located in the Hotel Macomber on Beach Avenue, are haunted. The rear section of Moonfish Grill dates back to 1711 and Craig has had any number of incidents involving the lights and a ghost named Catherine, a faithful, you guessed it, servant. Craig relates the following story:
After researching this to death, we couldn't find a Catherine associated with the house, but Jonas Miller, who owned the house in the 1860s [and expanded the house to what it is today,] had a faithful servant named Catherine McCool, relative of Jenn McCool famous bartender in town. I've often thought of having them in the house for a reunion. Catherine is so strong in this restaurant that when I have been in there she always does something with the lights. One night we saw this flash,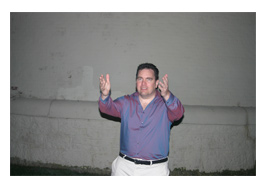 flash in the restaurant and the staff said; "She's at it again Mr. McManus." A lamp tossed itself off the sideboard and this lamp had a marble base. Another time, I was in there the lights started to flicker and the last I was in there I said, "Do something with the lights. Do something with the lights." All of a sudden the lights went off in the entire restaurant. And the staff runs out and says, "Oh you did Mr. McManus." Well it wasn't until the next day I read that the lights went off all the way to Wildwood and I though wow, I don't know my own powers.
The trolley winds its way up Perry Street where we pass more haunted houses. We cross Beach Avenue and then turn back up Ocean Street and the tour is over.
Here the thing, it doesn't really matter if you are a believer in ghosts, take the tour. And if you can, please, please climb the lighthouse and step out onto the deck. Craig is absolutely right – "The lighthouse is magical."

Editor's note: The Ghost in the Lighthouse trolley departs from Ocean and Washington streets at 8 p.m. on Saturday night. Tickets can be purchased from the Information Booth at the end of the Washington Street Mall (at the Ocean Street end.) The trolley must stay in motion, so the tour is really an offering of the highlights of Craig's investigations. For more details, pick up a copy of one of his books.