AVAILABLE:
Sixty-year-old gun emplacement bunker. Walls approximately two feet thick. Roof leaks. Foundation washed away. No heat, air, electric or gas. Private location in nice neighborhood with ocean view on all sides. Great fixer-upper. Handyman special. Possibly haunted. Interested parties should apply to the United States War Department, Washington D.C. No reasonable offer refused.
OK, ya got me. This isn't a genuine real estate advertisement, although maybe it should be (more on that later). But the Cape May Point bunker is indeed an existing structure, around which swirl numerous rumors, misconceptions and, of course, the tantalizing possibility of ghostly inhabitants.
So how much do you know about the old bunker and its vitally important function during the darkest days of World War Two? For instance, if you believe the sea off the southern New Jersey coastline is the last place where a hostile warship might lurk, you may be surprised to learn there was once a clear and present danger of that happening. If you've never experienced the fear of a potential enemy invasion along Cape May's beaches, you probably weren't living along the Jersey shore in the early 1940s. And if you've ever wondered about the origin of the rapidly deteriorating gun emplacement bunker at the southernmost tip of Cape May, or if you've seen strange, time-warped apparitions hanging around it then you've definitely come to the right online magazine.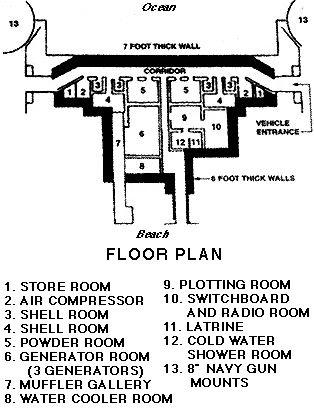 Located just east of the Cape May Point Light House in what is now Cape May Point State Park, the bunker was built by the US Army Corps of Engineers during the early months of the Second World War. It contained heavy artillery and was manned by a rotating detail of naval gunnery crews, who spent hours on end scanning the horizon for enemy surface ships and submarines. (In fact, a German U-Boat commander surrendered his vessel just off the coast of Cape May at the end of World War Two – which will be the subject of a future article.)
The vigilant fighting men in the Cape May Point bunker saw little combat, but if the war had taken a turn for the worse, these sailors would have been our last line of defense on the Atlantic seaboard. They may not have gotten much of the glory, but the boys manning this coastal battery were heroes in the truest sense of the word, all those years ago.
Strangely enough, today there are those who say they have seen ghostly figures moving around inside the gun emplacement in modern times. Witnesses describe eerie spectral images of men in World War II vintage uniforms looking out from the gun ports, or standing by the entrance smoking a cigarette. Could shades of the sailors who manned this outpost so diligently more than five decades ago continue to haunt their former duty station? If so, they must be somewhat perplexed to find that the old gun emplacement – once sand covered and hidden from view – is now completely exposed, like an alpine lodge that's revealed after the snow has melted away from its roof and sides in the spring. These purported spirits must barely be able to recognize the place, so thoroughly has it changed since the 1940's.
Of course, the sand beneath and above the bunker did not disappear overnight. Mother Nature doesn't work that quickly. Many older residents and visitors to Cape May can remember when the gun emplacement was totally buried in the sand, four hundred yards inland from the waterline. As recently as the 1970's, there was still some sand supporting it, even at high tide. A set of wooden steps, constructed after the war, led to an observation platform, from which one could cast a fishing line or drop a crab trap or simply enjoy the panorama of the Delaware Bay's natural beauty. South Jersey native Richard Daniels has fond memories of the old structure. "I can recall climbing the steps to the observation deck as a young child with my father to get to the top of the bunker. There were fixed binocular viewers installed up there that you could use for a dime. The sea breeze was always in your face as you looked out over the water, watching for dolphins, sailboats, and the Cape May Lewes Ferry churning its way across the bay.
Now, the whole bunker is nearly surrounded by the ocean, and it looks like it's about ready to topple over at any moment." Indeed, the gun emplacement is no longer safe to visit, nor is it easily accessible. Years of beach erosion have uncovered the bunker's support pilings, making it look like a huge beast standing in the surf on spindly legs that aren't quite strong enough to support the mammoth animal's bulk. It seems clear that tons of concrete cannot stand on wave-pounded rotting timbers forever. Is this, then, to be the gun emplacement's epitaph? Will it come crashing down in the next big storm, to be hidden beneath the waves and lost from sight forever?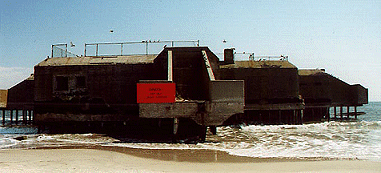 That's where our phony real estate ad comes in. After much consideration, I've come to the conclusion that the old bunker needs to find itself a new owner. And soon. Here's how I see it. Cape May has a long and distinguished tradition of preserving historic buildings, and its citizens have repeatedly demonstrated their commitment to architectural conservation. Scores of picturesque homes, inns, and businesses have been renovated and lovingly restored to their original luster, earning the City well deserved accolades from around the world. Yet while Victorian hotels and Queen Anne houses admittedly have a great deal more charm than a forties concrete pillbox, we mustn't limit our civic pride to stately manors and beautiful "painted ladies". Maybe it's time to help out an aging army brat before time and tides move her beyond all hope of restoration. Perhaps we could mobilize local resources to adopt the old bunker, or persuade the Army Corps of Engineers that the Cape May Point gun emplacement needs to be stabilized and preserved for future generations. Or better yet, how about a splashy media campaign? We could make posters. And mail flyers. And print bumper stickers. Our T-shirts could read: "Save the Bunker It helped save America."
But whatever we do, it must be done with great alacrity. Because very soon Mother Nature will finish her work, and the Cape May Point "bunker" will crumble once and forever into the surf… Then I guess we'll have another "concrete ship" of sorts.
Come to think of it, with beachfront properties in Cape May well into 7 figures, our "bunker" could be loaded with potential, and it's bound to be nicely priced for a quick sale (no flood insurance, but it does have an antique latrine). The possibilities are endless meanwhile the surf's pounding around those pilings…