When Alice Steer Wilson died on July 22 of this year, the city of Cape May lost one of its most vibrant, visual champions. But because she was loved by so many, because her well-known watercolors of the city have enjoyed such popularity, and because she shared her energy and knowledge freely with family, friends, and students– her presence here remains strong.
That fact was evident when an exhibition of the late artist's most recent work opened at the Chalfonte Hotel on September 2, and the Magnolia Room filled with people admiring Wilson's much-acclaimed work and remembering her influence here.
The exhibition, entitled "Two Artists Celebrate Cape May," will remain on display until October 14. It is a joint exhibition featuring the most recent watercolors of Alice Steer Wilson, as well as serigraphs, oils, and pastels by Wilson's long-time friend, Virginia Tabor. The two friends planned the show earlier this year, at Alice's suggestion.  It was to be the first time they exhibited together in a show that didn't include other artists. The idea, Ginny says, was Alice's. "It was hard to say 'no' to Alice," Ginny recalls. "She was a powerful woman."
For many years, art was something of a hobby for Alice Steer Wilson. When she attended Oberlin College in the late 1940s, she majored in Psychology. But, "she was always painting a little bit," says her husband Fred. "It was strictly a hobby and strictly on the side."
It probably wasn't until she began working with the Haddonfield Arts and Crafts League in the early 1960s, he notes, that art became a serious pursuit for her. "I guess I could say she had two passions–one was her family; one was her art." But, he adds, her family came first.
When her children were mostly in high school, in 1966, Alice Wilson got really serious about art and enrolled in the Pennsylvania Academy of the Fine Arts in Philadelphia. It was there that she met her good friend, Virginia Tabor, who was also a housewife and mother returning to school. In art school, in the 1960s, recalls Wilson's daughter Janice Wilson Stridick, "they were definitely fish out of water."
"It was the days of people painting themselves and rolling on the canvases," Ginny recalls. That didn't stop them.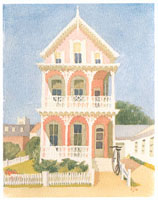 The years that followed proved to be artistically rich for Wilson. She and her family lived  in Moorestown but spent summers in Cape May. For many years, during these summer vacations, she set herself up in booths in various locations on Washington Street and sketched charcoal portraits for $3, or original watercolors of Cape May landmarks for $25.
"She was a fixture on the mall when I got here," recalls Washington Street Gallery owner Roman Mediuch. (Alice and Fred Wilson later helped establish Meduich in his business by buying the gallery and leasing it to him.)
Tabor recalls that one summer she, too, worked at portrait-making, but she did her work on the Boardwalk, braving the elements and bringing along her own electric light. She says she probably wouldn't have had the courage to do it, if it weren't for Alice's example.
This kind of support and parallel effort characterized the careers of the two friends for decades. "We supported one another," Tabor recalls. "It's just wonderful to have that kind of relationship… We shared the Cape May love affair."
The public's familiarity and accessibility to Wilson's work grew in 1977, when she and her husband Fred began printing note cards of her watercolor images of the town. Some of these included Wilson's favorite scenes ‹the dunes and the Grey Ghost on the Point, and St. Mary's.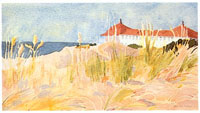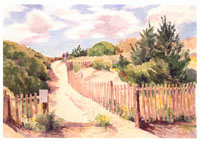 They were all painted from life, Janice recalls – never from photographs. ( Note cards are still available at stores such as the Whale's Tale; matted prints of her work are sold at the Washington Street Gallery.)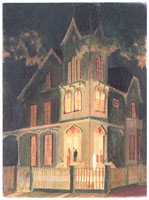 In 1979, Alice and Fred bought one of the original Cape May buildings, the 1848 Steiner Cottage on Congress Street.  Sometimes, Janice recalls, after she and her brother and sisters were grown, their mother would stay on at the beach house until November, because she loved to paint Cape May in the fall. Cape May, with its magnificent sea-lit colors and charm, became Wilson's favorite artistic subject.
"If she'd had her way, she would have been in Cape May most of the time," Janice insists. And this is evident in the work. "If you look, she's not doing photographic representation of these buildings," she says. "She's doing these building through eyes that are filled with love."
And that love inspired Alice Steer Wilson to work hard, not just painting the city, but helping to preserve its beauty, and encouraging the work of other artists. She was especially active in the work of the Cape May Art League, where she taught for many years.
Her formal artistic association with the Chalfonte Hotel began in the early 1990s, when co-owners Anne LeDuc and Judy Bartella asked her  to exhibit some of her work in the hotel's lovely Magnolia Room.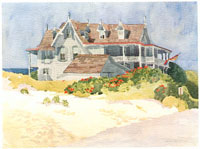 "I am very humble talking about her artwork," says Anne LeDuc. "I can't put words to her artwork. [But] Alice as a person meant the most to me, because she was just so vibrant and so warm, and just had such a twinkle in her eye and a great sense of humor… very human, very interested in all kinds of causes…one of the warmest, kindest people I have ever known.
"I used to walk around Cape May a lot and see Alice sitting in her same pose, usually at twilight," LeDuc recalls, "always out there painting."
The Chalfonte Hotel art exhibition became an annual Labor Day ritual and, says Janice Stridick, it gave her mother a tangible goal.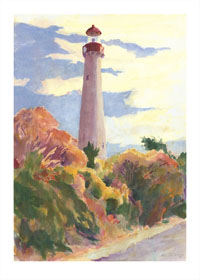 "My mother had this sense that you had to fill the room," Janice recalls. And it would take "forty or fifty paintings to do the room justice, in her own mind. It became something she worked toward each year. She liked goals."
Wilson's reputation extended beyond Cape May. She did solo exhibitions in the Philadelphia area, and competed in juried shows at the Pennsylvania Academy of the Fine Arts, Woodmere Art Museum, and the Philadelphia Watercolor Club, among other places. Besides her work at the Cape May County Art League, she taught at Gwynedd Mercy Academy, the Perkins Center for the Arts in Moorestown, and Stockton College. Throughout her career, she received an extensive list of awards and citations. Her work has been purchased by collectors throughout the United States and in Europe, and more than one million of the note cards have been sold.
In the last 10 years of her life, Wilson was especially prolific, completing, Janice estimates, between 50 and 75 paintings a year.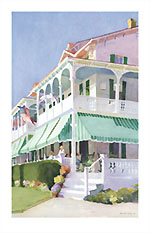 In last year's Chalfonte exhibition, which Wilson attended, all but three of the paintings displayed -and there were more than 30 of them – sold within the first half hour of the show. None of Wilson's new work in this show is being offered for sale. The family, Janice notes, needs some time to evaluate the future of the work that remains with them, and hopefully to place some of it in a permanent museum collection. Instead, limited edition Giclee prints of three of Wilson's Cape May images "Autumn Triumph," a picture of the Cape May Lighthouse;
"From One Generation to Another," an image of the Chalfonte Hotel;  and "Spring Lilies (pictured above)" will be sold during the show. All of Tabor's work, except "Alice Painting Provence" is being offered for sale. Tabor is accepting orders for Giclee lithograph prints of that oil painting, which shows Alice painting the rooftops of Provence. (Wilson's watercolor "Afternoon in Provence" shows the result of that effort.)
Alice Wilson was diagnosed with breast cancer in 1995. A year or so later, after rigorous chemotherapy, the cancer went into remission, and during that time, Janice recalls, she "painted like a banshee." And her work got even bolder and brighter. "Mom just painted till the very end." Part of the reason for that was that she wanted this show to go on.
"It's a very emotional roller coaster," Ginny explained the day before the show opened. "It's a celebration. It's a sadness. It's certainly a celebration of Alice's life and love of painting and her determination to live up until the last minute."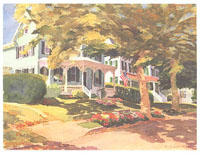 Much of the work in the show includes paintings Alice completed in her last year. Because she was confined to a room in her Merchantville home for much of that time, and eventually confined to bed, many of the paintings are restricted to what she could see from her limited vantage points. Some of the paintings ("Deep Winter" and "Cyclamen in Snow") show landscapes that were visible from her window. Others are still life's of flowers friends and family members brought her when she was sick. Others are works she began years ago, during vacations with her husband Fred, Ginny, and Ginny's husband, Clem ‹to Provence and Florence. The four friends often traveled together, and a few of the images show Fred and Clem relaxing on a balcony in Florence while their wives painted.
For  both Wilson and Tabor, Cape May held special artistic charm… and not just because of the lovely beach scenes or the Victorian bed and breakfasts that distinguish the city. There was something about the light that made it a great place to paint.
"It's the southern light," Ginny explains.  "It's particularly magic in the early morning and the afternoon – the magic time."
That light pervades the work of Alice Steer Wilson. After spending some time with her watercolors, we begin to see light in a new way – to see how it changes the landscape, the sky, and the historic trappings of this Victorian town. This is Alice Steer Wilson's gift to us – her legacy and her vision.
Editor's note: The exhibit continues at the Chalfonte Hotel through mid-October. Alice Steer Wilson's prints are currently available for sale at the exhibit and at Washington Street Gallery.