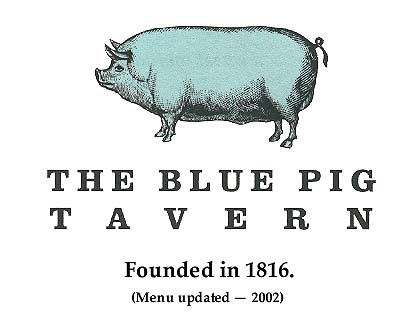 To judge a new restaurant within the first few weeks of business is unfair. There are always multitudes of troubles and tribulations to work out and the Blue Pig is no exception. That it rests inside the newly-renovated Congress Hall — a controversial $24 million rehabilitation project — not only adds further problems but also increases the restaurant's visibility and accessibility to judgment.
Blending the old with the new is another difficulty and has been throughout the entire project. Finding storage room is a problem, and there's brand-new equipment to deal with, and designing a congruous menu — all working with the combination of the old and the new.
That in mind, I made sure to make more than the three perfunctory "critique" visits before sitting down to write this story. And, with that in mind, you the reader, should withhold opinion until actually dining in the establishment for within my five plus meals at the restaurant, things improved almost daily — essential items were delivered, the wine list improved — as did the service which I understate writing that it needed a bit of a hand.
So, again with all in mind, here are my bona fide experiences — one of a newspaper food columnist, a self-acclaimed gourmand, but above all, the customer.
***
The new Blue Pig Tavern was named for the circa 1840 gambling club situated on Congress Hall property at the corner of Perry Street and Beach Avenue where a pancake house exists today. According to The History of Cape May, published in the 1930s by the Albert Hand Company, Cape May was a prominent gambling Mecca rivaling that of Saratoga Springs, New York. Most of this notoriety was due to the Blue Pig owned by one Henry Cleveland. Catering to wealthy southern planters, statesmen and other nationally-prominent men of the day, the 1930s book claims Cleveland was "notoriously lucky" amassing a small fortune with the reputation of being a "sportsman" and quite "square".
The book goes on to mention a famous Tennessee gambler named Pettibone frequented Cape May and the Blue Pig for several summer seasons. Though no information has been found on this supposed infamous man, the book states he was one of the country's wealthiest gamblers known especially for his extra-marital affairs having been married three times "then completing the cycle by remarrying his first wife."
One last tale comes from the original Blue Pig, one of its most popular, is that of a "dashing" New York widow winning "upwards of $50,000 one evening" — a hell of a lot of money in the mid-1800s — who was never again seen at the club. No wonder.
A two-story building of a "cottage" type, the Blue Pig was moved to the corner of North and Grant Streets where, as of 1930, it was used as a private residence. Which building it is and whether it truly exists today remains a mystery.
***
It was a hot summer evening — heck, which one hasn't been? Cleaning my hot gas grill in preparation of cooking some generic hunk of meat, I sweated, wondering whether in fact it was truly cooler to cook outside than in when Companion Number One offered to take me for appetizers at the Blue Pig. I quickly agreed. Besides, the Blue Pig was an assignment and Companion Number One was as curious as I.
We sat on the outside porch, a cool ocean breeze relieving the heat and the stress of such a scorching day. The menu — which has since been updated — is as much a dichotomy as the hotel itself — a mixture of nouveau New York and old-fashioned tavern-style fare. Ironically, or perhaps typically, much of today's nouveau reflects our yesteryears. The proverbial adage reads "what goes around comes around" and in today's food world that could well become the anthem. Iceberg lettuce is back. Remember the shunning days? No more.
Blue Pig serves "the wedge," iceberg lettuce, pickled onion and bleu cheese dressing. Another throw back is caramelized grapefruit, a dish reminiscent of days of Greta Garbo and Delmonico's. Old-fashioned macaroni and cheese with stewed tomatoes — a dish Thomas Jefferson initiated in this country after visiting France, was initially on the menu but has since been removed. Understandably so — we'll get to that later.
Our server was Tyler, a young gregarious sort with just a hint of mischief. The fun sort, you know. Quick with the drinks, he asked for our order in a well-timed manner. I had a few questions however which he had no answers for and rather than seeking them out, Tyler just stood at our table awaiting our order. This is one of my personal pet peeves. I'd be the first to dash to the kitchen questioning the chef. After urging him on, he came back with some debatable answers. The food was great however, Companion Number One opting for two appetizers — the Ebbitt Room calamari, squid crisp on the outside and tender and tender on the served with a garlic and herb aioli and the broiled clams in garlic and chive butter served on a bed of rock salt. Though the clams were tiny, the butter was loaded with wonderful flavor. Unfortunately, these have been deleted from the new menu.
I chose the Belgian bistro-based steak au poivre served with "pomme frites," the original "French" fry actually invented by the Belgians who twice-fry strips of potato and serve it with various mayonnaises. Having been to Belgium twice, and been served frites with everything from pizza to mussels to rabbit, I asked for mashed potatoes instead, which were light and fluffy, tasty and gladly substituted. The steak was perfect.
Dinner ended on a high note — though the after-dinner drink menu was sparse, any cordial enjoyed on the verandah of the old hotel facing the ocean with a golden moon peaking through its pillars would have tasted good. Ambience counts.
***
Companion Number Two joined me for lunch a couple of days later with Companion Number One tagging along. Though only twelve, Companion Number Two has quite the sophisticated palate — growing up with me and somewhat begrudgingly eating her way through France and Italy — and because the hotel is family-friendly, I thought she'd provide good insight from a child's point of view. Besides, she's a connoisseur of fish and chips featured on both the lunch and dinner menu and of course, that's what she ordered.
Companion Number One ordered the lunch platter of macaroni and cheese with the stewed tomatoes, and I was anxious to see this relatively uncommon menu item.
I chose an appetizer of clams on the half shell — a Cape May staple — and the Black and Bleu burger.
Our waiter was young and inexperienced. Our menus were never cleared from the table, water was never brought, my appetizer appeared with five mystery sauces right alongside my burger. What was to be the lunch platter of macaroni and cheese priced at $9 developed into a small ramekin of soupy "macaroni" — ziti, actually — and cheese with tiny bits of ham and nary a tomato in sight. The coup de grace of the entire meal was when a different waiter offered us more water from a pitcher. I politely cupped my hands, holding them out and said, "oh yes, thank you."
Good service seems the biggest problem at this restaurant, I experienced it and so is the "word of mouth" by townspeople.  It's not the food — our previous meal was great, and the fish and chips were wonderful, by the way, Companion Number Two raved. The clams and the mystery sauces were great too. And though a bit cold, the Black and Bleu burger was topped and filled with blue cheese, and cooked to specification. Restaurant floor manager Megan Kornick took notice of our circumstances and was ingratiating and sympathetic.
***
Kevin Pomplun is the executive chef of the Blue Pig. After attending the Culinary Institute of America, Pomplun worked at the Four Seasons Restaurant in Philadelphia as well as serving as chef de cuisine at the Ryland Inn in Hunterdon County , New Jersey. The 28 year-old Pomplun has also worked alongside Jean-Louis Palladin and Alice Waters.
Originally from Bernardsville , New Jersey, Pomplun told CapeMay.com he's been coming to Cape May since the age of six. "My dad is a beach walker. We would walk from town to the Point, I just fell in love with Cape May ."
Visiting the Virginia Hotel and watching Congress Hall with some interest — "It was open then closed, then open then closed," he says — when renovation actually began, Pomplun decided to email the hotel to find out if there would be a new restaurant and if they needed a chef.
He got a reply and was asked to cook for "the powers that be" at the Ebbitt Room in the Virginia Hotel .
"When I got there, the floors were all ripped up and workers were replacing it," he laughs. "They said they would be finished in four hours so I went to the stores to shop for dinner."
This was in March, not the most bountiful time of year. Groceries in hand, Pomplun arrived back at the kitchen to find the floor finished and the stoves ripped apart.
Four hours later, he served 15 or 16 dishes of new-age/tavern-style food. "They liked it," he says, "and here I am."
Pomplun does not like his food to be stereotyped. He calls his "a harmonious combination" of flavors. "People know more today about food and flavor. I like to think of this menu as Jersey comfort food. And I like people to enjoy, not be bored. They shouldn't have to think about whether they like it or not."
Pomplun is the first to admit there are problems to work out at the Blue Pig. Liquor storage is an issue, essentials are being delivered in dribs and drabs, and hiring help has been as issue as well. But Pomplun is long on nothing if not enthusiasm, and has many future menu ideas planned.
"We opened in a hurry," he says. "Now is the time to hire talent and not just bodies. Now is the time to start doing things right."
Congress Hall Raw Bar Sampler
Assisting Pomplun in the kitchen is executive sous chef Frederick Byarm and pastry chef Mark Cowan.
Pomplun likes to use the freshest ingredients possible. Fish comes from New York City 's Fulton Fish Market, ordered at 11 p.m. and delivered by 11 a.m. the next day. Philadelphia 's Le Bus delivers bread daily.
***
Still undaunted and clinging to optimism, we invited Companion Number Three for dinner at the Blue Pig to celebrate her birthday. We ordered the Grande Congress Hall Raw Bar Sampler — a spectacular two-tiered jumble of oysters and clams on the half shell, octopus and squid salad, steamed shrimp and lobster tail, steamed mussels and crab served again with the five mystery sauces. Ah, but Crystal, our waitress, solved the mystery explaining each competently — a classic Louiè, a cucumber salsa, mignonette, Gazpacho and a traditional cocktail sauce, an eclectic and fun array.
The evening's special duck with caramelized honey was succulent and delicious, the duck being cooked for four hours, falling off the bone without a bit of grease and the sauce the kind one wants to lick from the plate. The filet of beef and crab cake — another departed entrée — was a bit lackluster, the filet good but the crab cake mediocre as was the other dinner special of softshell crab, one rather soggy crab appeared and according to Companion Number One, a little past its "soft" stage.
Dessert was comprised of classic crème brûleé and a Jersey peach baked custard clafoutis. Both were satisfactory, but not dazzling.
***
My last meal at the Blue Pig was perhaps the best. Twelve year-old Companion Number Two and I arrived late one very warm evening without reservations. We were seated outside. Tyler was our waiter once again, still the fun sort and very nice to Companion Number Two. He seemed a bit more informed than before, able to answer various menu questions. And when he couldn't, he trounced off to the kitchen on his own to get the answers. Companion Number Two ordered the special Black Sea Bass and I ordered the roasted chicken from the menu. Both were superb.
We relaxed and enjoyed each other's company — something special for mother and daughter. We watched folks stroll by, still enchanted with the hotel's renovation. A exceptional hotel like Congress Hall deserves an equally extraordinary restaurant. With more attention paid, The Blue Pig has much potential.
Companion Number Two has watched along my side Congress Hall's restoration progress through the years and has sat patiently through many an interview with the same "powers that be" Pomplun initially dealt with and is as equally impressed with the results as the public. When Curtis Bashaw, co-managing partner/owner, seated at the table next to us stopped by our table to say hello, she told him a bit shyly but most seriously, "You've done a good job here." And she meant it.
Editor's Note: The tavern offers a classic American assortment of cuisine ranging from hamburgers to fresh fish, raw bar to filet mignon and is located on the corner of Perry Street and Congress Place, situated right at the end of the Washington Street Mall. It offers both inside dining in an old wood-paneled fireplace room, and an annex with a skylight, in addition to outside dining on the porch with views over a private garden with a fountain. The room is cozy and fun with a full assortment of wines to choose from. Diners at the Blue Pig also have the option to receive complimentary one-night passes to the Boiler Room nightclub which is directly underneath the tavern in the hotel's old boiler room. Down the steps from the Blue Pig Tavern is the new and exciting Boiler Room nightclub, located in the basement of Congress Hall. This room is a stone-walled wonder with a state of the art lighting system extending throughout the dance floor and around the stainless steel topped bar. There is a dance floor, a main bar and a smaller more private room with a satellite bar and comfortable couches and more private tables. The club boasts Cape May first real dance club in addition to a state-of-the-art sound system with disc jockeys on the weekend along with special guests and live music both Thursdays and Sundays. The dance floor is a couple of steps down from the main bar in the old section where the ancient boiler used to be in the old hotel. The owners saved the old boiler and hung it on the mirrored wall in the dance floor giving the waterfall lighting a place to shine on the old steel providing an ever-changing backdrop to the dance floor. On the dance floor itself there is also the old brick alcove which provides dancers a place to disappear from the main crowd and enjoy the beat of the music.
If you go …
Bar lounge open from 11 a.m. to 1 p.m. everyday except Sunday. Sunday hours 12 noon to 1 a.m.
Dinner reservations accepted only and are highly recommended.
Visa, MasterCard, American Express and Discover cards accepted.
Wheelchair accessible
Valet parking and on-street parking available.
Downstairs Boiler Room nightclub open Thursday through Sunday from 9 p.m. to 3 a.m.
Menu highlights – Breakfast: The Benjamin Harrison, a Macadamia-crusted banana French toast, two eggs in a nest and the caramelized grapefruit. Lunch: the Black and Bleu Burger, Jersey Corn Chowder and the Congress Hall Fish and Chips. Dinner Appetizers: the Congress Hall Raw Bar Sampler and the Ebbitt Room Calamari. Dinner Specials: Duckling in a Caramelized Honey Sauce and the Black Sea Bass. Off the Menu: Grilled Ribeye with pomme frites and the Mixed Seafood Grille. Desserts: the Michele Cluizel Chocolate Rum Cannelè, the Southern-style Strawberry Shortcake and the Moch Piña Colada Martini.
Full bar service available