The juxtaposition of decades-old photos with the same scenes to be found today is meant to emphasize the sense of timelessness that Cape May offers to her visitors and residents alike.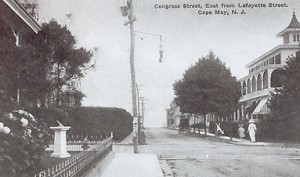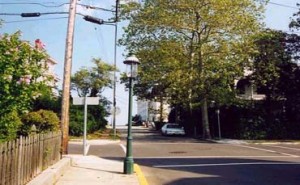 Congress Street in 1910. Notice the horse and buggy heading towards the Windsor Hotel. To the right is the American bracketed villa with its ornate two-story porches and striped cupola roof circa 1865. The sundial is on the property of Nelson Z. Grave's.
The sundial is missing as well as the Windsor. But if you peek through the bushes on the right side corner you will still see the beautiful American bracketed villa.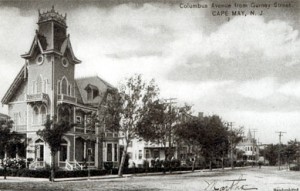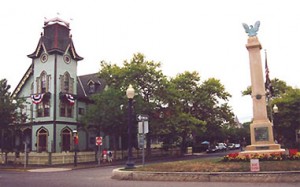 A picture of Columbia and Gurney taken in 1909 really captures the beauty of 1869 landmark building now know as the Abbey Bed and Breakfast.
93 years later the trees have certainly grown and a monument has been built breaking up the two roads. (Editor's note: the War Memorial isn't leaning; it's the effect of the photographer's wide angle lens)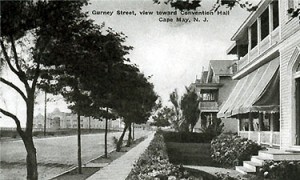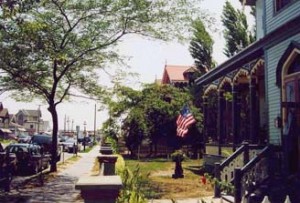 This postcard circa 1918 shows the view from Gurney to Convention Hall. Note the vacant Stockton Hotel lot and the "new" Convention Hall.
Today the view is much different. The empty lot is now full and houses block the view of today's Convention Hall.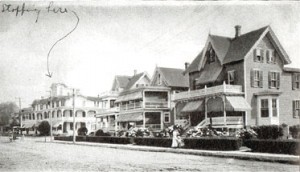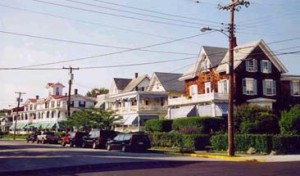 Howard Street 1909. The hand-drawn arrow reading "Stopping here" is pointing to the Chalfonte Hotel.
As you look down the row of homes, except for the height of the hedges, and the addition of poles and wires, Howard Street seems to have been frozen in time.