The juxtaposition of decades-old photos with the same scenes to be found today is meant to emphasize the sense of timelessness that Cape May offers to her visitors and residents alike. The old pictures in our photo essay are mainly derived from Don and Pat Pocher's  Cape May in Vintage Postcards.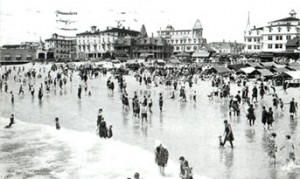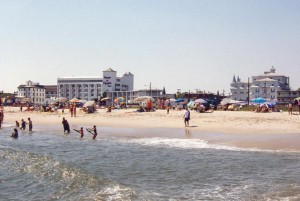 Though behind it, the Star Villa upstages the Weightman House in the center of the skyline. (Both were moved up the beach to new locations. The Weightman cottages are now the Angel of the Sea).  The Lafayette Hotel is the large building next to the smaller Arnold Hotel and Cafe. On the far right is the Colonial Hotel (now the Inn of Cape May)
This 2002 picture is taken from the jetty behind what is now Henry's Restaurant.  Note that The Marquis De Lafayette has replaced the old Lafayette Hotel, the Arnold and Colonial (both renamed) remain in place and the beach itself is a bit more narrow.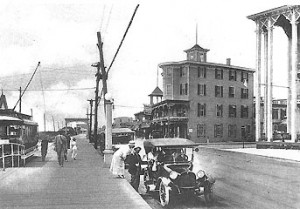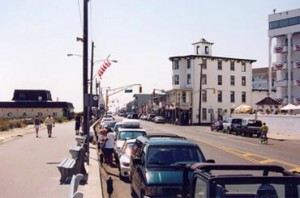 This photograph was taken in 1918 on Beach Ave. Notice the columns of the Lafayette Hotel. And on the opposite corner the Arnold Cafe. Beach Avenue (not Drive) was narrower then The trolley on the left ran from South Cape May almost to Sewell's Point.
Eighty-four years later the Marquis de Lafayette has replaced the Lafayette Hotel and "Cabana's" is now where the Arnold Cafe once was. Gone is the trolley. The wooden boards have been replaced with a concrete promenade that runs less than half the distance of the original boardwalk.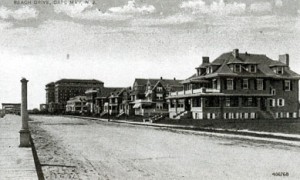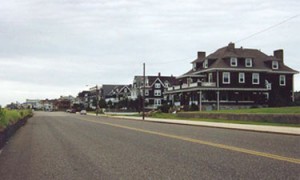 This postcard of Beach Avenue dates from 1911.The perspective is from "Poverty Beach" looking southwest. To the left is the elegant Admiral Hotel completed in 1908.
The same view 91 years later. Many of the old private homes remain and new ones have been built to take the place of the Admiral which was demolished in 1996.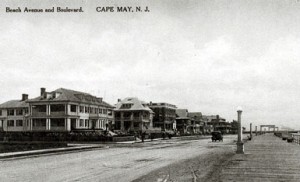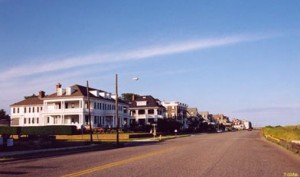 Taken in 1912, this is the view from Beach Avenue towards Poverty Beach, looking northeast. The Admiral would have been on the left (out of picture range) Note the dirt road and gas lights along the board walk.
90 years later, this section has changed little. The 3rd building (red brick) is "Colvmns by the Sea" bed and breakfast inn.  The large white Georgian mansion was once the Boyd House. Beach Drive itself was widened, absorbing the old boardwalk.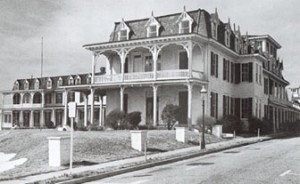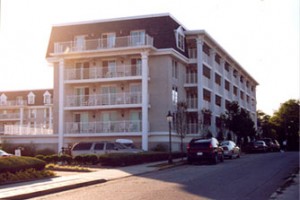 Built in 1879, the elegant Windsor Hotel was located on Beach Ave between Windsor Street and Congress Street . It was destroyed by fire in the later half of the 20th century and was replaced with  condominiums.
To the builder's credit one can see a serious attempt to echo the Windsor in its basic lines  beneath the grid of balconies.