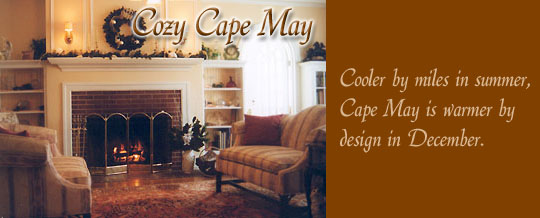 Victorian Cape May is a seaside town like no other. The ancient ocean rolls up on her flat beaches within yards of meticulously decorated wooden homes. At holiday time, Cape May is in stark contrast to her cousin towns on the Jersey shore.
In December, though it may be cold enough to freeze brass, you can come to Cape May and enjoy a whole new seashore experience. The summer crowds are gone, replaced by the visitors of December who come to enjoy a quieter getaway amid twinkling Christmas lights, welcoming taverns and people who are really happy to see them.
Although not a time for being barefoot on the sand, the wind and the salt air at this time of year can be invigorating! Still, a gray afternoon walk along the windy beach from the Coast Guard base to the cove can chill even the heartiest explorer. When the elements have depleted your energy and it's time to come inside, Cape May is ready for you.
With over half of Cape May's Victorian inns and hotels staying open through December, warm comfort is easy to find. Most Cape May inns maintain working fireplaces and innkeepers who are particularly skilled in preparing special holiday treats. Surrounded by antiques, polished woodwork and the scent of fresh pastries, you can settle in to an easy chair in the parlor and know that this is Cape May in winter.
'Tis the season to shop for gifts and Cape May accommodates. The Washington Street Mall, a pedestrian-only street three blocks long has holiday browsing not found in encased suburban mall structures. You don't lug your coat; you wear it. Enjoy a free taste of fresh fudge and sample the decorated shop windows: toys, crafts, art prints, dolls, shoes, fashions of all kinds, sweets, jewelry and of course, fresh air.
Beyond the open mall more delightful shops pop up all over, from Beach Avenue to Washington Commons; from Congress Hall to West Cape May. Everywhere, there are specialty stores with hard-to-find crafted items, more unusual fashions, antiques and traditional seaside items. Selections run the gamut from upscale to kitsch, which makes the shopping all the more fun.
When you're hungry, step into a warm tavern and mingle with other visitors from places far from shore. Or reserve a table for dinner at one of Cape May's excellent and renowned- restaurants. Holiday dining in Cape May is as unique as the shopping. Excellent chefs, beautifully decorated dining rooms and classic menus peppered with house specialties, stand ready to satisfy and warm your holiday spirit.
When darkness falls, Cape May stages a dawn of her own with thousands of Christmas lights. Gleaming windows reveal decorated trees and wreaths inside inns from Columbia and Ocean to the gazebo on Lafayette. Bundle up for a winter stroll and behind it all, if you listen past the familiar sounds of carols, you will hear the sea, Cape May's constant companion.
— Reggie McMillan
Photographs in order of appearance: Buttonwood Manor, The Queen Victoria, The Wooden Rabbit,  Winterwood Gift Shop, Peter Shields Inn and the Fairthorne Cottage B&B.