Lynn grew up in Cape May. She always dreamed of one day owning a home here.
"I knew this was where I wanted to be," she said. And after graduating college, she returned, found a job, and a man to share her life, one who also shared her dream of owning a home in Cape May.
Two years ago, Lynn and Rob, both in their mid-twenties, went house hunting. In terms of what the couple could afford, they saw "right away that the city was untouchable."
Said Lynn, "It's not like we had a nest egg or anything. I don't think I even realized what went into buying a house — taxes, down payments. We only knew we wanted to live here, in the city itself and we wanted to plan a life here. I'd been renting a place here for five years at a $1,000 a month, including utilities, I couldn't save enough to buy."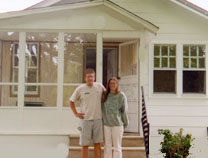 Their search took them to West Cape May. "We thought we had a gleam of hope there," said Lynn. At that time one could still buy a small, two-bedroom home for $95,000. "But that was still too much for us. We figured we couldn't swing it. So, we gave up and started moving further and further out of the city. North Cape May prices had already started to creep upward." They finally found a nice, two-bedroom, two-bath house in Del Haven for $75,000.
Lynn and Rob found themselves victims of one of the oldest economic lessons — supply and demand.
An August edition of Fortune Magazine recently noted that housing costs in Cape May have risen 93% in the last decade. The statistic underscored the point that a second home is an investor's best bet given the current economic downturn of the stock market. According to the article, the smartest buy is in an area of strict zoning and a limited supply of homes.
Coldwell Banker RealtorÓ Gregg Giancola agrees. Giancola sold many of the 26 lots created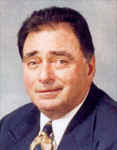 with  the demolition of the Christian Admiral Hotel on Beach Avenue in the summer of 1996. Zoned for residential, single-family dwellings, eight lots, 75 x 150, front Beach Avenue. Eight lots, also 75 x 150 run along New Jersey Avenue on the beach side. And eight lots, four being 75 x 150, and the remaining four, 75 x 250, run along the south side of New Jersey Avenue. Two lots, 75 x 125 are situated at Baltimore and Pittsburgh Avenues.
The first lot, located on Beach Avenue, sold within 3 months after demolition was completed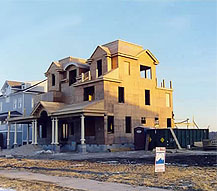 for $400,000. Within 20 to 22 months, said Giancola, all 26 lots were sold. The beachfront lots sold for between $400,000 and $450,000. The New Jersey Avenue beach side lots, sold for $200,000-$230,000. Across the street on New Jersey Avenue lots went for $165,000-$200,000. The two remaining lots at Baltimore and Pittsburgh Avenues sold for approximately $150,000 each.
"Some people built on them," Giancola told CapeMay.com, "Some flipped them. One lot at the corner of Pittsburgh and New Jersey Avenues sold three times. Between 1997 and 98, it sold for $210,000. In 1999, it sold for $310,000. Last spring the same lot sold for $695,000.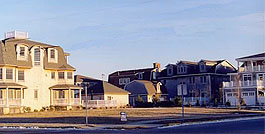 Mostly it's business people from up and down the East Coast buying them. A couple of local people bought. The majority of them are second homebuyers, again there are a couple of year-round people down there. One couple bought a lot for $400,000 in 1997, built a house on the lot, and sold it in 2000 for $3 million."
Does Cape May's property boom spell doom for middle income homebuyers?
"Yes, I think it does," Mayor Jerome E. Inderwies said. "We have seen a decrease over the years in the number of middle class families living here. This year we sent 122 children to the (Richard M.) Teitelman (School) and Lower Cape May Regional High School. A percentage of those 122 are children of Coast Guard families which further reduces the number of people living here as permanent residents sending their children to regional schools."
In the school year 2000-2001, the City of Cape May sent 145 students to the two regional schools. Mayor Inderwies attributes this decrease to the rising property prices and subsequent decline in middle class families, as well as among other things, an aging population.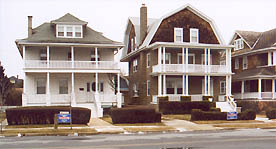 According to 2000 census figures, Cape May's year-round population stands at 4,034 — down 13.5% from 1990. Currently there are more homes in Cape May — 4,604 — than there are year-round residents. An aging population has resulted in many selling their homes or renting them. In the case of a death, the children often sell the property or rent them to visitors. The mayor also pointed the finger at the current state of the stock market.
"The demise of the 'dot com' companies, and a deeply devalued stock market," Inderwies said, "have clients being advised by their financial consultants to invest in real estate because the value of land is going up higher than stocks with a greater appreciation rate."
Cape May's scenario fits the precise definition of Fortune Magazine's smart buy — an area of strict zoning and limited supply of homes, supply and demand. But if Lynn and Rob fell victim to supply side economics, they are also victims of poor timing. Had they been house hunting in 1993, as were Mary and Tedd McKenny, they could have realized their dream.
For investors like the McKennys who bought their first Cape May "fixer-upper" in 1993, the sudden rise in housing prices makes their rental properties even more in demand. A year-round resident since 2001, Mary McKenny has been a life-long vacationer to Cape May and Cape May Point.
"We bought our first house in the Villas," Mary told CapeMay.com, "But it wasn't close enough to the beach. We were lucky enough to find a house in Cape May, close to the beach, with a rental apartment and that's how we started. Our strategy was to buy what we could afford and fix it up."
Tedd McKenny owns a marble and granite business, so he was able to repair and redo many of the problems they encountered in buying homes that need tender loving care.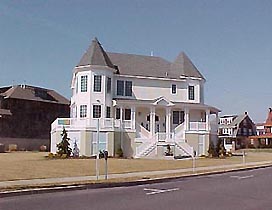 "We bought the second house because we used to sit on our porch and dream of buying the house across the street. When it went up for sale, we bought it the first day." Their plans to turn it into a Bed and Breakfast Inn met with neighborhood resistance, so they sold that house and bought another for summer rental. Their third house was on the same street as their own. It also needed work. The fourth had been taken back by the mortgage company and "was physically depressed and filled with trash and debris. We don't have as much energy as we used to," said Mary, "So the fifth house was beachfront and brand-new. The rental demand is really for either beachfront or larger homes."
She fears, however, that rental prices may be "getting out of hand" and that people might find a better value in alternative locations. "We recently bought houses in Wildwood and Anglesea because people are looking for an alternative to renting in Stone Harbor."
Thus far, though, Cape May rentals are holding strong for her. "Most of the Cape May properties are booked for next summer. We've had 200 inquiries on them. Also, Cape May is becoming more of year-round place to visit. We had no trouble renting the beachfront property November and December."
Has the boom peaked?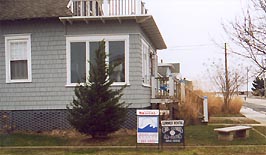 "I don't think Cape May's reached its potential," said RealtorÓ Giancola. "It's still the most affordable resort on the East Coast."
Mayor Inderwies looks for property values to eventually level off and for Cape May to continue to enjoy an "exuberant economy."
Inderwies told CapeMay.com, "We are the second most visited city in the state and I look for continued growth in the business community provided we don't have a recession."
Lynn and Rob are finding life good in Del Haven. Said Lynn, "I really thought as a kid that this (Cape May) is where I'd be forever. It didn't really dawn on me until we started looking for houses that it wasn't a possibility. I wanted to be part of a community I grew up in. But Cape May isn't like that anymore. I never see kids playing in the streets. It took a while, but I found a community outside of Cape May in Del Haven, a place where you can still see kids playing."