One of the joys of living and visiting Cape May, along with the beach and the rich Victorian history, is the food. The diversity of culinary delights which Cape May has to offer is exceeded by few cities with a year-round population of under 5,000.
These creative people were looking for independence, small town life, and an audience appreciative of culinary daring. They found it all in Cape May.
Alexander's Inn
So here's how Chef Diane Muenz came to be chef/owner of Alexander's Inn… Her wedding cake toppled over. On her wedding day.
"I thought to myself," she said, "there's got to be a way to make a wedding cake!" So, she took a couple of courses. Then, she took a couple more courses, and kept at it until she ended up with a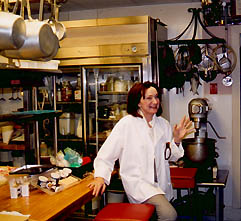 degree from The Restaurant School of Philadelphia.
With a nine-year-old son Alexander (namesake of the inn), Chef Diane didn't want a job outside of the home, so she and her husband Larry, who runs the inn started looking for an affordable restaurant/inn to buy. The Philadelphia area was out of their price range but their travels brought them to Cape May in the late 70s just as the town was beginning to revamp itself.
They found a run-down Victorian house on Washington Street, circa 1883, bought it and spent the next 15 years refurbishing it. They were able in the first year to open the dining room on the first floor and rent rooms on the second floor. Alexander's was, at the time, only the second gourmet restaurant in Cape May, the first being the Mad Batter on Jackson Street.
Looking over her old world kitchen, Chef Diane said "this kitchen was just a shell when we bought the house. It was in terrible condition." In high season, the menu changes daily. And as a result of her own food allergies, Chef Diane pays special attention to the ingredients which go into every dish. "At the time we opened, it was very hard to find a restaurant which prepared food made with natural, wholesome ingredients," she said.
What is her favorite thing to cook? "Oh, dessert. I only serve dinner to get to dessert." Alexander's dessert menu includes homemade ice cream made fresh on the premises in a variety of flavors including "Butter Peach With Rum Soaked Raisins." Also on the dessert menu is Brandy Alexander Pie, a rich creamy frozen pie flavored with Brandy,  Crème de Cacao on a graham cracker crumb crust.
Okay, if you insist, we'll talk about the rest of the menu. A recent one included entrees ranging from Filet A La Bourguignon at $38.95 to Salmon En Papelotte at $26.95. And we mustn't forget to mention Sunday Brunch, an Alexander's tradition. The prix fixe $18.95 fare offers a variety of main courses including Sausage-Nut Streudel and Scrambled Eggs and a Russian Omelet with, of course, black lumpfish caviar and sour cream.
Reflecting on their choices in life, Chef Diane has found that coming to Cape May was probably the best thing she and her husband could have done. Alexander's, she said "is exactly what we wanted. Alex grew up with the business. There were always endless people in the house. And living so centrally located to everything, he had a freedom to come and go, which he wouldn't have had in a larger city."
At this point in her life, Chef Diane said she should be thinking about retirement, but she "can't imagine it." Twenty-five years later, Chef Diane is still making wedding cakes – she just finished a wedding cake for her son– and we're quite sure that the white chocolate motorcycle couple atop the cake will not topple over. Alexander's Restaurant is BYOB. As always, check for hours of operation, as it is still off season.
If you go…
Atmosphere is elegant, dress accordingly
Located adjacent to City Hall, at 633 Washington Street.
Bring Your Own Bottle
Call ahead for hours and reservations 884-2555