One of the joys of living and visiting Cape May, along with the beach and the rich Victorian history, is the food. The diversity of culinary delights which Cape May has to offer is exceeded by few cities with a year-round population of under 5,000.
These creative people were looking for independence, small town life, and an audience appreciative of culinary daring. They found it all in Cape May.
Waters Edge Restaurant
When asked why he became a chef, Neil R. Elsohn didn't hesitate – "I look really good in white."
Chef Elsohn and his wife Karen Anne Fullerton-Elsohn were vacationing in Cape  May not long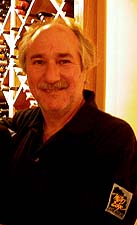 after he graduated from the New York Restaurant School. They liked what they saw and in July of 1987 opened the Waters Edge, Beach Drive at Pittsburgh Avenue. Elsohn had been executive chef at a northern New Jersey hotel/restaurant complex overseeing a main restaurant and two private dining rooms, each with a seating capacity of 150.
"I was working 90 hours a week for someone else," he told us. Before that, he owned and operated a Yoga center where he taught Yoga, Tai Chi and Takwondo. "But I was always cooking for all my friends," he said. "When I was a little kid I'd watch the "Galloping Gourmet" (an early TV chef). Chef Elsohn was also influenced by his mother, a gourmet cook, and by his surroundings. He grew up in the Hudson Valley, famous for its fine dining and fine wines.
The Elsohn taste is reflected in the decor of Waters Edge. Artwork is prevalent throughout the spacious dining room which is painted in soft muted pastels, accented by bright table settings. For those who wish to breath the salt air first hand, patio dining is also available.
Because the restaurant adjoins the la mer Hotel, the Waters Edge serves breakfast, lunch and dinner once the tourist season is in full swing. Chef Elsohn describes his breakfast menu as "indulgent, sophisticated, lazy, oceanfront, and delicious."
The selections prove him right. Breakfast fare includes everything from Eggs and Bacon at $8.95 to Grilled Filet Mignon and Three Eggs at $15.95. For lunch, diners can order a variety of sandwiches including a gourmet burger ($9.50) and a Crab Cake Sandwich with Jalapeno-citrus tartar sauce on a croissant ($12.50).
And then there's dinner – a stop-off spot for EPA chief and former New Jersey Governor Christine Todd Whitman.
Chef Elsohn prides himself on offering an audacious selection,  from the first course – Oysters on the Half Shell, Lemon-Tabasco Mignonette to Sauté Escargot and Mushrooms with lemon, garlic and cream in a puff pastry – to the main course with a variety of seafood entrees including, from a recent menu, Tilapia, Idaho Trout, farm-raised Bass, Tuna, and Salmon.  On this particular menu the Salmon (generally favored by Elsohn for its versatility) is a seared roulade filled with Diver Scallops, Grilled Shrimp, Tequila infused dried Tomato Salsa, Mango-Chipotle-Toasted Coconut Risotto ($34).
When he goes out to eat, Chef Elsohn admits he's a little difficult but his favorite thing to order is a good lasagna.
The Elsohns have two children, Earl age 10 and Lillian age11. He has found that owning his own business in a resort and being a parent can be very demanding. 'For example," he said, "We can only vacation in the off season  when the kids are in school. So we always have to pull them out of school every year. But it's also very rewarding. They see what I do …and they eat well."
Waters Edge has a cozy bar with a nice view of the ocean where diners can have a cocktail while waiting for their table. The wine selection is extraordinary, particularly for a resort the size of Cape May.
Editor's Note:
This article was written in April 2003 and Waters Edge Restaurant is no longer open.