One of the joys of living and visiting Cape May, along with the beach and the rich Victorian history, is the food. The diversity of culinary delights which Cape May has to offer is exceeded by few cities with a year-round population of under 5,000.
These creative people were looking for independence, small town life, and an audience appreciative of culinary daring. They found it all in Cape May.
Union Park Dining Room, Beach Avenue
For Chef  J. Christopher Hubert cooking has always come naturally. He started working in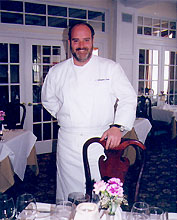 restaurants at the age of 15, and continued that work while studying Marketing in college.
So what turned him from marketing to cooking for good? "Well, it wasn't the long hours and lack of pay," he said.
Intrigued by a piece in Smithsonian Magazine about the Culinary Institute of America's program, he immediately signed-up. And he was hooked.
Chef Hubert's career includes work in many fine restaurants. He was Sous Chef at the former Globe Restaurant in West Cape May and Executive Chef for nine years at The Ebbitt Room (in the Virginia Hotel). After a stint as chef at Philadelphia's Sheraton Rittenhouse Hotel, he returned to Cape May four years ago to open his own restaurant located in the Hotel Macomber.
"For me," Chef Hubert told us "the idea owning my own restaurant was financially appealing, but also allowed me to apply a creative and independent philosophy [of food preparation] which answered the public outcry" for a unique dining experience.
Chef Hubert's menu is based on what is fresh, available, and what's in season. "My favorite time of the year for cooking," he said, "is at the beginning of every season when [our] menu changes and I try new things."
But Chef Hubert has signature dishes like his award-winning Yellow Fin Tuna, always an entree favorite. Priced at $28, it is served in a sesame seed crust over stir fried vegetables. He is also the winner of the "The Cervena Venison Plates" competition, a recognition based on Union Park's Pan Roast Noisettes of Venison served with braised wild boar ravioli, roast apples and pumpkin seeds, and sauce poivrade at $32.
Chef Hubert met with his business partner and wife Pamela while working at the Globe Restaurant. He says they have always worked well. She primarily handles the administrative end of the business. The big advantage they both see in owning their own business is being able to spend with their six-year-old son William. "It's a challenge of course in the summertime when we're open long hours," he said, "but you make the time [because] of the advantage of independence."
The Huberts are committed to Union Park and expect to continue to improve and expand their menu for the spring and summer seasons.
If you go…
Atmosphere is elegant
Located at 727 Beach Ave. in the Hotel Macomber
Bring Your Own Bottle
Call ahead for hours and reservations 884-8811
www.unionparkdiningroom.com