"We're still here." Scott Abendschein said with a smile. This year Godmothers Restaurant begins a ninth season under the direction and ownership of Scott and Kathy Abendschein.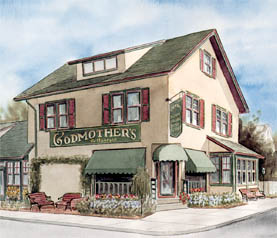 Ten years ago, the Abendscheins enjoyed a successful catering business on the Main Line in Pennsylvania. But since everything they did was "off-site," they felt a need for a home base. Frequent vacationers to Cape May, the couple decided to look here to either buy an existing business or obtain a facility in which to start a new restaurant.
Godmothers Restaurant at the corner of Broadway and West Perry Streets happened to be available. Started in 1983, Godmothers was Cape May's original Italian restaurant. Built in 1924, the West Cape May building has served as a pharmacy, a trim shop, a luncheonette, an ice cream parlor, and several restaurants, among them the notable Old Ship Restaurant.
Today Godmother's cuisine is still Southern Italian. Pasta entrees include a Mediterarraneo Fra Diavalo ($24.00), a dish made with shrimp, little neck clams, mussels, and a mix of fresh fish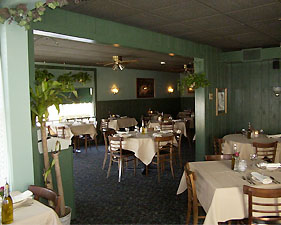 made in a spicy hot tomato and basil sauce and served over homemade pasta. Also on the menu are Italian classics like Lasagna ($18). There are plenty of choices for those not inclined to go Italian. The Double Thick Pork Chop ($22) made with a rosemary pomaray sauce or Chef Abendschein's favorite – the New York Strip Steak ($26), a 12 oz center cut strip steak served with a Madeira sauce and served with house mashed potatoes and green beans.
Chef Abendschein has been cooking for 22 years. Before starting the catering business, he served several stints in industrial food preparation. He has been the chef at Delaware Community College, at a private rehabilitation center, and was the facilities director for a nursing home as well. Throughout the early years, Scott said they "always wanted to own our business." They're very pleased to have found that business and to put down some roots in Cape May.
With two children, ages 7 and 9, they, as other restaurateurs have remarked, find being self-employed and raising a family "challenging," particularly in the summer. Kathy manages the restaurant and takes care of the bookkeeping. Luciano Angrelli is Godmother's full time chef. Scott currently fills that role on a part-time basis. Chef Abendschein says he's the only one who doesn't speak Italian back in the kitchen.
Godmothers Restaurant will be open full time starting on May 6. They're closed on Sundays. It is BYOB. They open their doors at 5 p.m. and the restaurant offers Early Dinner Specials starting at $10.95.
If you go…
Atmosphere is casual
Located on the corner of Broadway and W. Perry Street
Call ahead for hours and reservations 609-884-4543
For more information please visit www.godmothersrestaurant.com