Vicki Watson didn't want to be a restaurateur. She already had a successful law career in Manhattan when her father, owner of Watson's Merion Inn, died in 1992. As executrix of Warren Watson's will she tried to abide by his wishes and sell The Merion Inn but the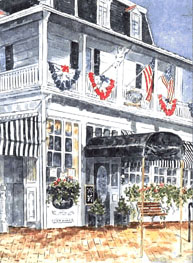 restaurant was losing so much money by then that there were no takers. "I couldn't afford not to run it," she said. Thus began her long journey, accepting the challenge of turning a run down business around.
As a daughter, she had more invested in trying to make the restaurant work. Watson's Restaurant was started back in the 40s in Wildwood by Vicki's grandparents who, along with her great-grandmother, opened their doors with their own pots and pans from their Philadelphia kitchen. Her father moved the restaurant to Cape May in 1970 and brought along his chef, Bill Robinson.
Many of those traditional recipes developed by Chef Robinson like side accompaniments, the Merion Inn Cole Slaw and the Merion Inn Potato Cup as are still on the menu. Merion Inn entrée classics include Merion Stuffed Flounder ($25.95) Merion Crab Imperial ($28.95), and Merion Stuffed Lobster Tail ($39.95).
Located on Decatur Street The Merion Inn occupies the first floor in a large Victorian house, built in 1885 by Patrick Collins as a boarding villa. By 1900, Collins had expanded his business which he called Collins Café by serving food, specializing in seafood, whiskey and Milwaukee beer.
Andrew Zillinger, chief steward of the Merion Cricket Club in Philadelphia's Main Line, bought the inn from Collins in 1905 changing the name to The Merion.
The Merion Inn has now been in continuous operation for 117 years. So, how did Vicki Watson, with no background in food preparation, other than that absorbed by the daughter of a restaurateur, turn it around? "The music," she said simply and without hesitation.
"I was looking for some hook I could use to advertise the place. Everybody always uses the best…We have the best seafood, the best steaks. The music gave us something to advertise. My brother and I love music and I decided to put a piano in the bar and have a singer Wednesdays and Thursdays. I wanted to give people a reason to keep coming back." From time to time, the singer.
Rosemary Benson used George Mesterhazy as her accompanist, eventually Mesterhazy became the full time piano man and brought in his Steinway replacing the $400 piano Vicki Watson originally purchased. The additional revenue from the bar sales paid for the musicians and set The Merion Inn apart from other restaurants in Cape May.
And on a romantic note, Vicki and George soon became an item as well. With the music, came a new clientele. Then old timers returned, willing to give the a second chance.
The other thing Vicki did to turn the restaurant around was to assess what was best about the menu. "We're a traditional restaurant. We're noted for our filets and I was lucky. 'Homestyle cooking' and classic dishes came into vogue in the 90s. I thought I can capitalize on this," she said.
That's where chefs Donald Lance and Dave Blanchette come in. Lance served under the now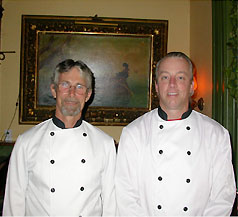 retired Bill Robinson and brought a continuity to the kitchen. Blanchette came over to The Merion from Fresco's. Under Watson's direction they offer a classic dining experience.
In addition to keeping the above mentioned traditional dishes, The Merion is also noted for a repertoire of steaks – a 9-ounce Filet Mignon, a New York Strip Steak and Black Angus Prime Rib of Beej Au Jus… and a favorite: Steak & Cake ($28.95) a 6oz filet mignon accompanied by a Maryland crab cake.
Watson carried the "return to the traditional" venue into the bar as the long neglected Martini came back into fashion. The bar menu carries a wide variety of these classic drinks.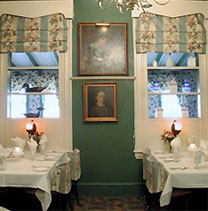 In terms of decor, she has changed the wall paper and curtains, expanded the dining area, upgraded the kitchen and menu while keeping many things the same as they have always been. "The antiques my father bought are still here," she said pointing to the swinging doors leading into the bar. "Those doors were from an old speakeasy in Chicago. My father loved antiques and his taste is still very much a part of the restaurant."
Vicki Watson's efforts are paying off. Reservations are strongly encouraged, especially on Saturday nights. Having just completed a meeting with Chef Lance to discuss the upcoming menu, Watson looked about her as though always assessing, always looking for ways to improve.
"Our food is good," she said, "We have fair portions and we're not for everybody. We're not very formal, I like the comments in the Zagat Guide that says we're 'Romantic and inviting but not pretentious.' "
If you go…
Atmosphere is casual adult dining
Located at 106 Decatur St.
Call ahead for hours and reservations 609-884-8363
For more information please visit www.merioninn.com