Chef Paul Negro of Tisha's Restaurant was a mechanic restoring Porches in South Philadelphia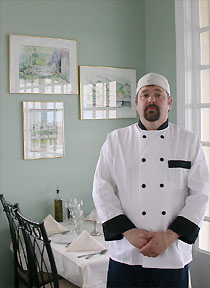 when his mother, Tisha, a graduate of the Restaurant School in Philadelphia, said "You should be a chef.  That's how I see you." Move to the shore with me. We'll open up a breakfast place and we'll be partners. I was 23, maybe 24 at the time," Paul told me as we sat in the elegant dining room on Beach Avenue (behind Convention Hall).
That was 1988. Mother and son opened Tisha's at Pacific and Spencer in Wildwood. They served breakfast every day until September when they were forced to face a reality many shore merchants face in their first summer: their help "abandoned ship" in mid-August. "So that was the end of breakfast because we had no servers. After that I started cooking." Under his mother's guidance they put together a Prix Fixe menu advertising it as Tisha's home cooking. "The way my mother saw it, we were inviting you to a home cooked meal." For $9.95 (over the years the price went up to $15.95) customers got a choice of three soups, two salads, and six entrees. Through trial and error they found that changing the menu once a month worked well for both repeat business and newcomers. "The menu was handwritten by my mother and photocopied each week. That was a nice touch. Nobody did that."
When running the restaurant became too hard for his mother, Paul took over; but by then Wildwood, particularly at their location (Pacific and Spenser) was in the decline. The first Tisha's closed in 1993.
Within two years, Paul and his wife Jennifer opened Tisha's in Cape May. "I run the back of the house, my wife runs the front of the house," Chef Negro said explaining the division of labor. The couple have three children ages 11, 8, and 5. Chef Negro has kept much of his mother's culinary philosophy. He spends the winter months preparing the menu for the coming season, which still changes every month.
All entrees come with a choice of a house or Caesar salad and all the recipes are made with Italian ingredients. Chef Negro describes his cooking as "New American with Italian accents." Last year when every other restaurant was being sharply criticized, Tisha's received 3½ stars from the Atlantic City Press and Best Appetizer (Cajun Fried Oysters) and Best Entree of 2002.
Many of Paul's recipes are taken from his mother's old Italian cookbooks.  These dishes, such as the Palmeritana ($18) made with fresh tomato, calamata olives, anchovy, capers and garlic sautéed in olive oil with fettuccini and toasted bread crumbs, he says are not usually found in the U.S.
And don't be afraid of the anchovy. Paul says you can't really taste anchovy but that the ingredient gives the sauce a special depth which is lost without it. Veal Saltimbucca ($25) is another entree not often found. Here veal medallions are sautéed and layered with Proscuitto, mushrooms, fresh spinach,
sage and mozzarella.
Seafood lovers should be sure to take a look at the "Chef's Specials." The current menu, which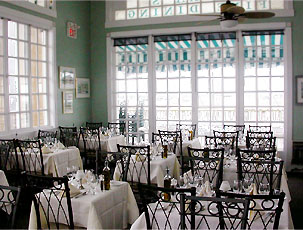 ends May 13th includes an appetizer selection of Cajun Fried Oysters, Shrimp Bruchette, Crab Cake, and Pan Seared Sea Scallops. Of the eight entrees offered on the Specials menu, six are seafood selections. Among them are, Crab Cakes, Alaskan Halibut, and Blackened Tuna Oscar ranging in price from $24 to $29 per entree.
This is a very romantic place (and I do not use that term lightly). Dining here is like having your own candlelit table out on the beach. It is a place, based on the Comment Book left for patrons to sign, where people celebrate anniversaries and become engaged. I was particularly impressed by the high
praise given the servers.
Whatever happened to Tisha herself? "She used to make the desserts," said Paul, "Now she takes it easy and enjoys the grandkids." And still sees her son as a chef.
If you go…
Atmosphere is casual
Located on the promenade oceanfront at 714 Beach Avenue
Call ahead for hours and reservations 609-884-9119