Eggnog French Toast with Cranberry Syrup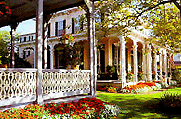 From the kitchen of the Mainstay Inn Bed and Breakfast
The French toast must be prepared the night before, then baked just before serving.
4 ounces softened cream cheese
1/4 cup dried cranberries (1 ounce)
1 (1-pound) loaf French bread, cut into 12-14 (1-inch) slices
2-1/2 cups half-and-half
6 tablespoons butter, melted
8 eggs
1/4 teaspoon ground nutmeg
1/4 cup sugar
1 teaspoon vanilla
1 teaspoon rum extract
Cranberry Syrup
1 cup frozen raspberry-cranberry juice concentrate, thawed
1 cup whole-berry cranberry sauce
1/3 cup sugar
1 tablespoon cornstarch
Grease a 13x9x2 inch glass baking dish.
In a food processor, combine the cream cheese and cranberries. Cut part way through each slice of bread to form a pocket. Fill with the cream cheese mixture and arrange in the baking dish.
In a large bowl, whisk the cream, butter, eggs, nutmeg, sugar, vanilla, and rum extract. Pour evenly over the bread slices. Cover and refrigerated for at least 8 hours, or overnight. Preheat oven to 350°F and bake for 30 minutes or until golden brown.
Meanwhile, make the syrup. Combine all the ingredients in a small saucepan. Whisk over medium-low heat until dissolved and lightly thickened.
Serve immediately, with cranberry syrup.
Yield: 6-8 servings; 2 cups of cranberry sauce
Pecan Tarts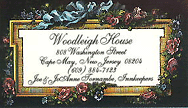 From the kitchen of the Woodleigh House Bed and Breakfast
Cheese Pastry
1 (3 ounce) package of cream cheese
1/2 cup butter
1 cup sifted flour
Filling
1 egg
1 tablespoon soft butter
1 teaspoon vanilla
3/4 cup brown sugar
2/3 cup coarsely broken pecans
Let cream cheese and butter soften. Blend with flour and chill for 1 hour. Shape into 2 dozen balls (about 1 inch). Place in small muffin pans. Press with finger to shape.
For filling, beat together eggs, sugar, butter, and vanilla. Divide 1/2 pecans into shells. Add egg mixture, making it 1/2 full. Top with remaining pecans.
Bake at 325 F for 30 minutes. Enjoy!
Christmas Wreath Cookies

From the kitchen of the Mainstay Inn Bed and Breakfast
2 cups butter at room temperature (1 pound)
2 cups sugar
1 egg
1 teaspoon vanilla
3-1/2 cups all-purpose flour
1/2 cornstarch
Green food coloring
Red candy bits or baking decorations
Preheat oven to 350°F.
Using an electric mixer, cream the butter and sugar until light and fluffy. Mix in the egg and vanilla. Add the flour and cornstarch and mix until just blended. Stir in the food coloring.
Transfer dough to a cookie press with a star tip. To make uniform wreaths, press the dough out in long strips. Using a knife, cut the dough into 2-1/2 inch lengths. Form each length into a ring. Overlap the ends slightly and press gently.
Place the wreaths on three ungreased baking sheets. Decorate them with the red candy bits or baking decorations so that they resemble wreaths of holly.
Bake for 10 minutes or until firm to the touch. Do not allow cookies to brown. Cool on wire racks.
Yield: 6 dozen wreaths
Salmon Cream Cheese

From the kitchen of Poor Richard's Inn Bed and Breakfast
1 (8 ounce) package of cream cheese
3-3/4 ounces red salmon
Dash of Tabasco
1 teaspoon fresh chopped dill
Mash the above ingredients together. Good on Black bread with tomato!
Poached Pears with Brandied Cranberries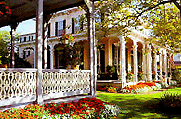 From the kitchen of the Mainstay Inn Bed and Breakfast
Pears
2 cups cranberry juice
2 tablespoons brown sugar
1/2 teaspoon ground cinnamon
1/2 teaspoon ground nutmeg
4 medium pears, peeled, cored, and halved
Brandied Cranberries
1-1/2 (12 ounces) packages fresh cranberries (18 ounces total)
1-1/2 cups sugar
1/4 cup brandy
First, prepare the pears. In a saucepan, bring the cranberry juice, sugar, cinnamon, and nutmeg to a boil. Add the pear halves and simmer for 30 minutes. Refrigerate for 60 minutes or until thoroughly chilled.
Next, make the brandied cranberries. Preheat the oven to 350°F. Lightly grease a 15x10x1 inch jelly roll pan.
Arrange the cranberries in a single layer in the prepared pan. Top with the sugar. Cover tightly with foil and bake for 45 minutes. Spoon into a bowl and add the brandy, tossing to combine. Refrigerate for 60 minutes or until thoroughly chilled.
Serve the chilled cranberries over the chilled pears.
Yield: 8 servings
Holiday Orange Cranberry Bread

From the kitchen of the Saltwood House Bed and Breakfast
2 sticks of butter (softened)
1-1/2 cups sugar (divided)
4 eggs
2 tablespoons grated orange zest
1 teaspoon orange extract
2-1/2 cups all-purpose flour
1 teaspoon baking powder
1 teaspoon baking soda
1/4 teaspoon salt
1 cup plain yogurt
1 cup dried cranberries
1/2 cup orange juice
Preheat oven to 350 F. Butter and flour two loaf pans.
In a large mixing bowl, beat the butter until fluffy. Add 1 cup sugar beating thoroughly.
Add eggs, one at a time, mixing well after each addition. Beat in the orange extract and zest.
Next, sift together the flour, baking powder, baking soda, and salt into a medium bowl. Fold one-third dry ingredients into the butter mixture, than one-third of the yogurt. Alternate until all are mixed. Add dried cranberries. Pour into prepared loaf pans and bake for 50-60 minutes or until a toothpick inserted into the center comes out clean.
While bread is baking, mix remain 1/2 cup sugar and 1/2 cup of orange juice together in a small saucepan. Heat until sugar dissolves, about 5 minutes. When bread is done, pour hot syrup slowly and evenly over bread. Let cool completely before unmolding.
Smoked Turkey and Stilton Mayonnaise Tea Sandwiches

From the kitchen of The Linda Lee Bed and Breakfast
1/4 c crumbled Stilton cheese
3 tbl. mayonnaise
Generously butter thinly sliced whole wheat bread. Spread a mixture of mayonnaise and crumbled Stilton cheese on bread. Add a thin slice of smoked turkey. Top with another slice of bread. Trim crusts and cut into triangles.
The Dormer House Crumb Cake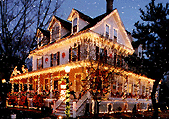 From the kitchen of the The Dormer House Bed and Breakfast
Cake
3 cups flour
1 cup sugar
5 teaspoons baking powder
1 teaspoon salt
2 eggs
1 cup of milk
4 tablespoons corn oil
4 teaspoons vanilla
Crumbs
5 cups flour
2 cups light brown sugar
1 tablespoon cinnamon
4 sticks of butter or margarine
Combine eggs, milk, corn oil, and vanilla. In a separate bowl sift together all dry ingredients for cake. Add the egg mixture to the dry ingredients.
For crumb topping, melt the 4 sticks of butter (cool) and add to the dry ingredients. Mix with a fork.
Spread cake mixture into a greased sheet pan. Sprinkle crumbs over top and bake at 350 for about 25-30 minute or when a toothpick inserted comes out clean.
Crispy Traditional Potato Pancakes

From the kitchen of Pam Huber of the Carroll Villa Hotel
2 pounds russet (baking) or Yukon Gold potatoes
1 medium onion
1/2 cup chopped scallions, including the green part
1 large egg, beaten
Salt and freshly ground pepper to taste
Vegetable oil for frying
Peel the potatoes and put in cold water. Using a grater or a food processor coarsely grate the potatoes and onions. Place together in a fine-mesh strainer or tea towel and squeeze out all the water over a bowl. The potato starch will settle to the bottom; reserve that after you have carefully poured off the water.
Mix the potato and onion with the potato starch. Add the scallions, egg, and salt and pepper.
Heat a griddle or non-stick pan and coat with a thin film of vegetable oil. Take about 2 tablespoons of the potato mixture in the palm of your hand and flatten as best you can. Place the potato mixture on the griddle, flatten with a large spatula, and fry for a few minutes until golden. Flip the pancake over and brown the other side. Remove to paper towels to drain. Serve immediately.
You can also freeze the potato pancakes and crisp them up in a 350-degree oven at a later time.
Variation: If you want a more traditional and thicker pancake, you can add an extra egg plus 1/3 cup of matzah meal to the batter.
Yield: about 2 dozen pancakes.
Victorian Wassail
* 24 whole cloves
* 1 orange
* 9 cups apple cider
4 cups cranberry juice
1/2 cup sugar
3 cinnamon sticks
1 teaspoon Angostura bitters
24 whole allspice
1 cup dark rum
Press cloves into orange. Place in heavy large saucepan. Add cider, cranberry juice, sugar, cinnamon sticks, bitters and allspice. Bring to simmer, stirring until sugar dissolves. Reduce heat to very low, covering and simmering 1 1/2 hours. Strain into punch bowl. Ladle into cups. Add 2 tablespoons rum to each cup, if desired.
Apricot Bars

From the kitchen of The Linda Lee Bed and Breakfast
2/3 c dried apricots
1 stick unsalted butter, softened
1/4 c granulated sugar
1-1/3 c all purpose flour
1 c packed light brown sugar
2 large eggs
1/2 tsp baking powder
1/2 tsp vanilla
1/4 tsp salt
In small sauce pan simmer apricots in enough water to cover them for 15 minutes. Drain and cool to room temperature and chop finely. Beat together butter, granulated sugar, and 1 cup flour with electric mixer on medium speed until mixture resembles course crumbs. Press evenly over bottom of a greased 9 inch square metal baking pan (do not use a non stick pan) and bake until golden, about 25 minutes at 350°. Beat together, in the same bowl, apricots, brown sugar, eggs, baking powder, vanilla, salt and remaining 1/3 c flour on medium speed until well combined. Pour over crust and bake until topping is set and golden about 25 to 30 minutes. Cool in a pan on a rack and cut into 12 bars. Dust with 10x sugar.
Doggie Biscuits


From the kitchen of the Billmae Cottage
2-1/2 cups whole wheat flour
1/2 cup powdered dry milk
1/2 teaspoon garlic powder
1 teaspoon brown sugar
1 egg beaten
6 tablespoons melted butter
2 tablespoons grated parmesan cheese
1/2 cup ice water
Mix all the ingredients together. Roll out to 1/4 or 1/2 inch thickness and cut out any shape you chose. Place on a baking sheet and cook in a 350° oven for 20-30. Cool and let your doggie enjoy!