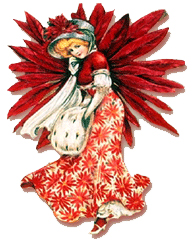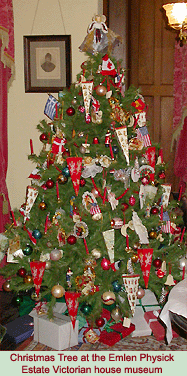 The following tips come from Dane Wells, who along with his wife Joan own and operate the prestigious Queen Victoria on Ocean Street in Cape May.
Rather than try to recreate a precise Victorian decor per se, why not consider using Victorian concepts to add a new richness to your family's Christmas celebration this year. Six tips a Victorian would suggest to add meaning to your contemporary Christmas:
1. Scrawny trees are great, especially with strong branches, to hold and display more meaningful stuff: A basic principle of Victorian decor: More is not enough!
2. Flaunt it! Victorians were flaunting their newfound wealth and technology in everything they did, including decorating their trees and houses at Christmas. Go for it, got something you are proud of? Flaunt it, might just go on the tree in some way.
3. Accentuate the Positive. The Christmas tree actually has its origins in pagan times. During the Winter Solstice, the pagans used evergreens to ward off the evil spirits of darkness (these plants didn't "die" as the rest did). Do you have anything you think would benefit from the positive forces of light? Find a way to put it on the tree.
4. Evergreen Inspiration. Little sprigs of evergreen, tied with a colorful bow, can be placed over picture frames as nice small decorations The Pagans hoped that placed over door and windows, these sprigs would ward off the evil spirits of darkness.
5. Gifts in the Tree! In the 1860's and '70s, Some used their Christmas trees, much as we use stockings today – for small, compact gifts. One suggestion is to have a tree done this way, laden with small gifts, sweets and so on for the kids, or visiting friends or relatives to find. The Victorians would put this tree up Christmas eve as Santa's surprise for the kids in the morning. By the end of Christmas day, this tree would have been picked clean.
6. Do it Yourself! Do not hire a decorator to do your tree. Christmas trees should be a family affair, reflecting the hopes, traditions, and interests of each family. Family art work, crafts and memories packed on in full are much more fun than a pristine color-coordinated tree that is simply done for design. Perhaps the kids would enjoy crafting small family snapshots on gaily decorated mounts and giving them a favored spot on the tree. Many collect ornaments from trips they want to remember or that have been given to them by special friends. This is the kind of thing the tree should be all about.
More Tips for a Victorian Holiday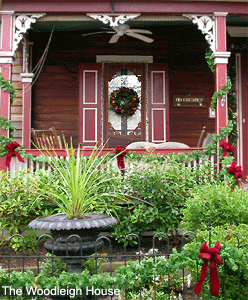 7. Think Green! Green roping was wrapped around fences, looped on stairways, and attached to outdoor light fixtures.
8. Ivy was used as a temporary picture frame or wrapped around a hanging picture wire to look as if it were holding up a picture.
9. Pucker Up! Create a kissing ball. Kissing under the mistletoe was a Victorian inspiration. The Victorians lined a glass ball with greenery, including mistletoe. The balls were hung in hallways, doorways, or parlors. Anyone caught under the ball was kissed.
10. Family Fun! String popcorn, cranberries, and crabapples to hang on the tree. It is an activity that the whole family can enjoy.