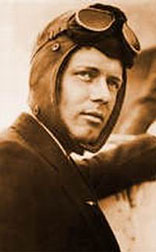 "Lucky Lindy" came to Cape May 72 years ago… but it wasn't for fun.
Aviator and hero, Charles A. Lindbergh may be the only visitor to Cape May who had no interest in the town's soft sand, salt air breezes or Victorian charm. In the early Spring of 1932, Lindbergh came to Cape May for one purpose only, and that was a desperate attempt to accomplish the safe return of his kidnapped son.
Charles A. Lindbergh captured the world's attention with his historic 1927 solo flight across the Atlantic Ocean. He and his airplane, "The Spirit of St. Louis", left New York and flew non-stop before landing in Paris 33 ½ hours later. Lindbergh won not only the Orteig Prize, but also the attention and affection of a country hungry for someone and something to cheer about as it suffered through the great Depression. Lindbergh became a reluctant hero, surprised that his accomplishment would bring such adulation and fame.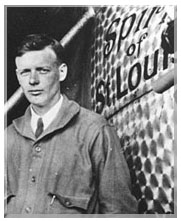 His love of aviation took him on a subsequent goodwill tour including a stop in Mexico, where he met and fell in love with Anne Morrow, daughter of United States' Ambassador to Mexico and New Jersey native, Dwight Morrow. Charles and Anne married in May 1929 at the Morrow estate in Englewood. Their first child, Charles A. Lindbergh, Jr. was born a year later on June 22, 1930, his mother's birthday. Desiring privacy, the Lindbergh's built a home of their own in Hopewell, Hunterdon County.
On the evening of March 1, 1932, twenty-month old Charles A. Lindbergh, Jr. was kidnapped from his nursery. Upon discovery of his son's disappearance, Lindbergh immediately notified the police. Three clues were left at the scene of the crime: a ransom note found in the nursery; a three-section ladder which had been used to gain entry to the baby's room was found outside; and a chisel believed to be used to pry open the nursery window. The search was on. The crime captured the attention of the state, the country, and the world.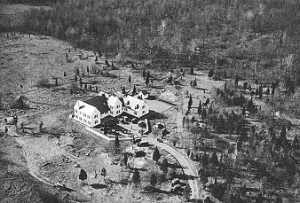 On April 2, 1932, following instructions in subsequent ransom notes, Lindbergh paid a $50,000 ransom through an intermediary, hoping to gain the safe return of his son. Unfortunately, the much hoped for disclosure of the baby's location proved to be false, leaving investigators frustrated and Lindbergh desperate for any information that would lead him to his child. In the meantime, a Norfolk, Virginia boat builder named John Hughes Curtis contacted Lindbergh saying he had been approached by people who claimed to know the whereabouts of the Lindbergh baby. Curtis appeared credible, and his suggestions were followed. He said the baby was being held by a kidnap gang on a boat off the coast of Cape May, and provided elusive names but actual locations as people and places in Cape May he had visited in his efforts to help the Lindbergh family.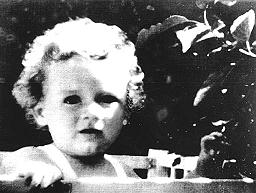 While conducting this search for his son, Lindbergh's visits to Cape May were not publicized. Desiring to keep a low profile, it is believed that Lindbergh stayed at the Bellevue Inn in Cape May Court House. The Bellevue Inn, now the Bellevue Tavern, for many years served as a call stop for the New Jersey State Police. Here, with the influence of the NJSP Superintendent Colonel H. Norman Schwarzkopf, it was believed that the famous aviator's anonymity would be protected. Lindbergh's comings and goings off local waters, looking for the Gloucester fishing boat described by Curtis, are reported to have been from Schellenger's Landing, present location of The Lobster House restaurant and docks. New Jersey State Police investigative reports document Cape May telephone numbers, as well as Cape May and Wildwood addresses, provided by Curtis as valuable clues in tracking down the purported kidnap gang.

Local authorities and the United States Coast Guard, along with trusted private citizens, provided cooperation and assistance to the New Jersey State Police investigators; but all efforts to find the baby were in vain. On May 12, 1932, upon coming ashore – here in Cape May – after yet another futile search, Lindbergh was met with news that the baby's body had been found. The discovery was made a short distance from the Lindbergh estate in Hopewell. After intense interrogation, John Hughes Curtis confessed that his information and false leads were all a cruel hoax. He admitted that he never did have any knowledge or proof of an alleged kidnap gang. He was arrested and put on trial for providing false information.
Years later he would denounce his confession, but the damage to his credibility was irreversible.
On September 19, 1934, a Bronx, New York carpenter named Bruno Richard Hauptmann was arrested and soon charged with the Lindbergh baby kidnapping and murder. Hauptmann had been under surveillance for several weeks prior to his arrest after having passed Lindbergh ransom money in the New York area. He had no connection whatsoever to Curtis or Cape May.
Hauptmann's trial at the Flemington, New Jersey, courthouse began January 2, 1935. Circumstantial evidence as well as witness testimony sealed his fate.
On April 3, 1936 Richard Hauptmann, claiming his innocence to the end, was executed in Trenton, New Jersey.
More information is available at charleslindbergh.com/kidnap and nj.com/lindbergh
Author's Note: Although it's a long shot, I hope this article may spark some memories from someone who would most likely be a grown grandchild or other relative of a person who was an adult in 1932. If any readers of this piece happen to hear of someone who has anything to say about the Cape May aspect of the case, please let us know in the comments below.
If you would like to view the physical evidence and documents associated with the Lindbergh Kidnapping Case, or would like to schedule a time for researching the investigative files and trial transcript, you may contact the New Jersey State Police Museum & Learning Center in West Trenton, New Jersey. For additional information and directions, call the NJSP Museum at 609-882-2000, ext.6402.