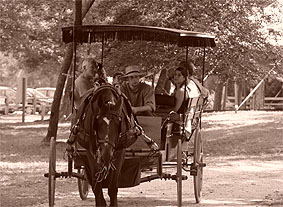 If you watched the recently aired PBS reality show Colonial House, you learned what life was like for American colonists in the "New World" in 1628. It occurred to our staff at CapeMay.com that we too could see first hand what life was like in  the 1800s Cape May County by just taking a visit to Historic Cold Spring Village (HCSV).
We walk over to the Transportation Center on Lafayette Street and climb aboard train No. 304 – The Mermaid – leaving Cape May. First stop? HCSV or The Village, as we like to call it.
Just a little digression before we begin our journey. The Cape May Seashore Line's train is a wonderful way to arrive at The Village. If you have the time, you can hop back on and continue the train ride to the Cape May County Zoo, located at the Cape May County Park fairgrounds along Route 9 and the Garden State Parkway.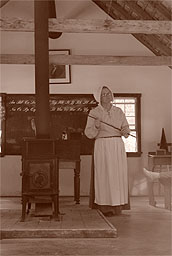 As we descend from the train, and approach the Marshallville School, circa 1825, we already feel like time travelers. It is a quiet, perfectly clear Tuesday afternoon. The sun and blue sky peek through the trees and the only sounds we hear are those of Jake the Horse pulling a wagon full of visitors through The Village and two brother turkeys – Puffalup and Puffadown arguing about some territorial dispute.
Inside the school, the schoolmistress is explaining some of the history of education in South Jersey. And what is that you say? You can't marry? Oh. Not if you want to remain the schoolmistress. Hmmm.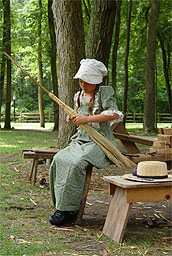 Our next stop is just across the way. At the Willis Barn, circa 1820, Lauren a junior apprentice, is tying sorghum stalks or broom corn together under John the Broommaker's supervision. Inside the barn are the tools of the trade – a shaving horse or Schnitzer Bonk which acts as a vice block and makes the boom handle smooth – a broomhorse rope, a sail needle, a broom press and broom trimmer. All these tools are used to process the broomcorn and turn it into a functioning broom. No electricity needed.
And what is that woman doing with that copper pot over yonder?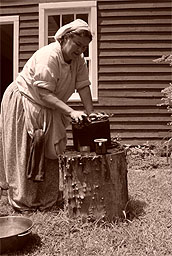 Her name is Heather and because it is Tuesday, she's cleaning the copper pots with a mixture of salt and vinegar and as she puts it "elbow grease." I thought Tuesday's were for ironing. Well, Monday, Heather says is definitely for washing. I don't think they do much ironing at HSCV.
But what is that huge cauldron for? For boiling the sheep's wool. For making candles and for Monday's washing. Heather uses lye soap made at The Village. The clothes are boiled and a scrub board is used to get the dirt out. Then they are hung on a line to dry. That pretty much takes up all of Heather's time on Monday.
Historic Cold Spring Village reminds me of the nursery rhyme. Do you know which one I mean? "Here we go 'round the Mulberry Bush…"This is the way we wash our clothes… so early Monday morning." Each day of the week is set aside for a different chore. And "This is the way we sweep the floor, so early Friday morning."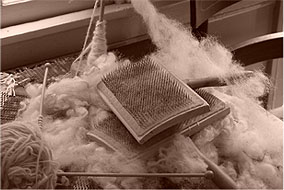 When we think about it, imagine how much of our time would be spent on one task without the modern conveniences. Inside the Spicer Leaming House (c.1800) Heather explains how long it takes just to light a fire in the hearth. Meals are cooked in hearth. Beef stew, oatmeal, flatbread, coffee, and jams, which are made with berries grown at HCSV.
When not baking, washing or scrubbing, Heather is combing the wool and preparing it for spinning.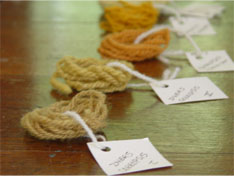 They are a very frugal people at The Village. Everything has a purpose – be it commercial or for the villagers needs. There is a Dyer's Garden outside the Philip S. Hand House (c. 1825) The flowers are used as dyes for the wool which is spun inside the Hand house by, on this day, Jennifer. She is using the Drop Spindle to create a two-ply strand of wool. Scarves, hats and shawls are made here.
Pottery is another great source of craftsmanship at HCSV. One of the Cold Spring Potters, Marie Elaine shows us how to take a small portion of clay and, with the use of a kickwheel to moderate the base, turn it into a thing of beauty. As she talks, kicks and uses her hands to control the clay, Marie tells us "That this is how pottery was done long ago. It makes use of all your senses," she says as she ever so gently smoothes and stretches the clay – shaping it into a vase that eventually will be fired in the kiln in the Pottery Shop. It's very calming to watch her run her hands up through the pot shaping it and reshaping it.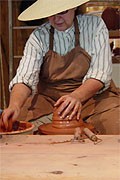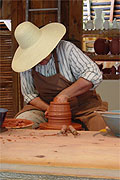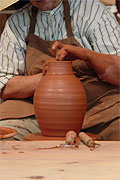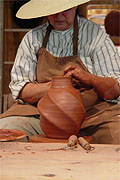 If we lived at the Village, we would always have a coffee mug and plates to eat on. Vases for the flowers we grew and urns to bottle our beverages. We would never want for clothes because of the sheep and the wool. We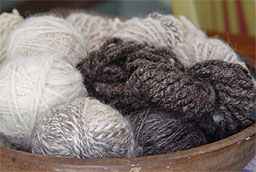 could dye the wool using the flowers we grow. All the cooking would be done over the hearth and we would use the dried herbs hanging above the hearth to spice up the dishes. We would have plenty of vegetables to tide us over the winter because our garden is large and plentiful. Yes, it would be hard but far more doable than we thought before we came here.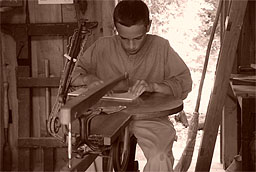 Before we walk over to the garden, we take a side trip to the woodwright, hoping to find some little thing for the kids to play with. Nick and his junior apprentice David are hard at work in the Isaac Smith Barn (c. 1865) creating gingerbread woodwork to be used on the houses and children's jigsaw puzzles. We want to stay and sit on the bench that they made, watching as David peddles the jigsaw but we're anxious to see the new garden.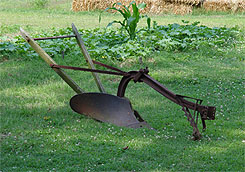 If there was any doubt that a woman can hold her own at Historic Cold Spring Village, master gardener Melinda puts those doubts to rest. She tends the 8 acres of land herself and she has thought through the Village's needs so they won't be hungry or without the means to trade throughout the winter months.
Cotton is growing as well as corn, beets, green beans, tomatoes and sweet potatoes. There are beautiful sunflowers growing as well. Jenny Lynn melons, cantaloupe and squash, parsnips and cabbage. The crops are used by the Villagers and are sold to local restaurants.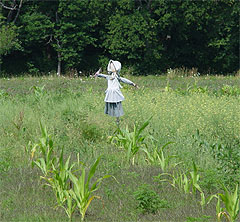 It is hot now and we are tired. We try to imagine what we would be doing right now if we lived at Cold Spring Village. One thing, we'd definitely be thinking about all the canning we would have to do to get ready for the winter months ahead.
It's a great thing to go back in time and wonderful knowing that we can do so Tuesday through Sunday from 10 a.m. until 4:30 p.m. through September 5th as well as the 2nd and 3rd weekends in September.
Be sure to visit www.hcsv.org for more information.