It's the start of a new season and time to look at what's gone and what's new. CapeMay.com's roving reporters hit the pavement and this is what we found.

Out on Sunset Blvd., in West Cape May you can't miss the brightly colored Chattel House Village – well, make sure you don't miss Sea Level. We can already hear all the oohs and aahs as you check out their fabulous stemware, partyware (the colors will amaze you!), candles, and other unique specialty gifts. Stop by or call 609-898-1241.
On the 300 block of the Washington Street Mall, Mermaids is in. The Dressing Room is out.  Mermaids an accessory and missy clothing boutique, is a subsidiary of Making Waves, also in the 300 block of the Mall.

On the 400 block, Delaware Bay Coffee Company replaces Rick's Café. Coffee lovers fear not, the new owner Greg Weidel still offers the same fine coffee selection as Rick's with added feature of an extended luncheon menu. New menu additions include a Pulled Pork Sandwich, a Cuban Sandwich and bread and bagels from Le Bus Bakery in Manyunk, PA.   They'll be open early and staying late. Stop by or call at 609-884-8841.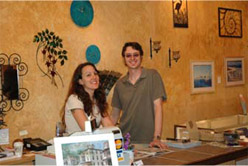 Moonlight Metal Works is in. Beach Street Clothing is out. The gallery and jewelry store has a silversmith on the premises working on original creations and jewelry repairs.
Inside the City Centre Mall, Smarty Pants toy store upstairs has left the building but customers can get some of the same things from the owners' other store the Zoo Company located downstairs.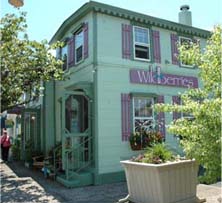 Around the corner at 108 Jackson Street, Wildberries gift store is in. Flim Flam Candles and Belle Bleu are both out. Wildberries gift shop is owned by the same folks who operate Wildberries Nursery on Seashore Drive. They carry a lovely selection of garden accessories and garden-themed gift items. Stop by or give them a jingle at 609-884-8565.
In the 500 block of the Mall, few changes with the exception of Angel's Touch at 110 Liberty Way. That store is gone. Thus far, nothing has replaced it. Directly across from Angel's Touch is Moonlight Metal Works – the original store. The store is, shall we say, in transition? The owners, Josh and Kim, told CapeMay.com that they are planning to reopen in "a couple of weeks." The store will be a home decor and gift outlet.
One note before we leave the 500 block – this will be the last summer, possibly the last few weeks when customers can shop at McDowell's Gallery at the corner of the Mall and Ocean Street. The building is up for sale and owner Carol McDowell is selling off the stock in anticipation of the sale.
Across the street at Washington Commons, gone is the Hot Dog Stand and replaced by The Taco Bar.
Together Again is gone. Saxon & Wakefield – Teak is in. Teak's former address was on Sunset Blvd. in Cape May Point. They specialize, as you can imagine, in home and garden furnishings. If you can't stop by #11 Washington Commons call Ken or Alice at 609-287-1767.
Beach Critters is gone. Arden's Kids in. The owner of the Lynn Arden Children's Shop in the 300 block of the Washington Street Mall has taken over.
Further down on Washington Street at 656, Quanda's V.S. Boutique is gone with nothing, as yet, to replace it. BUT, Heather's Hair Salon & Spa is opening right next door at the old Baileywicke location. Projected opening is June 1. Heather's mom, Angel, former owner of Tangles which was located in Washington Commons, will also be on board and Tina too. Give her a jingle at 609-884-0098.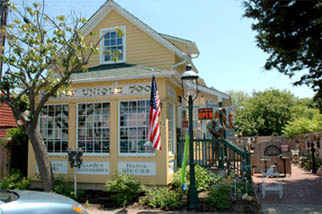 Carpenters Lane has a few changes and additions. Simply Unique Too has opened up at 516 Carpenters Lane. Be sure to check out the back garden. In addition to looking very cool – they have very cool stuff all brought to you by the same folks that oddly enough own Simply Unique on West Perry Street in West Cape May.
Victorian Vintage Photography & Gifts located in the bottom of the Merry Widow Guest House is outta here. In its place is 3-2-4 Pink selling accessories, cosmetics and gifts.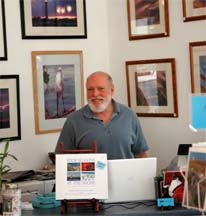 Carpenters Square Mall, further down the street in the 300 block, has a new addition. Spirit Catcher Photography has taken the front store. Tides of Time is out (and relocated last summer on the Mall). Spirit Catcher features the photography of owners Don Merwin and Tina Giaimo.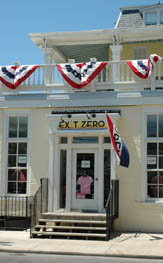 Right across the street at Congress Hall onPerry Street is a new addition – Exit Zero a boutique featuring EZ-themed clothing, accessories and gifts. The E-Z logo is from Cape May's very successful weekly magazine Exit Zero. Call 609-884-1125 or hey stop in and say hello to Pierre.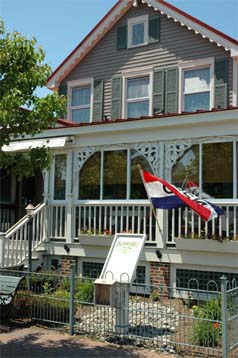 Around town, there have been a few changes. Mansion House Seafood Restaurant located at Mansion & Jackson streets, next to Collier's Liquor Store, is gone. Island Grill with Daniel's on Broadway Restaurant chef Harry Gleason at the helm, is in. Island Grill is a much more relaxed and casual dinner fare than the more upscale Mansion House. BYOB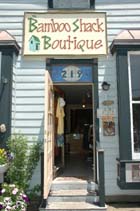 Cape May Miniatures at 219 Jackson Street is gone – Bamboo Shack Boutique in. The new owners are Debra Shields and Teresa Gerbereux. Phone number: 609-884-7979.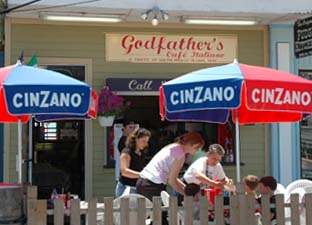 Two changes that we made note of on the beachfront. On the Promenade, Cappelletti & Sons Beachfront Pizza is now Godfather's Café and offers gourmet selection at low-budget prices. Eat there or take-out. Godfather's is a breath of sea air to the same old, same old on the Promenade.
Further up the avenue at 314 Beach, Brad's Café is gone. Marybeth's Beachfront Café is in. Described as a cozy breakfast, lunch and dinner café "designed to allow you to enjoy a delicious fresh home cooked meal." BYOB
Going out of town, The Anchorage Inn has been gone for a couple of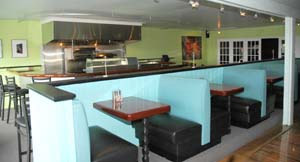 years. Neil Elsohn, formerly of the Waters Edge Restaurant on Beach & Pittsburgh Avenues, has reopened as Restaurant 1919. In case you don't know, Restaurant 1919 is located at the bottom of the bridge on your immediate right as you're coming into Cape May. If you go past the Copper Fish, also on the right, you've gone too far. The Pier House Restaurant will be opening up at the water's edge location.
Let's move over to West Cape May. W.S. Antiques, on Perry Street, is now Antique Emporia as well as Tea By The Sea.
Lo and behold we found Cape May Miniatures. They're right next to Perry Street Video on – you guessed it – Perry Street across from the Wilbraham Park.
As we said earlier, Teak is gone from its Sunset Boulevard location. New on that lot is Cape Island Bike and Beach Rentals.
On Broadway, Sheen Falls Antiques is gone. New is Beach Cove Realty. Owner Jules Gold will be opening soon. You can reach him at 609-884-6070.
Over at Park Center on Park Boulevard, Spiral Gift Shop and Vintage Cottage are gone. Plumber Joe's Plumbing and Heating, however, is in. You can call him at 609-884-PIPE. Cute. Also new – Ocean Crest Printing.
The Promenade is back! at the Montreal Inn on Beach Ave. Well, it's now called "Cafe Promenade."
And Cabanas on the Beach has been completely renovated with a larger more stylish bar and the new Tiki Sea Rum and Raw Bar.
Whew! That's a lot of changes. Keep checking back – there may be more.