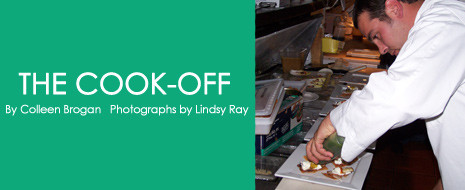 By Colleen Brogan • Photographs by Lindsy Ray
When George's Place announced it would be hosting a cook-off between Chef John Karapanagiotis and his brother, Peter, there was much talk of what would be at stake.
Rumors of money, treasured possessions, and trips to exotic destinations were the buzz around the restaurant, but most of these conversations came to the same conclusion: pride was the greatest possession at stake. Weeks went by and John continued to run George's Place like normal, until June 15th when he closed down the restaurant for the private party, invited his brother, his family, and his friends to make themselves comfortable, and the friendly, brotherly competition began. Passersby wandered in through the door, curious about what was going on. The diners enjoyed the fruit of the competition (the food and atmosphere), some eclectic and others classic, and at the end off the night cast their vote for their three favorite dishes. No announcement was made as to who had prepared which foods, or who was winning at the end of the night. In fact, there was no public announcement of who had won, even at the end of the weekend: such is an example of George's Place living up to its classic reputation, a fresh restaurant which prefers to be advertised by word of mouth rather than black and white.
The cook-off was a three day event, with two parties every night. The food Friday night was spectacular, starting with a wonton with pork loin, roasted eggplant and goat cheese topped with a hot pepper, against an appetizer platter of goat cheese and arugula spring rolls, tomato bisque, and Greek salad on a leaf. The standoff of the exotic and the classic—when comparing experience, Peter has cooked under Georges Perrier and other famous Philadelphian cooks at restaurants such as Le Bec-Fin and Brasserie Perrier. John has opened and owned several of his own restaurants in Cape May and the Barrier Islands, and now is co-owner of Parea Catering, loosely associated with the Pier House Restaurant. Debating over which brother would prepare which dish just simmered to the background as the event continued; it was fun to guess, but it was also relaxing just to enjoy food that I personally would not order normally in a restaurant. One appetizer in particular, though, was a little too exotic for my taste. The trio of beets, prepared with light sauces and cheeses, was just something I was not ready for. When asking John about how his brother held up the first night, he said, "he got killed the first night," with a laugh and a little bit of pride hinted in his voice, "…yeah he did the beets."
John went on to explain that the menu was not the same every night. By the end of the weekend, he had won 3 of the parties and Peter had won 3…but tallying up all 640 votes proved that Peter had won by a mere 7. John pretended to be sad about his defeat, but I could see how proud he was of his brother. An undergraduate at Drexel University studying business, Peter started out small in the Philadelphia restaurant scene, but John pushed him to go in there "with the big dogs", as he put it, of the restaurant business. Peter still comes to Cape May from time to time to help out at the George's Place kitchen, but otherwise right now their cooking passions have yet to join complete forces. John talked about potentially having another cook-off, and even inviting some other local chefs in on the fun—but in terms of solid future plans about a business together, the brothers just are staying relaxed and seeing what happens. "Something together in Cape May would be ideal." John said, but only time will tell.
The setup of George's Place was perfect for a cook-off: it's small and intimate, and everyone can see back into the kitchen. The sounds of a kitchen, the heat from the grill, and the occasional sound of something breaking, all things that are usually hidden in a restaurant, are what George's Place wants to amplify. The cook-off got a little buzz going, to say the least. It brought something new and different to Cape May, and provided a little insight into the type of restaurant George's Place always will be. Restaurants and real estate are the buzz of Cape May—George's Place developed into a buzz word during the cook-off weekend, but still hasn't lost its personal touch.