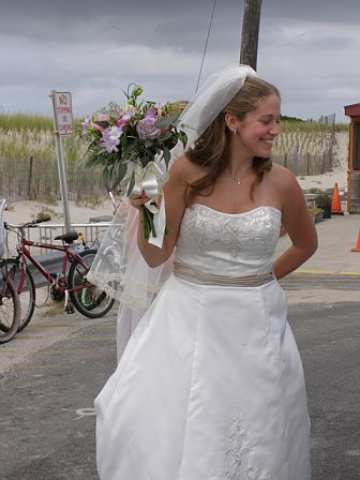 There was never any doubt in our minds, Cape May was the perfect place to hold our wedding. We both love the city so much and it's become like our second home. My husband spent every summer of his childhood visiting Cape May and his family has ties to the island that go back to the early 1900s. I've heard many stories from Ben and from his Nana, who first came to Cape May as a young child. She would stay with her aunt, who had a summer cottage in town. When Nana was a teenager in the early 1940s, she worked at Congress Hall and lived in their workers dormitory.
Ben even included Cape May in his proposal. He showed me a video filled with pictures of the two of us on the beach, before some text appeared on the screen and asked me for my hand in marriage. I looked over at him and he was on his knees, holding a diamond ring!
There are a lot of places in Cape May to hold a wedding, but Ben and I decided to have ours in the Sunset Pavilion next to the Cove Beach. We loved the backdrop of the ocean and lighthouse. It was a small, intimate affair with only 50 of our friends and family attending. We had chairs and a beautiful white arbor delivered to the pavilion by a local wedding coordinating company named Weddings By the Sea. They were great and took care of everything. We hired the Cape May Carriage Companyto pick me, my mom, Ben's mom and my daughter up at The Grand Hotel.
They showed up with an antique carriage all decked out, pulled by a white horse named 'Majic.' The owner of the carriage company was also there to make sure everything went well. Her name was Beverly and she took care of the horse, cleaned up after it and directed traffic for us.
The ride from the hotel to the pavilion was great and the closer we got, the more excited everyone became. It must have been a beautiful sight as the carriage pulled up and we began the ceremony. My sister-in-law played Pachabel on the flute as I climbed out of the carriage and walked down the aisle—I felt like Cinderella!
All our flowers were from by Marie's Flower Shop in Wildwood and they did a wonderful job. I e-mailed them a picture of a bouquet I found on a wedding site months earlier and they recreated it for me. It was gorgeous!
Ben and I climbed into the carriage after the ceremony and headed back to The Grand Hotel for our reception. All along the way, people cheered for us and clapped. We were made to feel like we were the King and Queen of England or something!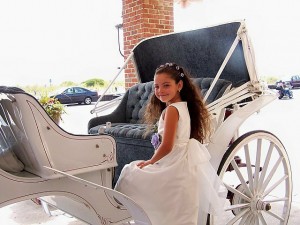 Back at The Grand, we were treated to the absolute best wedding meal I have ever had. Our choices were crab cakes or prime rib and we had a cocktail hour that was incredible. There was so much food being carried around on trays that it blew us all away. Our guests particularly liked the scallops wrapped with bacon and the jumbo shrimp. I also heard a lot of praise for the service staff. They really were exceptional, as was Karen, The Grand's wedding coordinator!
After dinner, we had the most unique thing for dessert. It was an inside out, ice cream sundae that would have to be seen to believed. The softball-sized treat was a cherry, surrounded by ice cream, covered in hard chocolate. Everyone remarked about how unusual it was and how much they loved it!
The wedding cake was equally wonderful and it was created by Michel Gras at La Patisserie. It was a three-tier white cake, with vanilla mouse and strawberries between the layers. The whole thing was covered in a white fondant with fancy purple swirls, ribbons and roses made out of fondant. The cake was elegant and inviting, Michel did an amazing job!
We elected not to hand out wedding favors and instead chose to make a donation to a local radio-reading service for the blind. The money was given in memory of Ben's Dad, Alan G. Miller, who passed away in 2004. Since he couldn't be with us in person, we wanted to make sure he was there in spirit.
We danced the night away with a DJ that Ben found on the internet and all our guests seemed to have a really good time. Once the wedding was over, a group of us got together and topped the night off by taking a swim in The Grand's indoor pool. It was a perfect ending to a perfect day.
The whole day went off without a hitch and we had absolutely no complaints about anything. Ben was especially excited because a big group of his family members got together and rented a house for a week. He said it was just like when he was a kid and he was so happy that we could bring everyone together in Cape May again.
We have been to Cape May 10 to 20 times since our wedding last year, because of Ben's job with Exit Zero Magazine. We make it a point to visit the Sunset Pavilion every time we are in town. It's great to relive our special day and one time we even got to watch another wedding. Cape May is the perfect place to have the wedding of your dreams; I sure did!