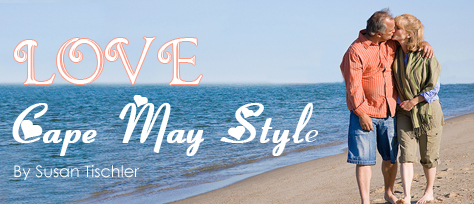 There's just something about Valentine's Day. Yes, I hear a chorus of men out there groaning and saying, "Yes, there's definitely something about Valentine's Day." What prompts Valentine's Day phobia? A more than average chance of getting into the dog house with the wrong card, the wrong gift, the wrong flowers and the proverbial "Where's the engagement ring I thought was getting?" look when she opens her gift and finds a coupon for some fries? Yes, and yet, it is a holiday dedicated to one thing – love. And when I think love, I think Cape May and that starts me to wondering how some of the nice folks lucky enough to live here met and how they came to be in Cape May. So, I asked a few couples who are unique in that they are also in business together or retired and spend a lot of time together – like all day – and still remain married. They were nice enough to answer a few questions.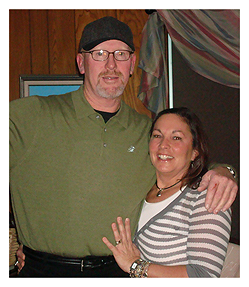 Sandy and Joanne McCullough were first on my list. They own McCullough Pet Sitting, in Lower Township, which they run out of their home, located near the foot of Canal Bridge. They work it both ways – either they come to your house or your pooch comes to theirs. But book early, because they are without doubt the most popular sitters in town. A friend of mine told me that when her pampered pooch hears the McCullough van, she (the pooch, not the friend) demands to be let out so she can greet the McCulloughs personally.
S.T.: How long have you been married?
Joanne: Eight years. We married Feb. 25th.
S.T.: Where did you meet?
Sandy: I've known Joanne all my life. We grew up in West Cape May. I lived on York. She lived on Broadway. So, literally right around the corner.
Joanne: My mother says I've been in love with Sandy since I was eight years old. We did go out in our early 20s, but I guess we weren't ready. But we've known each other since elementary school.
S.T.: Where were you married?
Sandy:At the Rusty Nail [on Beach Avenue at the Coachman's Motor Inn and Restaurant.] We had the whole place to ourselves.
Joanne: Rev. Robert Davis married us.
S.T.: What inspired the pet sitting business and when did you start it?
Joanne: We started it in March of 1997 because my kids [Matthew, age 17, and Taryn, age 14] were little and I wanted to still work but from home. My girlfriend started something like it, but she didn't take pets into her home. And I thought with all the tourists coming through here [maybe there's a need for this.] I only put one little ad into the paper and I couldn't believe the response.
S.T.: What did you guys do before you started McCullough Pet Sitting?
Sandy: I was a roofer working with the family business. My father died in 1982 and then I continued working for my brother.
Joanne: I worked as a dance instructor with the Joanne Regan Dance Studio [She been with Joanne Regan since was she was nine years old.] I was a legal secretary as well.
Sandy: When Jo said she wanted to start a pet sitting service I thought well, whatever. But I stayed with the roofing business.
Joanne: One year I went away to Florida and I said [to Sandy] you have to take time off and help me with this business and he did.
Sandy: That winter the weather was really bad and I was taking time off at lunch to run home and help with the dogs and my brother said, "One of these days you're going to work the dog thing full time." Sure enough that winter the weather was really bad and we had no work and I just never went back. That was in 2001.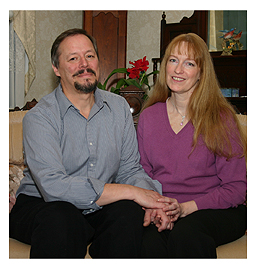 And they've been happily sitting ever since with a business which they share and the time to spend with their children.
Who spends more time together than innkeepers? One of the nicest couples in all Cape May – Toby and Andy Fontaine – decided they weren't spending enough time together. Toby went out one day and found a house which they turned into the Bayberry Inn on Perry Street. Toby took the time to tell us how it all started.
S.T.: How long have you been married?
Toby: We'll be married 32 years this coming April.
S.T.: How and when did you meet?
Toby:We both went to kindergarten at Sandman Consolidated School, but I don't remember him. Half way through the school year, Toby's parents moved and Andy remembers "the girl with the long blonde pony tail" who got away.
S.T.: Where did you move to?
Toby: Cape May. I went to Cape May Elementary School.
S.T.: So when did you get together?
Toby: Halfway through our senior year at Lower Cape May Regional High School on a skiing trip. Andy [an avid skier] was in charge of helping the girls when they fell in the snow. We became friends. We weren't really interested in anything serious.
After graduation the two went their separate ways – Toby to Jacksonville, Florida to be a groom at a Gater Downs Race Track (she has been an equestrian most of her life), and Andy to North Carolina where he planned to work his way from east to west across the state working at cabinet making companies. This worked out pretty well for him until he found himself in Tennessee with no work. Toby and Andy had kept in touch, and it seemed the natural thing to do to call on Toby down in Jacksonville.
Toby: We've been together ever since. That was Dec. of '75. We were married in April of '76.
S.T.: What did you do before you opened the inn?
Toby:Andy was a custom carpenter. He specialized in kitchens and kitchen remodeling. I was a stay-at-home mom. We had a daughter, Kristen, who is now 28. We moved to Cape May Court House. We lived in a log cabin, raised goats, made cheese…
… and generally were one with the earth. The problem was Andy's business was way too successful and once their, now 13-year-old, son Ryan came along; they both wanted more of a family life where they shared the business.
S.T. When did you come back to Cape May?
Toby: The day I put Ryan into kindergarten, I went into Cape May looked for a property and found this one (223 Perry Street), and that's the property we bought in Dec., 1999. We opened our doors as a B&B in 2000. It's been eight years and we still like the life of the innkeeper. It has been good for our family. We like sharing the everyday responsibilities of running an inn. Now they're ballroom dancing and raising orchids.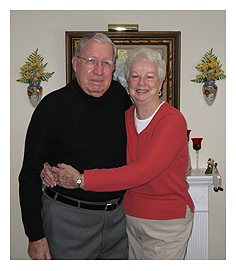 It can't be easy to be married to the mayor even in a small town. Cape May Mayor Jerry Inderwies has held the reins since July 1, 2001 and before that headed up the city's Public Works Department, but he and Lydia always keep their love of Cape May in the forefront. And for both of them – it was love at first sight.
S.T.: How long have you been married?
Mayor: 49 years.
Lydia: It will be 50 years Nov. 8.
S.T.: How did you meet?
Mayor: [They were living in North Jersey.] I was engaged at the time and my fiancée and Lydia were friends of the bride. Lydia was in the bridal party. When we got to the wedding reception friends introduced us and there was no place for Lydia to sit. My fiancée said, "Well don't you sit on Jerry's lap?" [And she did.]
Lydia: Somehow or other you managed to ask me to dance.
Mayor: Shortly thereafter I broke off the engagement. I went into the army from 1956-1958. As soon as I got out and returned home I called Lydia up. It was the 4th of July and I asked her to go to the fireworks with me.
Lydia: And we had a nice time and we kept dating.
Mayor: Within six months we were married.
Lydia: Not even six months. Five.
Mayor: And I was so afraid to ask her father if I could marry her. In those days you asked the father for his daughter's hand in marriage. But he said yes.
S.T.: How did you end up in Cape May?
Mayor: We honeymooned in Atlantic City – the honeymoon capital of the world – and while we were there I said, "I want to take you somewhere." We drove down to Cape May. I thought the town was so beautiful I wanted to show it to her. The first time I visited Cape May was in 1952. The trip was a graduation present from my aunt and we stayed at the Carpi Hotel. It was brand new and we were one of the first guests. In those days, you could stand in the kitchen and see the sunrise. There was nothing there except the playhouse.
Lydia: [For her it was love at first sight.] I was so struck by the idea of sand in my shoes. We vacationed here throughout are first years of marriage and I said to Jerry, "If you ever find yourself out of a job, I want to move to Cape May."
His job as an electrical design engineer did come to an end, but then the couple purchased two Shell gas stations, one located in Union township (Union County) and the other in bordering Millburn Township, (Essex County). When they sold them, they moved to Cape May. That was in 1967. They have three children – daughters Sue and Jennifer were 3 and 4, respectively. Their son Jerry was born in Cape May. Jerry is now the fire chief and is married and raising his own three children here on the island.
Mayor: Jerry did all the things city kids wished they could be doing. He'd spend all day at the beach. He was a lifeguard. And now he's raising his three girls here in Cape May.
Lydia: We just love it here. We love this town.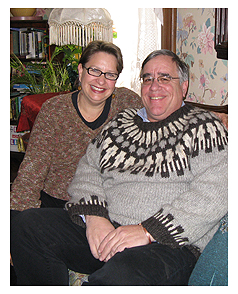 Talk about togetherness – Pam and Mark Kulkowitz run both the Carroll Villa and The Mad Batter Restaurant on Jackson Street. Some how or another they managed to sit down for 20 minutes in the lobby of the Carroll Villa and talk to us.
S.T.: How long have you been married?
Pam: Twenty-five years in Feb. [She casts a sidelong look at Mark] What's the date Mark?
Mark: Ah, [WAY too much hesitation here and a look of deer-in-headlights] 17th?
Pam: The 26th.
Mark: [Looking a bit sheepish, yet smiling] I thought it was closer to Valentine's Day.
ST: (To Pam, hoping to bail Mark out) Do you know the date?
Pam: Well I got married, bought a house, and got pregnant all in the same year. I remember the date.
ST: Moving right along then, how did you meet?
Pam: I was working for Harry [Mark's father and the man who started the Mad Batter Restaurant] here at the restaurant. I was shopping at Sound Coop on Texas Ave. and this guy came in with a furry hat and I said to my girl friend, "Who is that funny looking guy with Harry Kulkowitz?" And my friend said that's his son, Mark. Mark's sister fixed us up. I wonder if that's why she didn't come to the wedding?
Mark: I'd just gotten out of the army where I was stationed in Germany – I trekked through Europe from Oct. 15 to January 15. I got back to Cape May that day.
S.T.: Where did you get married?
Pam: In the living room of our house on Pearl Street. There was a huge snowstorm the week before. There were just a few people there. My sisters and a couple of friends. We didn't invite our parents. We were married by [West Cape May] Mayor [Jack] Vasser. We wrote our own vows and Mayor Vasser read us a poem he'd written. He was a sweet man.
S.T.: Have you worked restaurateurs and innkeepers the whole time?
Pam: Our whole married life – well we went to Philadelphia from 1980 to 1982 – I worked as a social worker and Mark worked for a Philadelphia company and delivered food for meals on Wheels in the Germantown area, but then we came back and we've been here ever since. He still has that furry hat.
Mark: Yeah where is that hat?
---
So, this Valentine's Day take a tip from these good folks and relax, enjoy and come to Cape May where love blooms and flourishes. Must be something about the water.