Feeling romantic? Well, why not. It is February. And if you want the feeling to last once the blush of Valentine's Day is over we have just the thing for you. Piano soloist Steve LaManna released his fifth album, Lady Fair in November and the CD accomplishes two things – it brings the sound of Cape May into your living room as well as the feeling of romance all in one listening.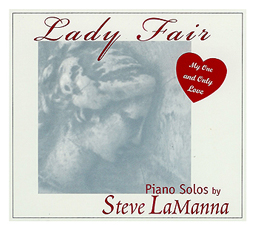 LaManna is virtually a Cape May institution. He came to the island nearly 20 years ago. We talked to him via the phone just recently and he told us how it all got started.
"When I decided I wanted to do piano solo, I went out and got business cards made with the intention of passing them around to anyone who looked like they might want a pianist for their restaurant. My first stop was the Virginia Hotel."
His business card depicted a keyboard with a knife and fork over it which read; "Music for hungry lovers, light and digestible."
The new owners had just completed a major renovation of the circa 1879 hotel/restaurant. The Virginia Hotel and the Ebbitt Room opened in the summer of 1989 with a pianist, but when Steve walked into the hotel in the winter of 1990, the desk clerk showed Steve's business card to the hotel owner who was so impressed with it that he asked Steve to play a bit. He played for two hours and was hired for the Wednesday night spot starting in February. Then he was put on Fridays for the Happy Hour crowd, and by the summer of 1992 he was the sole soloist entertaining hotel guests and diners for the 5-start restaurant for the next 17 years.
"The manager [of hotel]," said Steve, "asked me to establish a following. I set my heart to the task and to develop a repertoire to accommodate that venue. I knew I needed a huge repertoire."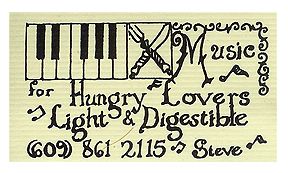 Steve's goal was to be able to play 24 hours of "solid" music. No, he didn't play 24 hours a day; he wanted to be able to play non-stop, without a break and without repeating a single tune.
"It was sort of an adventure," he said of the initial experience. "Someone would say, 'Hey, do you know?' and I'd say, 'No, can you tell me who wrote it, or who sang it?' Then I'd go home and learn the song and play it the next week."
It wasn't very long before he accomplished his goal. The body of work which has evolved is enough to fill five CDs, with the promise of another one – Lady Fair II – in the near future. Steve and Lila, his recording engineer, are also planning an album of Leonard Cohen music.
But we wondered how the concept of Lady Fair came to be?
"Actually, my wife Lila and I were talking about the next recording, [It has been ten years since Ivory Moon was released] and she sort of jokingly suggested calling it Lady Fair because I have so many ladies who like to hear me play, and I have a large repertoire of songs with the word lady in them."
Case in point: Lay, lady, lay; Winter Lady; Lady; Lady Jane – well, you get the idea.
Steve had so many "Lady" songs ready for recording that Lila said, "You have to stop." And stop they did at 13.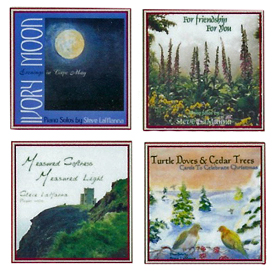 Lady Fair also marks the first time the couple recorded at their South Dennis home. Steve said they used to rent studio time in Philadelphia, but the recording of his second album; Measure Softness Measured Light, done in Ireland amidst a quiet, bucolic background, made them start to consider their home as an ambience more suited to the nature of Steve's music. Their home also comes with the added bonus of Steve's having his beloved Steinway B at his finger tips.
Steve's most ardent fan, Lila couldn't resist getting on the phone.
"I've been listening to this interview and this man is just too modest," she said. Steve has so many stories about playing at the Virginia Hotel that he's thinking about compiling them."
Tales from the Piano, maybe?
"He has such a devoted following," she goes on to say. "And he, in turn, is equally devoted. Did you know he never took a break while playing? He'd play straight through. Steve tell her the story about Michael Laird's dog."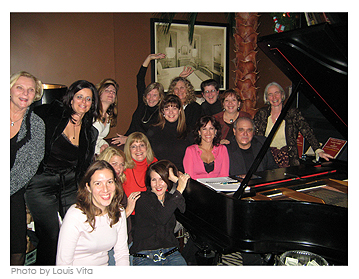 It seems the late Mr. Laird, founder of Cape May Stage, now the Robert Shackelton Playhouse, went on vacation and left his devoted Cairn terrier, Buddy with Angel to puppy sit. Angel brought Buddy into the hotel to hear Steve play one night and sat behind the piano with him on he lap. Steve turned away from the piano and to say hello to Buddy and the adorable pup bit Steve on the nose. Without a moment of hesitation, Steve turned back to the piano and stated playing, blood running down his nose.
"And you know," he says of the incident, "your fingers have muscle memory so they kept playing and I kept saying to myself; 'What if the bleeding doesn't stop? What if I have to go to the hospital?' " All this we imagine to the tune of what? Lara's Theme?
One of his ladies' fair came to his rescue and ran for a towel and some ice and eventually the bleeding did stop.
The next night when Steve arrived at work there was a vase of flowers on the piano and little note which read:
I'm really sorry about my behavior last night. Signed Buddy
So, it's just not the ladies that fall into line when Steve sits down to the piano.