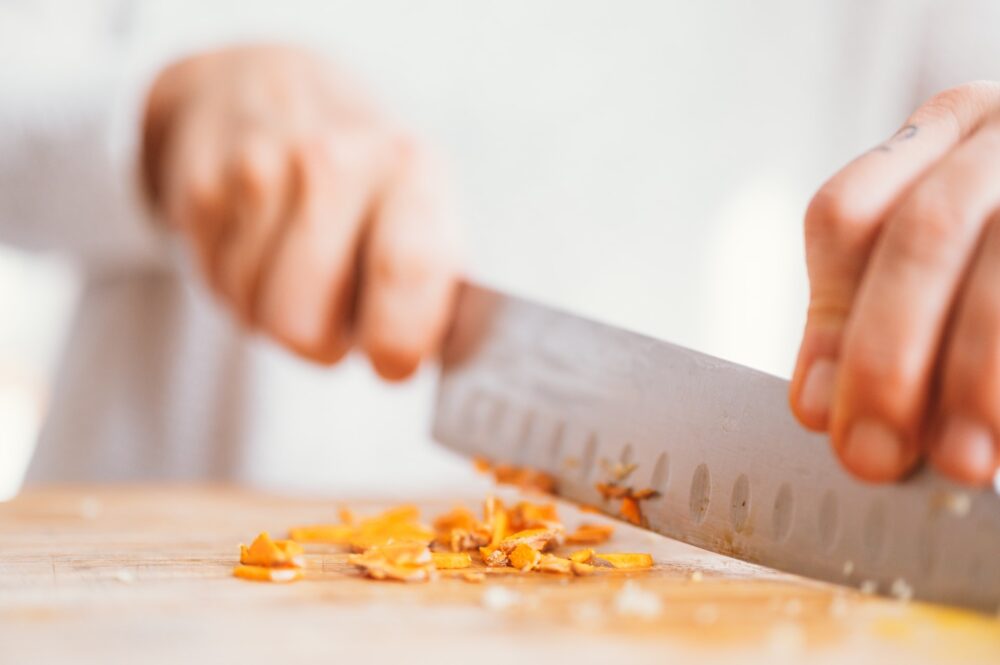 Disney got it right!  After watching Ratatouille again, the message came through loud and clear: Find your inner chef and anyone can cook. This is the mantra I have been shouting for years.
So how does one go about finding their inner chef? First start small, cooking like music, painting and even sports require focus and working on the basics. Most people don't sit down at a piano and play Beethoven flawlessly. Attempting a soufflé or beef Wellington on your first foray into the kitchen is just as unrealistic.
So where to start in the kitchen? Start with knife technique and learning to work a sauté pan. I hear the grumbling now, "I want to make food and feed people." Start with western omelets. Practice dicing onions, ham and green peppers. Work on controlling the knife and making the food all the same size. Consistent cuts make for food that cooks evenly and eats evenly. Cooking an egg is an easy task to accomplish yet a hard one to perfect.
Andres Soltner, the famed Alsatian Chef of Lutece in New York, used to audition his dinner cooks by having them make an omelet. His reasoning being, that perfectly cooked eggs require a delicate touch and care to execute. The patience and care it takes to make a perfect omelet – soft golden, no touches of brown – requires heat control and cooking with all your senses. You need to listen to the butter hit the hot pan, swirl it gently. Watch it melt, looking for hot spots. Whisk your eggs well, a splash of milk or water will add some steam and lift to your omelet. Next comes moving the eggs around just enough, then letting them alone to set at the right time, a quick flip and add your toppings, or you can sauté them first and then add your eggs. It's all a matter of personal preference.
Sounds complicated. I just took 250 plus words to describe making an omelet. Lincoln used 246 words to detail the State of the Union in the Gettysburg Address. The point is that cooking is a free flowing art that words and technical manuals cannot adequately explain. The key is repetition of a dish and technique so it flows from your heart and soul and not your brain. I have screwed up many a simple dish by over thinking and not following my instincts.
The patience required in making perfect omelets will show in the rest of your cooking.
Take this approach with everything you make. Don't follow the recipe blindly, but understand it first. Read the recipe and make note of what equipment you need and set it aside. Read the recipe again and look at the ingredients look to see how they will be prepared i.e. sautéed, baked, boiled. Understand how long they will cook for and when and how you will season. Look to see how the dish should look. Chop and assemble all your ingredients. At this point when all the tools are assembled, all the food is prepared to begin cooking, and you comprehend the recipe – then you are ready to cook. Professional chefs call this Mise en place, a place for everything and everything in its place. Follow these guidelines and you will discover even classic intimidating dishes will be easy to cook. Try this approach with the following two dishes Coq Au Vin and Beef Stroganoff. One guideline regarding the use of fresh herbs: in quick cooking dishes, they should be added near the end. Use dried herbs for dishes that require longer cooking.
Enjoy conquering these classics. Until next month, Bon Appétit.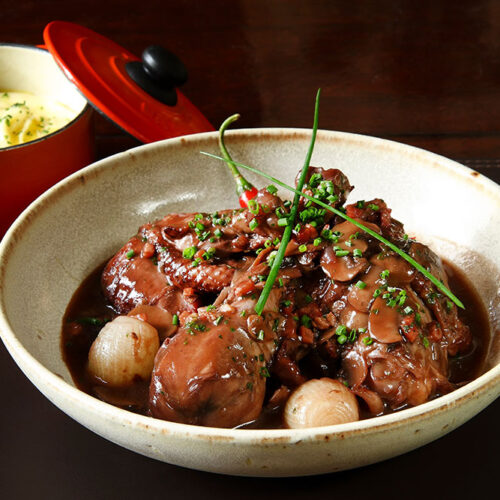 Coq au Vin with Cognac
This recipe is similar to the classic version made famous (in America) by Julia Child. In France, an old rooster would be used.
Equipment
Large saucepan with lid or Dutch oven

Wooden spoon

Tongs

Cutting board

Chef's knife

Whisk
Ingredients
Slab bacon cut it ¼" x 1 ½" strips

1 3

Pound

chicken cut into 8 pieces

dried thoroughly

¼

Cup

olive oil

¼

Cup

cognac

Kosher salt

black pepper

2

Bay leaves

½

Teaspoon

dried thyme

24

Pearl onions

peeled

¼

Cup

seasoned flour

3½

Cups

red wine Cote du Rhône

or burgundy

2

Cups

chicken stock

2

Cloves

minced garlic

½

Pound

mushrooms

quartered
Instructions
Heat pan. Add olive oil. Brown bacon until crisp. Drain. Remove. Set aside.

Flour chicken. Brown in oil and bacon fat. Remove. Set aside.

Sauté onions. Lightly deglaze with cognac.

Add chicken back in.

Add thyme, bay leaves. Cover. Simmer 10 minutes.

Add red wine. Simmer 5 minutes.

Add garlic and chicken stock. Simmer, covered 25 minutes.

Add mushrooms. Simmer 5 minutes until mushrooms are cooked.

Add bacon back in. Remove chicken. Simmer until sauce coats back of spoon.

Spoon sauce over chicken. Garnish with fresh chopped parsley.
Beef Stroganoff
Ingredients
2

Pounds

beef tenderloin

julienned

1

Large white onion

julienned

3

Cups

mushrooms quartered

2

Tablespoons

Dijon mustard

1

Dozen cornichons

quartered

6

Ounces

sour cream

3

Tablespoons

flour

Salt and pepper

2

Cups

beef stock

1

Pound

egg noodles

cooked

3

Tablespoons

chopped parsley
Instructions
Heat oil in heavy sauté pan. Season beef. Brown quickly in oil, small batches at a time.

Add butter. Sauté onions. Add mushrooms. Sauté 4-5 minutes.

Dust with flour. Stir until absorbed.

Add warm beef stock. Simmer.

Add mustard and cornichons. Simmer until sauce thickens and flour taste is cooked out.

Add beef back in. Whisk in sour cream. Season with salt and pepper.

Reduce heat. Simmer serve over buttered egg noodles. Garnish with chopped parsley.