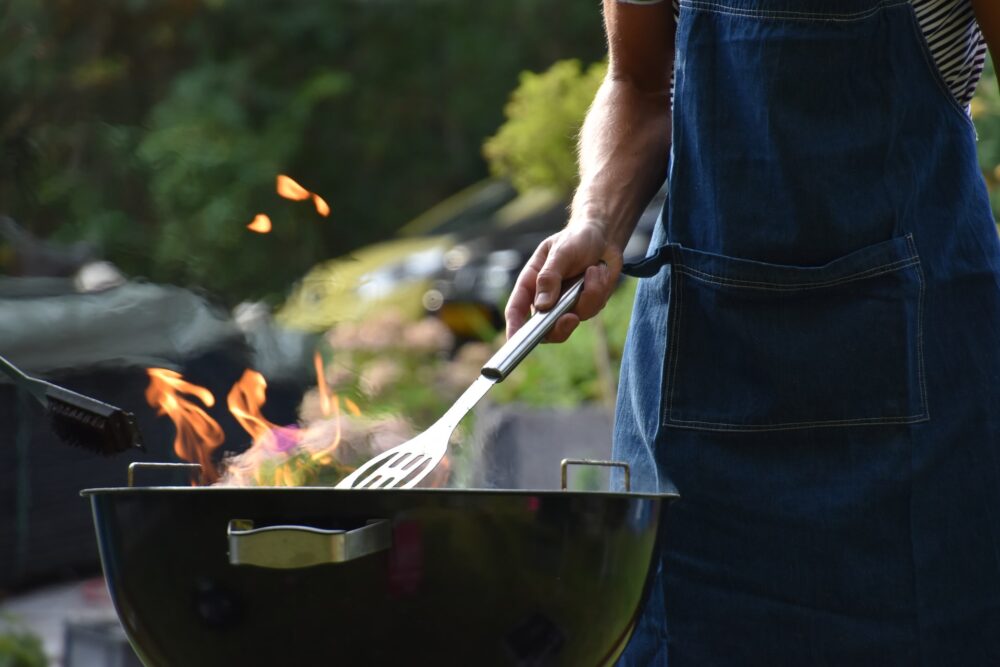 We sprang forward last month and Easter is already behind us. That means it is time to brush off the leaves and cobwebs and fire up the grill.
As much as I love bar-b-que pork ribs and brisket, I am really looking forward to grilling fish. There is something about fish on the grill. The slight char and smokiness plays off the inherent oiliness of fish. One of my favorite fish to grill is salmon. Because of its fatty nature, salmon lends itself to the dry heat nature of grilling.
In the Pacific Northwest where salmon is king, they have a unique cooking method that works equally well on a grill or in the oven. Cedar planked fish has long been popular with Native Americans from coast to coast wherever cedar trees grew. This cooking method capitalizes on the unique scent of cedar. Cedar planks are available in gourmet food stores, but save yourself some money and visit that bastion of gourmet ingenuity – the lumberyard. Make sure you get untreated wood. I like ½" or ¾" thick boards so you can get multiple uses out of one piece. Have the board cut into 8"-10" pieces for individual fillets or make it as long as your grill or even allow for sides of salmon. Make sure you soak the plank overnight. Weigh the board down so it stays submerged.
Marinate your salmon fillets for only 20-30 minutes. Fish will absorb the marinade quickly and over-marinating can make the fish mushy. Place the fish on the planks and roast according to the recipe that follows. If using the grill, make sure it stays covered and have a spray bottle of water on hand to wet the board if necessary. Hint: Shooting flames is an indication that the board needs more moisture. The fish is excellent as is or can be served with morel (edible wild mushroom) cream sauce.
Another treat to enjoy are sourdough pancakes. Sourdough was the lifeblood of our pioneer ancestors. Sourdough starter allowed pioneers to have breads or pancakes on their journey west.  Some restaurants and bakeries in the west have starters that have been kept alive for over 150 years.  Sourdough originally was made by using wild yeast before commercially cultivated yeast was available. If you feed your starter weekly or repay (put some mix back into your starter jar after each use.) you can keep it alive indefinitely.  Sourdough pancakes aren't as light and fluffy as their buttermilk counterparts, but their distinct flavor and texture are a culinary treat from a by-gone era.  The same starter can be used for breads and rolls as well. Sourdough is still popular in the west today. The starter, once fermented at room temperature, takes about 3-4 days and can be kept in the refrigerator indefinitely – as long as you feed it once a week (it is a living breathing organism.) 
Enjoy these treats from the left coast as well as Pacific Oyster Stew and Berry Nectarine Tart. Until next month, Bon Appétit.
Cedar Planked Salmon with Morel Cream Sauce and Braised Lentils
Ingredients
Salmon
1

Cedar plank

soaked

1

Side salmon

skin removed

3

Shallots

minced

4

Cloves

garlic

minced

2

Tablespoons

brown sugar

2

Lemons

juiced and zested

2

Tablespoons

olive oil

1

Tablespoon

parsley

1

Tablespoon

thyme
Morel Cream Sauce
2

Shallots minced

2

Cloves

garlic

1

Cup

Madeira

2

Cups

morels

2

Tablespoons

parsley

1

Teaspoon

thyme

2

Tablespoons

butter

3

Cups

cream
Braised Lentils
2

Cups

cooked lentils

1

onion

diced

4

Cloves

garlic

minced

2

Teaspoon

curry

1

Cup

peeled crushed tomatoes

2

Cups

stock

Salt and pepper

2

Teaspoons

minced ginger
Instructions
Salmon
Soak cedar plank for 1 hour. Mix marinade. Rub over salmon. Let sit one-half hour.

Place salmon on plank. Roast at 400° for 20 minutes. Brown under broiler.

Serve with lentils and morel cream.
Morel Cream Sauce
Melt butter. Sweat garlic and shallots. Add morels. Sauté over high heat.

Deglaze with Madeira. Reduce by half.

Add cream. Reduce until thickened.

Season with salt, pepper, parsley and thyme.
Braised Lentils
Sauté onions, ginger and garlic.

Add lentils and curry. Stir well.

Add tomatoes and stock. Season. Simmer until thickened.

Finish with chopped parsley and green onions.
Pacific Oyster Stew
Ingredients
3

Tablespoons

butter

4

Strips thick slab bacon diced

4

Stalks celery finely diced

½

onion finely diced

½

Red pepper finely diced

Splash Worcestershire sauce

Splash Tabasco

1

Pint

oyster in liquor

1

Cup

sherry

3

Cups

cream

Fresh black pepper

Kosher salt
Instructions
In saucepan brown bacon. Remove.

Add butter, celery, peppers and onion into bacon fat. Sauté until soft.

Add bacon, oysters, sherry and cream. Simmer until oysters curl.

Season. Garnish with fresh parsley. Serve with oyster crackers.
Sourdough Pancakes Alaska Style
Ingredients
Basic Sourdough Starter
2

Cups

flour

2

Cups

warm water

¼

Ounces

active dry yeast
Pancake Recipe
1

Cup

starter

1

Cup

flour

1

Cup

water

1

Egg

1

Tablespoon

vegetable oil

1

Tablespoon

granulated sugar

½

Teaspoon

salt

½

Teaspoon

baking soda
Instructions
Starter
Add yeast to warm water. Let stand 10 minutes. Add flour. Cover loosely. Let sit room temperature three days and feed.

Repaying the starter: If you use 1 cup of starter, add back ½ cup water, ½ cup flour mixed.

Feeding the starter: Add 1 cup flour, 1 cup water once a week.
Pancakes
Mix 1 cup starter with 1 cup flour and 1 cup water. Cover loosely. Store overnight in warm place.

In the morning, stir mixture. Remove 1 cup and repay starter.

To remaining mixture add egg, oil, sugar, salt, and baking soda.

Pour ¼ cup batter onto hot oiled griddle. Cook until brown around edges. Flip. Cook until golden brown.
Huckleberry Nectarine Pie
Ingredients
Pie crust
1

Cup

all-purpose flour

1

Teaspoon

sugar

Pinch

salt

¼

Cup

canola oil

2

Tablespoon

cold milk

2

Tablespoon

ice water
Berry Filling
2

Cups

mixed berries – huckle

blue, black

4

Nectarines

pitted and sliced

⅓

Cup

sugar

2

Teaspoons

lemon zest

1

Tablespoon

cornstarch

1

Tablespoon

heavy cream
Instructions
In medium bowl sift together dry ingredients.

Stir in oil and mix with fork to the size of peas.

Stir in milk and mix until dough starts to form.

Add enough water to form smooth ball.

Flatten into disk. Wrap in plastic wrap. Refrigerate for 30 minutes.

Preheat oven to 375°.

Mix berries, sugar and zest. Let sit 5 minutes.

Add cornstarch and mix well.

On a lightly floured surface, roll the dough into a 10" circle.

Transfer to cookie sheet. Spread filling in the center, leaving a 2" inch border.

Fold the edges over filling, overlapping dough into folds.

Brush cream onto the dough border and sprinkle with sugar.

Bake for 35 minutes at 375°.

Cool for ten minutes. Serve warm.