Well, spring and is officially here. Ted worked a lot of chopped leaves and all sorts of compost into our sandy garden. He made the rows and limed them well as we have very acidic soil. I did the fun part and dropped or sprinkled the seeds. We made a double row of peas, a thick patch of radishes and patches of the greens and a few rows of flowers.
I planted sweet peas, larkspur, calendula, and poppies along a section of the fence.  Hopefully the mild temps and moisture will encourage them to pop up soon.  It is important for the plants that need a cool growing season to develop and bloom before the hot weather sets in.
The hours of daylight are longer since March 21, which also encourages plant growth. Just remember that newly planted seeds need lots of moisture when they send out their first seed root to absorb moisture and then seed leaves to capture light and make food.
We planted both flowering sweet peas and the vegetable sugar peas. We love both!
Sweet Peas, If You Please
If you haven't already planted your sweet peas, it is the time to do it now. I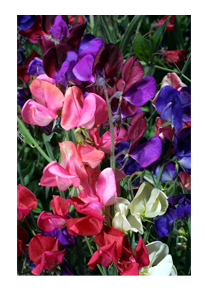 love the neon colors of these intensely fragrant flowers, but they also come in many pastel shades. The sweet pea or Lathyrus odoratus is a highly scented annual of the Leguminosae family. An individual bloom consists of three or four flowers (or florets) on a stem.
Almost all seed companies have some sweet peas from which to choose. Many heirlooms, heat resistant and cutting sweet peas are found in the Renee's Garden seed line.  Just keep in mind these wonderfully sweet posies need a cool time in which to grow and bloom. They can be planted in our area any time from late March to the middle of April. Good mulch, frequent watering and soil rich with compost will help insure bloom for a much longer time.
In cool climates like New England, and northern European countries these flowers bloom all summer. In our area they often die out when it gets very hot in July and August, but a good soil and adequate watering, as well as picking the dead blooms off will lengthen their bloom time. If you manage to get them through the summer they will continue to bloom in fall as long as they are deadheaded, watered and fed.  I love their bright colors and sweet fragrance and try to keep them blooming in my garden as long as possible.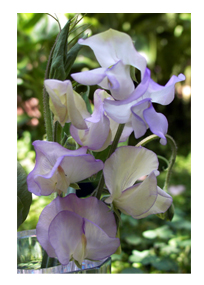 They were one of the first bouquets I was given on our initial trip to Poland in 1990. Imagine my surprise and delight when my cousins met us at the airport with sweet pea bouquets in mid summer!  On our second trip to Poland, Ted and I biked around the forest area of Bialowieza. Here we saw beautiful, quaint little cottages built of rustic wood where the gardens were an absolute riot of colors. The cool summer in this northern region allowed flowers that bloom only in the spring here in the Delaware Valley to blossom all summer there.
Most noticeable to me were the sweet pea vines on fences, trellises and porch railings. The colors were almost neon and the fragrances sweet and spicy. They were just everywhere along with poppies, hollyhocks, roses and also a great variety of other annual and perennial plants.
I have always tried to grow garden peas for eating and sweet peas for cutting flowers. Some years I don't get them in the ground early enough, but this year we already have both planted. Although it is said by some to soak the seeds before planting, others say this stresses the seed, especially if left in water too long. Just plant and be sure the soil is kept moist and they will sprout well.
Next is good watering and food. I now use Osmocote® on most of my plants for continuous feeding. Organic matter is also of utmost importance with sweet peas. This is an easy-to-apply, time-release, granular fertilizer that is applied in small amounts to the top of the soil. Being a time-release fertilizer, it allows food to be released each time the plant is watered. Water often in warm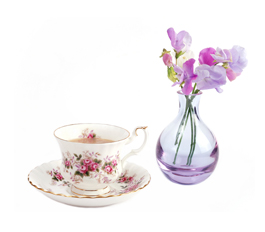 weather and mulch to keep roots cool. Pick often to keep blooms from going to seed, as well as to enjoy as a fragrant cut flower.
Try to find old-fashion seeds for the best fragrance. Seeds named Cupani are said to be one of the oldest varieties. Father Francis Cupani, an Italian monk in the 1600s, was a botanist who discovered them and first collected the seeds. They soon became a favorite with the royalty. To this day, sweet peas are very popular as a cut flower in Europe.
There are many sweet pea seeds available in England and people grow them for entry in flower shows. Folklore suggests to plant sweet peas before sunrise on St. Patrick's Day, but any time soon will do. Just be sure to do it soon or the warm weather will zap the plants before they get a chance to bloom.
For more articles on timely garden topics check out under articles,www.tripleoaks.com.