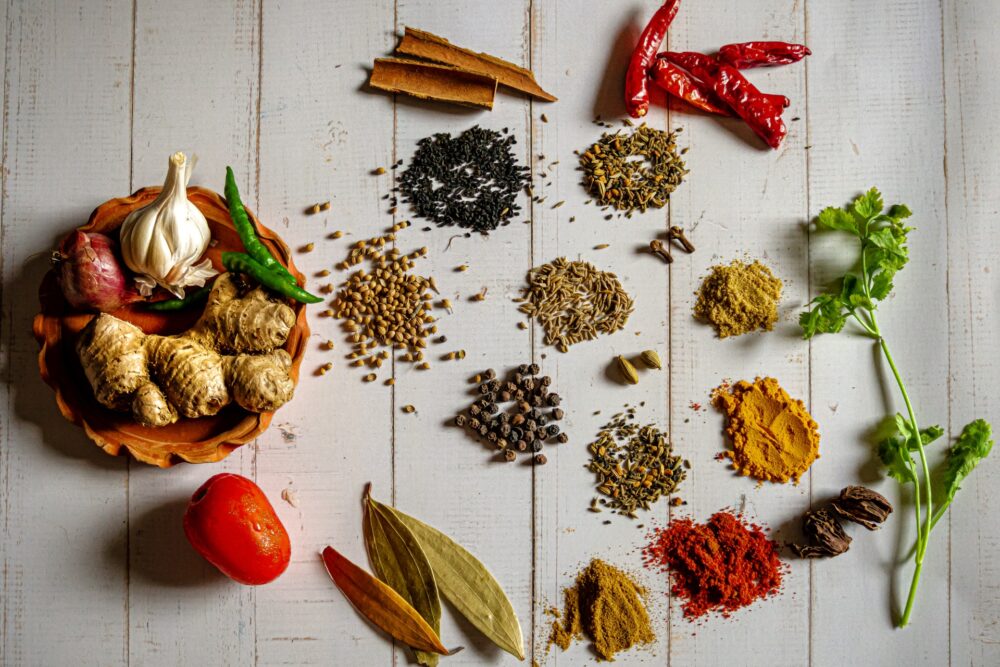 Culinary focus in the United States has had a definite Euro-centric slant. In recent years Asian cuisines have become more popular and mainstream. But one Asian flavor is still largely misunderstood in America. Curry. The fluorescent yellow curries of the past made from jar curry powder are about as authentic as Ragu is to a true Italian spaghetti sauce. These have thankfully made way for Thai, Vietnamese and true Indian curries. Indian curries vary widely from region to region. Spice powders are often used, but the spices are most often roasted and ground together according to family recipes. The aforementioned neon yellow curry is Madras Curry and was developed to be shipped back to England for the curry addicted colonial masters.
Here is a simplified Indian Curry Primer which illustrates the major difference in Eastern and Western culinary traditions. Most Indian Cuisine is influenced by the Hindu philosophy of Ayurveda derived from the Sanskrit words ayus, meaning span of life and veda, meaning knowledge. This philosophy recognizes that different substances affect the body and mind in different ways. Combining the same ingredients in different proportions will have separate effects on the mind and body (I wonder what the effects of Twinkies and McDonald's French fries have on the mind and body.)
This philosophy is shared with two southeastern Asian countries that also are known for curries –Thailand and Vietnam.
Ayurveda characterizes food and drugs three ways: by taste; potency; and function. The basic tastes are: sweet, sour, salty pungent, bitter, and astringent. Potency is defined as the action the spice has on the body. An example of function would be the fact that figs and dates are both sweet, but figs have a purgative property.
The most important step in making curries is in choosing the fat oil in which to fry the spices. This is called ghee otherwise known as clarified butter. The base, if non-vegetarian, is always stock usually made while simmering the meat or meat on bone in the curry.
The second base, or thickening agent, could consist of onions, nuts or coconut milk. Flour is not used for thickening in Indian cooking since it does not contribute to flavor.
To complicate matters even more, the same ingredient may function differently in various recipes. For example, onions lightly fried or pureed will thicken, but if browned may function more for taste and color.
The most complex part is in adding the spices which is dependant on which spices you choose; the sequence in which they are added; whether they are fried or boiled, and for how long. Other components include souring agent (like lime, green mango yogurt and tomato,) and the coloring agents (tumeric, saffron, red tomato and garam masala – if fried for 1 minute in hot oil.) Spices also have two other roles: taste and aroma. This part confused me at first since all spices have tastes and aroma. But understanding how some are more dominant in one area than another teaches you how to customize your curry.
Don't be caught in a curry conundrum. Play with the spices and see how the end result changes. The true joy of cooking curries comes from a highly personal expression through food. This month curry favor with your guest by cooking the Indian Vindaloo or the Thai inspired curries.  Enhance them with Roti bread, cucumber raita, and green chutney. Until next month, Bon Appétit!
Lamb Curry Vindaloo
Ingredients
¼

Cup

red curry

1

Teaspoon

cumin seeds

6

Cloves

1

Cinnamon stick

10

Peppercorns

½

Star anise

1

Teaspoon

poppy seeds

2

Tablespoon

chopped ginger

6

Cloves

garlic

1

Tablespoon

tamarind

4

Teaspoon

cider vinegar

1/3

Cup

oil

3

Onions chopped

1½

Pounds

lamb stew meat

½

Teaspoon

palm sugar
Instructions
Grind all spices with vinegar. Rub meat with ¼ of prepared spice mix. Marinate 15 minutes.

Heat oil in pan. Sauté onions 15 minutes until brown.

Add remaining spice paste. Cook five minutes (add water if necessary).

Add lamb. Cook 5 minutes.

Add 4 cups water, salt and palm sugar. Cook over low heat until tender.
Masoor Dal Red Lentils
Ingredients
2

Cups

red lentils

10

Cloves

garlic

1

Medium onion

diced

3

Tomatoes

chopped

1

Tablespoons

ginger

chopped

3

Green chiles

chopped

1

Teaspoon

ground coriander

½

Teaspoon

cumin ground

1

Teaspoon

red chile powder

2

Teaspoon

lime juice

1

Teaspoon

butter
Instructions
Wash lentils. Soak 30 minutes.

Cook lentils in 7 cups boiling water. Bring back to boil. Add salt and all ingredients, but oil and two cloves garlic. Cook for 30 minutes.

Add lime juice. Mash until smooth.

Fry garlic in oil 1 minute, add to Dal. Serve.
Cucumber Raita
Ingredients
1

Cup

yogurt

1

Cup

cucumber

peeled and chopped

Salt and pepper

Dash cumin

½

Teaspoon

sugar

Dash paprika

1

Teaspoon

cilantro

chopped
Instructions
Mix all ingredients. Chill.
Tomato Raita
Ingredients
1

Cup

yogurt

1

Tomato

chopped

2

Tablespoons

minced onion

Salt

pepper, cumin
Instructions
Mix garnish with cilantro
Green Chutney
Ingredients
1

Cup

mint leaves

1

Cup

cilantro leaves

2

Jalapeños

1

Onion chopped

Cumin

salt, pepper

½

Teaspoon

sugar

2

Teaspoons

lime juice
Instructions
Puree all ingredients, except lime juice.

Add juice. Mix well.

Cover and refrigerate. Lasts 2 days
Roti
Ingredients
2

Cups

cream of wheat

2/3

Cup

warm water

4

Teaspoons

oil
Instructions
Mix cream of wheat and water to form dough.

Add oil. Knead 5-8 minutes.

Rest one hour.

Break into 12 pieces. Roll on floured bowl.

Cook on flat griddle, turning twice. Press with spoon if necessary.
Green Thai Curry
Ingredients
4

Chicken breasts

sliced

2

Cups

coconut milk

1

Onion cut in squares

1

Red pepper cut in squares

1

Green pepper cut in squares

2

Tablespoons

green curry paste

4

Tablespoons

fish paste

2

Tablespoons

chopped basil

1

Tablespoon

palm sugar

Lime zest
Instructions
In small amount oil, fry curry paste 3 minutes.

Add vegetables. Cook one minute.

Add coconut milk. Bring to boil.

Reduce to a simmer. Add chicken. Simmer until done.

Adjust seasoning.
Shrimp Lemongrass Curry
Ingredients
2

Tablespoons

peanut oil

2

Cloves

garlic

thinly sliced

2

Stalks lemongrass

peeled, cut into pieces

2

Red peppers

julienned

4

Tablespoons

yellow curry paste

3

Tablespoons

fish sauce

4

Tablespoons

yellow curry paste

2

Cups

coconut milk

1½

Pounds

shrimp

½

Cup

basil

½

Cup

cilantro
Instructions
Heat peanut oil. Add garlic and lemongrass. Sauté until golden.

Add pepper. Sauté one minute.

Add curry paste. Sauté one minute.

Add fish sauce. Add coconut milk. Simmer five minutes.

Add shrimp. Cook until done.

Toss with cilantro and basil.