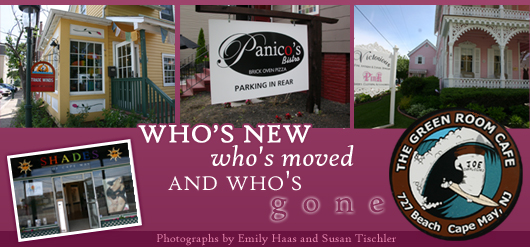 A walk about town is always interesting this time of the year – many merchants have relocated, others have moved on and there are, as usual, a few new kids on the block. So, let's take look at the summer of 2008's merchants' line-up.
Let's begin with the Washington Street Mall – center for all retail in Cape May and fresh from a recent re-do – th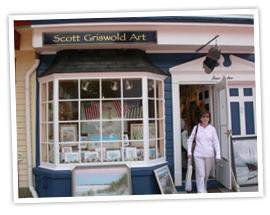 e rededication of which will take place June 21 at 10 a.m. The 500 block is pretty steady with no changes.
Over in the 400 block, we noted one change – the former Rick's Café which changed over to Delaware Bay Coffee Company, which last year changed toFigs, changed again before the summer ended to Café Buon Giorno. It still serves a wickedly good cup of java and you can still get a breakfast treat and a light lunch there. One big change in the 400 block is the renovation of the building which up until last year housed Jewelry Emporium and Nostalgia Shop Antiques  The building underwent a major renovation by Jackson Mountain Café owner Mike Slawek and is expected to open within the next month or so as Cape May Fish Market. It should also be noted that Mike bought The Ugly Mug Café last summer from Bob and Lisa Ransom – so it is under new ownership.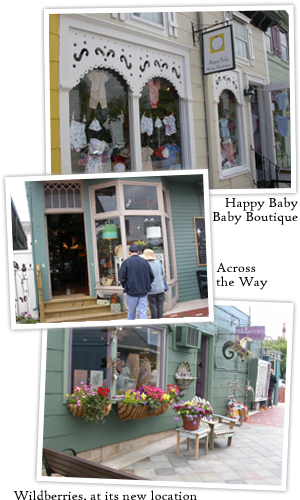 Cape May on Canvas has changed its name toScott Griswold Art. For those of you who remember The Market at the Bubbling Well, which housedCreate-A-Bear for several years, that building is still vacant.
Some big changes over in the 300 block, the most noticeable being the major renovation of The Lynn Arden Children's Shop which closed in the fall and still has not reopened – but they look close to opening their doors any day now. The original circa 1916 building was demolished and a new three story a structure went up in its place. Around the corner,Wildberries moved from their Jackson Street location to Sawyer's Walk in the 300 block, which was home to Tides of Time which has moved to the Pink House cottage, formerly Uniquely Yours II (the small pink cottage behind the Pink House on Carpenters Lane). InWildberry's place is a new shop called Happy Baby Baby Boutiqueand right next door is another new shop (Wildberries had both locations) Cape May Sandal Shoppe. The Golden Gull is gone.Across the Way is in. This eclectic gift store is owned by the people across the way – Pam and Steve Smarro of Madame's Port fame. Balance Yoga Studio is gone from upstairs at Stumpo's Pizza. They moved to Park Center on Park Boulevard in West Cape May.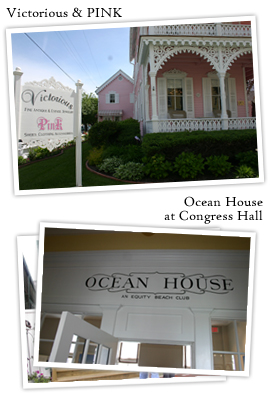 Moving around the corner to Perry Street, the big change there is the recent opening of Pink, a jewelry and clothing boutique owned and operated by the people who runVictorious in Congress Hall andVictorious II in the Washington Commons. Across the street the shops of Congress Hall have undergone some huge changes, most of them in the "gone" category. Gone are: The Museum Shop,Environs, 30 Degrees. Laura's Fudgeleft last year. Tommy's Folly has expanded into the form Museum Shop and across the aisle where Environs and 39 Degrees once were, are the sales offices for the soon-to-be built Ocean House, formerly The Rusty Nail Restaurant andCoachman's Motor Inn on Beach Avenue.
Over at Washington Commons, theHenna Shop, which opened last year, is gone. In its place is a clothing boutique called Go Fish. Right next door was a vacant store which at one time wasCandlessence now has a new tenant – sort of. Riptide East, which sells college sports apparel, opened Riptide West, across walk and is a professional sports apparel shop. W.C. Gallery split his store in half to make way for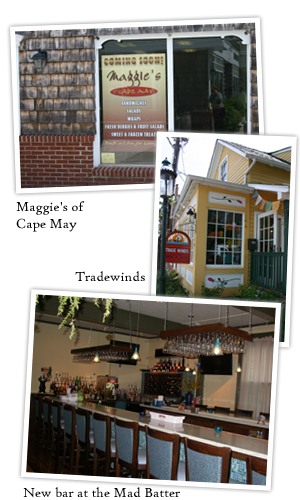 Maggie's of Cape May, a sandwich shop, which will be opening in the near future. Good news for the customers of the very popular Paw Prints. The original owner sold the store a couple of years ago. The new owners left and the original owner is back. YEAH! Boardwalk Bankmerged with Cape Savings Bank, on Jackson Street, and is now Cape Bank. So Boardwalk Bank is gone.Homestead Realty is in.
And speaking of Jackson Street, make sure you check out the Mad Batter Restaurant's new bar, built entirely from "green" materials. It looks like a great way to stop have a cocktail and order some food. They are promoting music, like Jazz at theBatter on Wednesday nights with more to come as summer swings into gear.
Along Washington Street, GooseCreek gift shop is gone. Nothing in its place as yet.
Now where are we? Oh, let's pop over to Carpenters Lane. Last summer Lynn Arden's Children Shop opened a satellite store in the cute yellow building on Carpenter's Lane. Lynn Arden's is gone. BUT, guess what? Lizzie Fritz ofTradewinds fame is in. At the Merry Widow, Ocean Isle Tans is gone. Desatnick Real Estate is in.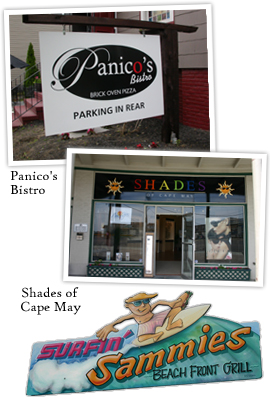 On the beachfront, make note that theBeach Theatre's demise was exaggerated and is back under the new management of the Beach Theatre Foundation. Every ticket you buy helps the theatre stay and keeps the condos they want build there instead out. Next to the box office –Create-A-Bear is out. Shades of Cape May is in. Louie's Hot Dogs of Louie's Pizza fame is in. The spot was vacant last year and occupied by Beaches &Cream the year before. Lu-Lu's, at the Macomber Hotel is gone. Green Room Café is in. Also gone is – and can you believe it – Mother Grimm's Bears. But you can still order your bears at 886-1200 or by visitingwww.mothergrimmsbears.com. Around the corner next to Louis' Pizza, Art and Soul Paint Your Own Pottery is gone. Amassage place is in but at press time, they didn't seem to know the name of their establishment.
On the promenade Godfather's is gone.Surfin' Sammies Beach Grill is in.
Over in West Cape May on Panico's Brick Oven Pizza is in. Captain Blackbones is out. Cape Wallpaper and Flooring on Park Boulevard, next to Flying Fish Studio and Linen Outlet is out. Media in Motion is in.
Well, that's the scoop for summer 2008. Give the new kids on the block a try and please keep patronizing the tried and true. If we've forgotten anyone, give us an email.