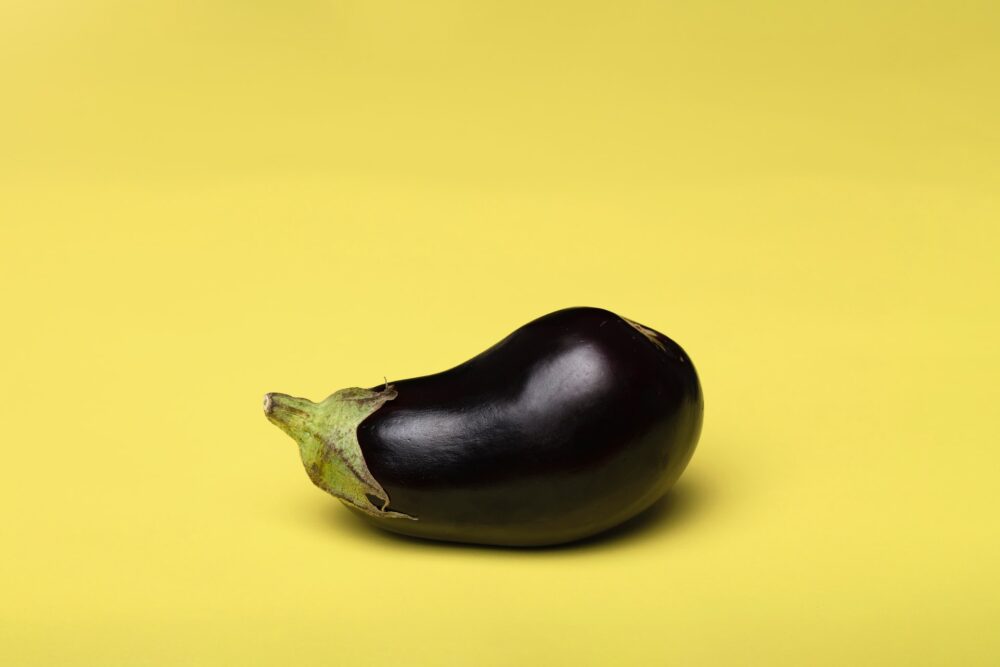 One of the joys of living in the Great Garden State is summertime produce.
New Jersey corn and tomatoes get the big press and for good reason. They are well liked summer vegetables and Jersey grows some of the best in the world. But there is the ugly step-sister of produce, one people either love or hate. It doesn't have the sex appeal of tomatoes or the iconic appeal of being a staple of Native Americans and early settlers. But this vegetable, technically a berry, is delicious and versatile. I am talking about that purple oblong absurdity the eggplant.
Eggplant – a member of the nightshade family just like potatoes and tomatoes – originated in India and Asia. That's right. This staple of Mediterranean meals wasn't introduced to Europe or the Middle East until well into the middle ages when Arab traders brought it home from their Asian trips. Due to its membership in the nightshade family, the eggplant was once thought to be poisonous, a fact not helped by its sometime bitter taste. The bitterness is caused by the tiny soft seeds which contain trace amounts of nicotine alkaloids. No, eggplant is not a gateway vegetable that will lead you to smoking tobacco (another cousin plant) or to hardcore vegetables like turnips and rutabagas.
Eggplant is bitter when raw, but with careful handling and preparation, it yields a golden buttery taste and texture.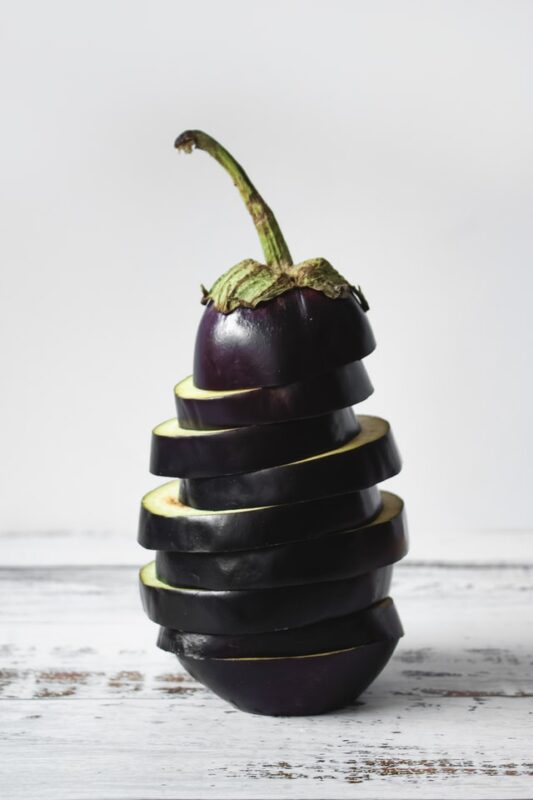 When preparing eggplant you have a couple of choices to make. First, is skin on or off? The eggplant skin is technically edible, but is difficult for some people to digest. The skin also provides structure. Without it the flesh will be shapeless. Next choice is whether or not to salt the eggplant then rinse it to help remove the bitterness. Some modern varieties of eggplant are less bitter and don't require this step, but due to the varying types of eggplant, it is a step that, in most cases, I prefer to take.
Eggplant has a unique capacity for absorbing fats and sauces. The salting process affects the ability of the eggplant to absorb fats. Aubergine (what the French and English call eggplant) is also incredibly versatile. It fries well, can be stewed, roasted, grilled, sautéed or baked. It features prominently in many cultures from its Indian birthplace where it takes starring roles in curries and chutneys to the Balkans and Greece where it is the backbone of the classic Moussaka. Then onto Italy where it is Melanzane alla Parmigiana. In the Mid-East it is roasted and combined with tahini in Baba Ghanoush – a wonderful spread and great fun to pronounce. In France it is the principle ingredient in the classic Ratatouille, the dish not the movie. In America it has taken a prominent role on the grill and in vegetarian sandwiches. Its versatility is not only in cooking methods, but its ability to absorb and take on flavors while still maintaining its own unique flavor and texture.
Before this summer is out embrace that oblong purple berry and try these eggplant dishes Baba Ghanoush, Moussaka and Grilled Eggplant Tomato and Goat Cheese "Sandwiches." Until next month, Bon Appétit.
Baba Ghanoush
Ingredients
1

Large eggplant

1

Clove

minced garlic

¼

Teaspoon

kosher salt

⅓

Cup

chopped flat leaf parsley

2

Tablespoons

tahini paste

2

Tablespoons

lemon juice

3

Tablespoons

olive oil

Pita bread for serving
Instructions
Prick eggplant with fork. Roast in 400° oven for 20 minutes. Let cool.

Split. Scoop out insides place in food processor.

Add remaining ingredients, except olive oil and pita bread. Process until smooth. Drizzle in oil.

Serve with warm pita bread.
Moussaka and Bechamel
This dish has three parts – preparing the eggplant, the meat layer and the béchamel – that are combined and baked en casserole.
Ingredients
Moussaka
3

Pounds

eggplant

sliced lengthwise ½ thick

Kosher salt

Black pepper

⅓

Cup

olive oil

1½

Pounds

ground lamb

1

Diced onion

5

Cloves

minced garlic

1

Teaspoons

oregano

½

Teaspoon

allspice

½

Teaspoon

nutmeg

1

Cinnamon stick

¼

Teaspoon

cardamom

Pinch

clove ground

2

Cups

tomato puree
Béchamel
¼

Cup

butter

¼

Cup

flour

3

Cups

milk

Pinch

nutmeg

3

Eggs plus 2 yolks

½

Cup

grated Locatelli cheese
Instructions
The filling:
In one tablespoon of olive oil, sauté onion. Add ground lamb and brown. Add garlic. Drain grease. Add spices. Cook 3 minutes. Add tomato puree. Simmer covered on low 20 minutes.

While meat is cooking, lightly dredge eggplant in seasoned flour. Fry in olive oil until lightly browned. Drain, reserve.
Béchamel:
Melt butter. Make roux. Add simmered milk (all but 1 cup). Whisk to avoid lumping. Season with salt, pepper, bay leaf and nutmeg. Simmer 10 minutes. Whisk eggs and yolks into milk. Temper into sauce. Reduce heat. Add ½ Locatelli.
To assemble in baking pan:
In a lightly oiled 9x13x2 baking pan, lay eggplant overlapping to completely cover pan top with a little meat mixture. Continue layers until all meat and eggplant is used. Top with béchamel and remaining cheese.

Bake uncovered at 350° for 1 hour. Let set for 15 minutes. Serve.
Eggplant, Tomato and Goat Cheese Sandwiches
Ingredients
2

Small eggplant

cut into ¼" rounds

¼

Cup

olive oil

4

Tablespoons

balsamic vinegar

Salt

black pepper

12

Basil leaves

12

Ounces

goat cheese

3

Tomatoes sliced
Instructions
Combine oil and vinegar. Brush on eggplant slices. Season with salt and pepper.

Top eggplant slice with goat cheese, tomato slice and basil leaves.

Top with eggplant. Secure with toothpick.

Grill 3-5 minutes on each side. Let cool 2 minutes. Remove toothpicks.