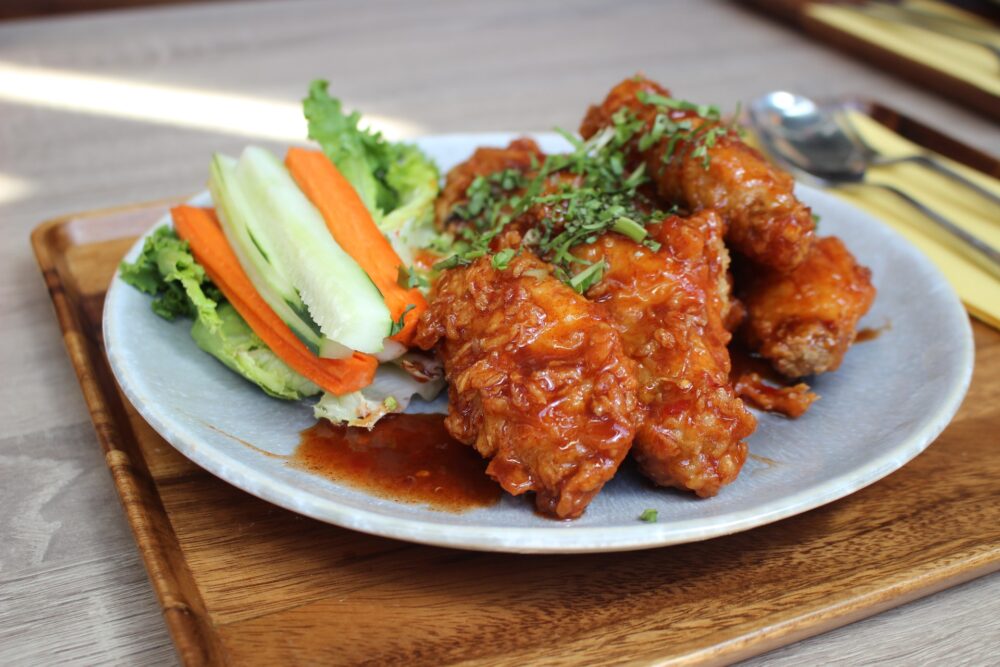 Inspiration has been a recurring theme for recent columns. It often comes from sources and at times we least expect. Being a chef has its perks and drawbacks. One drawback is everyone who has ever boiled water wants to talk food with you. So it was when I started at the Mad Batter on Jackson Street a few years ago. Imoved here after becoming tired of the corporate games of upscale hotels. Cooking for celebrities and VIPS in five star hotels made me a little full of my cooking abilities and myself. My arrogance must have shown when the maintenance guy at the Batter started talking to me about food. Here is this guy blaring Zappa in his workroom, looking a little like a Pine Barrens Version of a King of the Hill character, trying to talk to me about food. I was cursorily polite in brushing him off. But he barreled ahead with conversation anyway.
A few days later he brought in some wing sauce for me to try. Great, I thought, another amateur cook looking for validation. This was no doctored store sauce. This was the real deal. The searing pain of chipotles and serranos laced with habeneros was unmistakable. This sauce wasn't all heat but artfully layered flavors. I quickly brushed away my initial skepticism and said, "You got to tell me how you made this." To paraphrase Humphrey Bogart, "It was the beginning of a food friendship."
My friend Michael "Ish" Williams is not a professionally trained chef, but his food is a fusion of backwoods and Bocuse. He has given me the finer details of the proper way to cook muskrat and is a master of the grill and smoker.
Neither one of us works at the Mad Batter anymore, but we get together over at the Shrivers (current and former Batter chefs Chris and Lisa). With Ish and me, the conversation always centers around food – be it a discussion of a recent Alton Brown episode or some new ingredient one of us has run across. We gather together with fellow BBQers Chris Shriver and Joe Lotozo (another former Batter chef) each Sunday in the Shrivers' driveway to barbeque. The Shrivers' house is a kind of a culinary halfway house. Chris and Joe often regal me with tales of some legendary Ish Dishes of the past, such as the Infamous ISH-KABOB – lamb loin, figs, shallots and brandy-soaked apricots on a rosemary skewer, that ended up on Chris' menu.
One Sunday this summer, while enjoying a few cold beers in the driveway, Ish arrived with a mysterious foil packet. The result? After about 20 minutes on the grill, the most perfectly cooked striped bass. Ish prepared the bass in a coconut milk, curry sauce with mango that had us scraping the foil for every last morsel. I promptly adapted the dish for a fish grilling class at school.
A few weeks ago I ran into Ish in North Cape May and as usual we chatted about food and talked about some dishes we might grill at Chris' the next day. That next day Chris called. I expected our usual Sunday pre-football/grilling trash talking. Instead he told me our friend Ish had been in a bad motorcycle accident the night before and was airlifted to Atlantic City. Ish, get-well buddy. I have some classes coming up on southern country cooking. I need a good squirrel recipe.
This month, enjoy some recipes inspired by friend and culinary adventurer Ish.
Ish's Red Curry Striped Bass
Ingredients
1

Striped bass

1

Cup

coconut milk

2

Tablespoons

red curry

1

Stalk lemon grass split

1

Teaspoon

ginger

2

Tablespoons

Thai sweet chili sauce

1

Teaspoon

minced garlic

2

Scallions chopped

2

Tablespoons

cilantro

1

Large piece foil

1

Lime juiced

1

Mango peeled and diced

1

Stalk lemongrass split
Instructions
Clean bass.

Mix all ingredients in bowl.

Place bass on oiled foil. Pour over sauce/marinade.

Wrap fish tightly in foil. Grill 15-20 minutes.

Open. Serve with steamed rice.
Yes, it is true that I ran a similar striped bass recipe in the July 2008 issue of CapeMay.com, but I have to confess, Ish's is a notch above even my own concoction.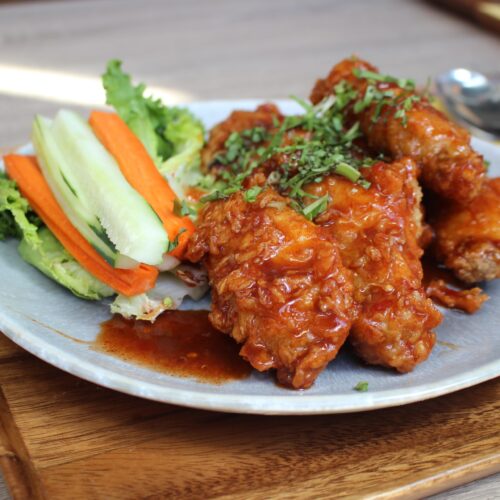 Wing Sauce of Death
Caution: This sauce is deadly. Use gloves while handling pepper and do not inhale deeply while cooking.
Ingredients
2

Habeneros seeded and minced

6

Cloves

garlic minced

3

Serranos seeded and minced

1

Can chipotles pureed

2

Sticks butter

1

Pint

white vinegar

3

Tablespoons

honey

1

Lime and lemon juiced
Instructions
Melt butter. Sweat peppers and garlic. Sauté 4-5 minutes. Do not brown.

Add vinegar, honey and citrus juices. Simmer 5 minutes.

Store in plastic jar. Serve with hot wings.