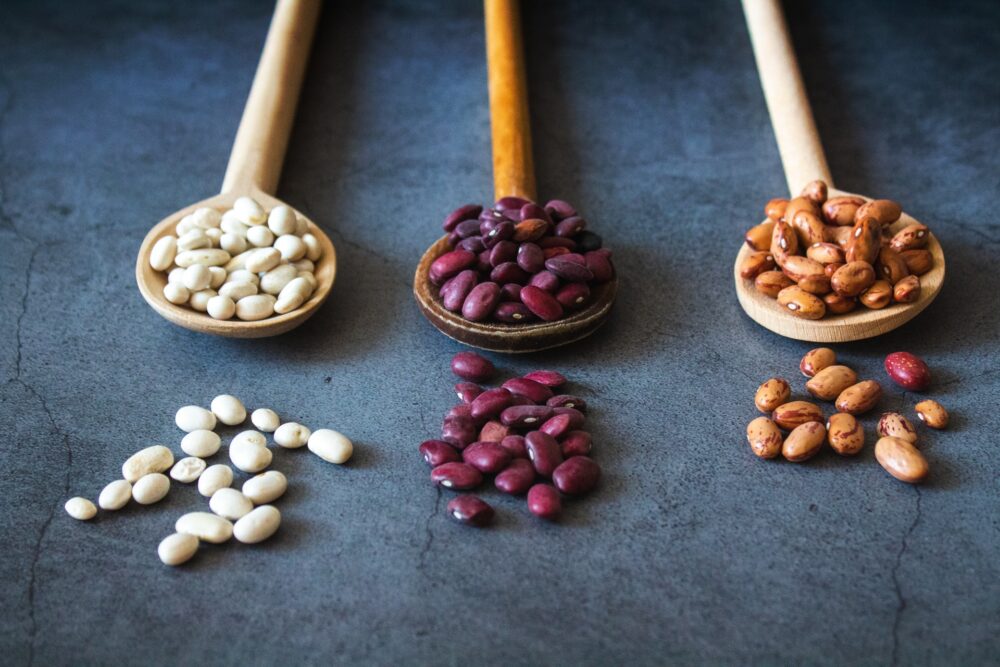 Jack sold the family cow for a handful of magic ones. Esau sold his birthright for a bowl of stewed ones. What prized culinary treasure led to these bad economic decisions? Truffles, Foie Gras, Kobe Beef? No. Legumes.
Legumes – that botanical family of plants that encompasses beans, peas, lentils, and even peanuts, has been a mainstay of the human diet since the earliest recorded histories. Their role in the survival of the human race cannot be overstated. Legumes are an important non-meat source of protein. This allowed poor hunters to survive, so much for Darwin. Legumes in the diet combined with rice to form an essential chain of amino acids that can make up for a lack of meat protein in the diet.
Although I have hugged a tree on occasion and sang a few verses of Kumbaya around the campfire, I will never be confused for a vegetarian. But legumes do not belong solely to the brown rice and Birkenstock crowd. In modern America, potatoes and rice are our starches of choice, but legumes were essential in Colonial times. A small piece of salt pork could add flavor and nutrition to a pot of beans. Sometimes the same piece of salt pork would be used for several batches of beans. They were used to feed the military as in, "Navy bean soup anyone?" And became synonymous with Boston. Beans do take a long time to cook. Traditional Boston Baked Beans can take upwards of five hours to make properly. Canned beans are readily available and are often substituted for the real thing. Don't do it, take the time and cook beans from scratch. The flavor and texture is worth doing it right.
If time is a major factor, then lentils are the legume of choice. Requiring no pre-soaking, lentils can be cooked from raw in a short period of time. There are many varieties of lentils including the common brown lentil, tasty but lacking eye appeal. The French Le Puy Lentil is my favorite. With an earthy green color and firm texture, they retain their shape well. Lentils like most legumes absorb flavors readily. Smoky flavors contrast with the earthy but neutral taste of lentils. Think of legumes as a blank canvas that is enhanced by your palette of spices and flavorings. Smoked turkey necks or wings can be used if you shun pork products.
The Black Beluga Lentil is more expensive, but makes an eye-catching presentation especially with salmon or Chilean sea bass.
Beans are the base of many outstanding national or regional dishes: Pasta Y Fagiole from Tuscany, Hoppin' John from the American South, and Cassoulet from France with its regional variations. Cassoulet is an earthy dish with goose, duck, pork and, or sausage changing slightly from region to region. This dish is not for the novice it is slow, time-consuming cooking at its finest, but the reward is worth the effort.
There are certain steps to take in preparing legumes. Rinse well and check for stones. Pre-soaking is essential for success with beans. If you get caught in a time crunch try placing the unsoaked beans in cold water. Bring to a boil. Drain and repeat the process three times. On the third time, cook until tender. Use these precooked beans in any preparation.
This month try Curried Lentils. Great by themselves or with grilled fish. Celebrate Mardi Gras with Hoppin' John. Or pour a glass of Chianti, pop in The Godfather and cook up some Pasta y Fagiole.
Until next month, Bon Appétit.
Soup Terminology
Mirepoix: Mixture of celery carrots and onions (usually 1 part celery, 1 part carrot and 2 parts onion) used in soup and stock making.
Singer: To dust with flour to help thicken a soup.
Stock: Flavored liquid from bones
Broth: Flavored liquid from meat
Roux: Equal parts flour and fat cooked and used as a thickening agent.
Hoppin' John
Ingredients
½

onion diced

1

green pepper diced

2

stalks celery diced

1

ham hock

2

cups

black-eyed peas soaked

1

cups

rice

1

piece

cooked andouille sausage chopped

1

bay leaf

3

cups

chicken stock

1

cup

bean cooking liquid

1

teaspoon

red pepper flakes

1

jalapeno pepper chopped

½

teaspoon

thyme

Salt

pepper

3

tablespoons

3

cloves

of garlic
Instructions
Cook black-eyed peas with ham hock and bay leaf until tender. Drain, reserving liquid.

In heavy saucepan, heat oil and sweat veggies.

Add sausage and spices.

Add rice and lightly toast.

Add peas and liquid. Bring to simmer.

Cover. Bake at 350° for 20 minutes.

Uncover, fluff with fork to release steam.

Add meat from ham hock. Season. Garnish with chopped green onions.
Masoor Dal Red Lentils with Cucumber Raita
Ingredients
2

cups

red lentils

10

cloves

garlic

1

medium onion diced

3 to

matoes chopped

1

tablespoon

ginger chopped

3

green chilies chopped

1

teaspoon

coriander ground

½

teaspoon

cumin ground

1

teaspoon

red chili powder

2

teaspoons

lime juice

1

teaspoon

butter
Cucumber Raita
1

cup

yogurt

1

cup

cucumber peeled and chopped

Salt and pepper

Cumin dash

½

teaspoon

sugar

Dash paprika

1

teaspoon

cilantro chopped
Instructions
Wash lentils. Soak 30 minutes.

Cook lentils in 7 cups boiling water. Bring back to boil. Add salt and all ingredients, but oil and two cloves garlic. Cook for 30 minutes. Add lime juice. Mash until smooth. Fry garlic in oil 1 minute. Add to dal. Serve with Cucumber Raita.
Cucumber Raita
Mix all ingredients. Chill.
Pasta y Fagiole
Ingredients
1

pound

sweet Italian sausage

1

cup

diced onions

1

cup

diced carrots

3

tablespoons

garlic

Olive oil

2

cups

peeled

crushed tomatoes with juice

Chicken and veal stock

Basil

Oregano

Locatteli cheese

Crusty bread

Extra Virgin Olive Oil

2

cans cannellini beans

Escarole or spinach

Crushed red pepper flakes

2

cups

cooked ditalini
Instructions
Brown sausage in olive oil. Remove meat.

Add onions, carrots and garlic. Sauté but do not brown. For thicker soup, dust lightly with flour.

Add crushed tomatoes, stocks, beans and greens. Simmer.

Add sausage meat back in. Season with herbs and cheese. Adjust seasoning and texture.

Serve in large bowls with bread and extra cheese. Drizzle liberally with olive oil.