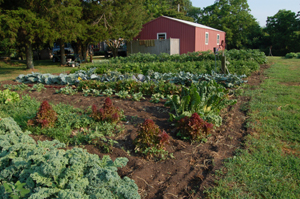 Spring is a time to celebrate rebirth and renewal. Soon the farmer's markets will re-open and fresh local produce will abound.
In the age of a global economy, where you can go into any superstore and buy any item at any time of the year, I ask myself, is this a positive trend? As a chef I enjoy being able to use fresh tuna from Hawaii or Barramundi from Australia and wild strawberries from France. But should I? This is the real question. With a few keystrokes on the computer or a couple of cell phone calls I can order anything from around the globe. But has this caused the food world to lose its soul? Have we grown so used to excess that we have lost touch with food and its origins? And finally, do we appreciate the sacrifices that are made to put food on our tables?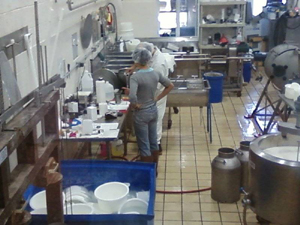 I recently had the opportunity to see one of my favorite foods being produced from start to finish. Dean Kelly McClay, CEC, CCE, of the Academy of Culinary Arts at Atlantic Cape Community College in Mays Landing, where I teach and otherwise known as my day job, arranged for us to visit an artisanal cheese maker in Long Valley, New Jersey. The scenery on the two-plus hour trip changed from coastal to Pine Barrens to rolling hills. At Valley Shepherd Creamery we were greeted first by goats and sheep and then we met Eran, the cheese maker. It is lambing season at the creamery and the birthing barn was busy with activity. Eran is a man who lives the old adage, "Find your passion and never work another day in your life." Working by sights, smells, sounds and textures, not formulas and spreadsheets, he transforms raw milk into wheels of creamy bleus and crumbly Gouda.
He sells his products to Manhattan's finest chefs, at farmers' markets and in his shop at the creamery where everything from lamb soap to lamb sausage is available.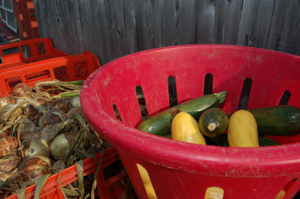 I will admit, it is a little disconcerting going from holding a newborn lamb to buying lamb chops, but this is the cycle of life. Then the thought hit me – as chefs we are part of this chain. We in the culinary profession have an obligation and responsibility to honor the sacrifices of the living entities, both plant and animal, that are the building blocks of our craft. Our place in the chain, from soil to market to table, is to use our best techniques, skills and talent to honor the ingredient. I am reminded of the opening scene in The Last of the Mohicans when Hawkeye chases down the deer and after killing his quarry, praises his brother deer asking for the strength and virtue of the deer to be transferred to him. Walking the aisles of the local mega mart and seeing the endless packages and piles of food, it is easy to forget the origins of foods.
Even in tough economic times we have so much more available to us than previous generations. Even though we have more, we have lost contact with the source and soul of food. We expect our food to always be there when we desire it. But it comes with a price. Locally we have seen the sacrifice of fisherman, most recently the crew of the Lady Mary.
As you prepare your next meal think of the long days the farmer or the fisherman who worked to the food to your table, and of the sacrifices made so you can eat. Take time and care in preparing the meal. Slow down. Savor each bite. Appreciate all the work that went into the plate that gives you sustenance.
As you prepare this month's recipes, consider the source of the food. Go to a fish market for the scallops, a farmers market for the produce, a local cheese store or butcher or baker. These craftsmen are also part of the chain of food, and too many of these skills are disappearing for sake of convenience and cost. This month prepare Warm Goat Cheese and Strawberry Salad, Grilled Lamb Chops with Morbier Polenta and Scallops with Grilled Asparagus Lemon Chardonnay Cream. Take your time and raise a glass of local wine to the craftsmen whose passion keeps these skills alive. Until next month, Bon Appétit.
Warm Goat Cheese and Strawberry Salad
Make your own lettuce blend. Don't buy a factory mass-produced field green mix.
Ingredients
For the salad
A blend of frisee

Boston bibb, red oak leaf and romaine lettuces, or your favorites.

Fresh local berries

whatever is in season
For the dressing
1

lime

juice and zest (maybe not local, but use organic)

1

orange

juice and zest (maybe not local, but use organic)

1

lemon

juice and zest (Maybe not local, but use organic. Do you hear an echo?)

1

minced shallot

1

cup

good olive oil.

1

sprig thyme
For the goat cheese
Goat cheese

1 ounce per person. Find a local cheese or one from an artisanal cheesemaker.

Flour

seasoned with sea salt and freshly ground pepper.

1

local egg

beaten lightly, with one teaspoon water.

Fresh bread crumbs from day-old bread with fresh chopped parsley.
Instructions
Toss lettuce gently with freshly sliced strawberries or whatever berry is local and seasonal

Gently whisk together dressing ingredients. Season with salt, pepper and a sprig of chopped fresh thyme. Toss with lettuces, dressing, strawberries and a handful of lightly-toasted almonds. Top with warm goat cheese.
Goat Cheese
Dip goat cheese in seasoned flour. Shake off excess and dip in egg wash then breadcrumbs. Refrigerate until firm. Heat small sauté pan. Add 2 tablespoons olive oil on medium heat. Fry goat cheese until golden brown. Turn. Cook other side. Serve on top of salad. Enjoy with a local Pinot Grigio or Riesling.
Lamb Chops with Morbier Polenta
There aren't amounts for the polenta ingredients since you'll make it to your preference.
Ingredients
2

four-ounce loin chops from your local butcher

Salt and pepper

1

minced shallot

½

cup

zinfandel wine

1

cup

veal stock

Sprigs of rosemary
Morbier Polenta
Polenta

Chicken stock

Milk

Butter

Salt

Shredded Morbier or artisanal Gruyere
Instructions
Season with salt and pepper. Sear in sauté pan with a little olive oil. Cook until medium rare. (The lamb has sacrificed enough; don't cook it until it is dry and tasteless.)

Remove lamb. Keep warm.

Add 1 minced shallot to pan. Sauté lightly.

Deglaze with local Zinfandel wine, approximately ½ cup. Reduce.

Add 1 cup veal stock. Reduce.

Add a few sprigs rosemary. Reduce.

Season. Serve with lamb.
Morbier Polenta
Polenta should not be thought of as a recipe, but as a ratio. For soft polenta, one part dry (the polenta) five parts wet. I prefer chicken stock and milk with a little butter. Season with salt. Bring to a boil. Whisk in polenta.

Lower heat and whisk to avoid lumping. Cook until mixture thickens and is smooth.

Fold in a good handful of shredded Morbier or artisanal Gruyere.

Taste. Add cheese until it tastes good, whisking to incorporate seasons.

Serve with lamb.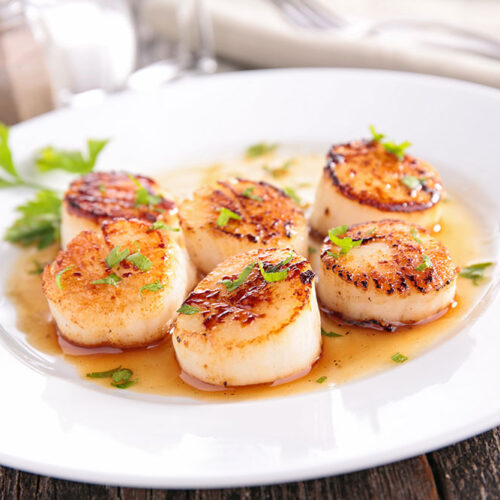 Scallops with Lemon and Thyme
Ingredients
5-6

U-10

size designation local Cape May scallops per person

Sea Salt and fresh black pepper

1

shallot

1

cup

chardonnay

1

tablespoon

fresh lemon juice and zest from the lemon

1

teaspoon

fresh thyme

5

tablespoons

butter
Instructions
Season with sea salt and fresh black pepper. Sear 4-5 minutes per side in a little clarified butter. Remove scallops.

Add 1 shallot, minced. Deglaze with 1 cup local chardonnay. Reduce.

Add 1 tablespoon fresh lemon juice and lemon zest plus 1 teaspoon fresh thyme. Reduce by half.

Whisk in 5 tablespoons butter, a little at a time whisking off the heat until butter is incorporated.

Serve with scallops and grilled local asparagus.