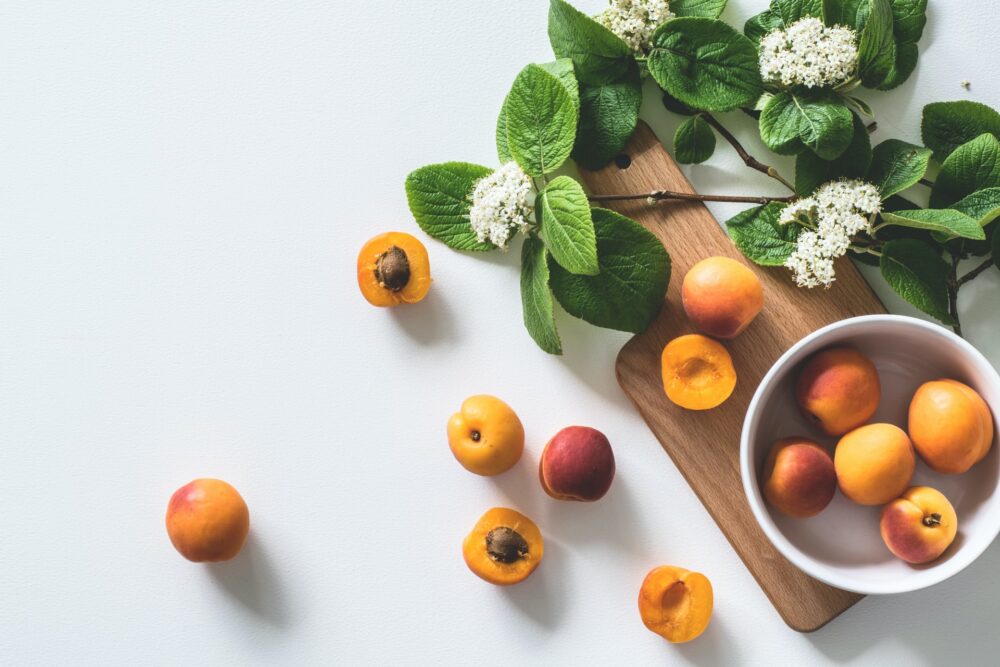 I can hear the grumblings already.  What kind of off-the-wall, hard-to-find and cook culinary item is a drupe?  Drupe is the botanical term for a fruit which has an outer fleshy part surrounding a shell containing a seed. The defining characteristic of a drupe is that the hard, lignified stone is derived from the ovary wall of the flower. Prominent drupes include coffee, mango, and olive, most palms, including date and coconut, and the entire genus Prunus. The latter includes the almond, cherry, nectarine, peach and plum. Blackberries and raspberries are aggregate drupelets.
The drupe is one diverse food group. The common denominator in culinary terms seems to be intense flavor. This makes for fun in the kitchen. The advantage of cooking with strong dominant flavors is that you just have to accent the flavor. When perfectly ripe, these fruits are a joy au naturel. Eating a ripe peach right off the tree is a summertime right of passage, while wonderful fresh peaches are great in pies and cobblers, the sweet flesh enhanced by cooking. Peaches are also delicious grilled and work well in savory dishes such as grilled pork and pulled barbecue pork.
Peaches are divided into clingstone and freestone varieties, referring to the relative ease with which the stone is removed from the flesh. In cooking and baking the freestone is preferred since it is perceived to be easier to work with.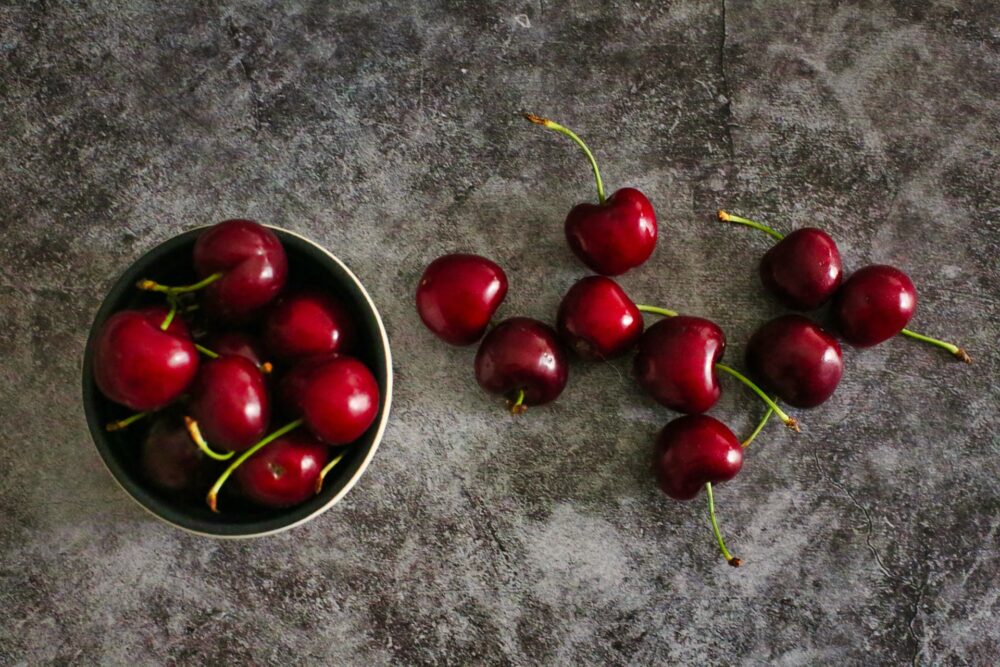 Of all the drupes, cherries may have the largest mythology surrounding them. We all grew up the tale of George Washington and the cherry tree. Cherries have also been linked in folk medicine to curing everything from arthritis to insomnia. For years these reports have been dismissed as old wives tales. But folklore is around for a reason. Recent studies show tart cherries contain significant amounts of melatonin. Melatonin is a hormone naturally secreted in the brain which has been credited with slowing the aging process and helping fight insomnia.
Life should include a bowl of cherries. Besides pies, cherries work in one of my favorite desserts – the French classic, Clafoutis. I was first turned on to this by a rerun episode of Julia Child. This is probably the most simple of all desserts. It is essentially a pancake batter that when baked becomes a light custard. Classically, this is made with fresh cherries with the pits still in them. Unless you have a fantastic dental plan I recommend pitting the cherries first.
Cherries also work great with chocolate – always a favorite combination of my Dad's.
The mysterious aggregate drupes, blackberries and raspberries, are summertime delights. Great in jams and preserves. I personally enjoy them fresh with a splash of Grand Marnier, a pinch of sugar and a scoop of vanilla ice cream. Blackberries and raspberries can be hard to tell apart, especially since there are red and black raspberries. The difference is that raspberries, both red and black, have hollow centers.
Get the drop on drupes this summer and make Peach pie, Cherry Clafoutis and Fresh Blackberries and Raspberries with Sabayon Sauce. Until next month, Bon Appétit.
Blackberries with Sabayon
This custard is also called Zabaglione
Ingredients
5

Egg yolks

⅓

Cup

sugar

⅓

Cup

Grand Marnier*

1

Cup

heavy cream

whipped stiff

5

Cups

blackberries or combination of berries
Instructions
Set up a double boiler with a pot of water and a stainless steel bowl. The water level should not touch the bottom of the bowl.

In stainless steel bowl whisk yolks and sugar until mixture turns pale yellow and ribbony (approximately three minutes). Whisk in liquor and place bowl over simmering water. Whisk vigorously over the water for 10 to 15 minutes until mixture triples in volume and reaches 140 degrees on thermometer. The egg will froth at first, and then stiffen. If the eggs start to scramble, remove from heat and whisk harder. Return to heat, continue. Cool mixture and serve with berries and cream.
Notes
*Marsala is traditionally used. I like Grand Marnier for berries, and occasionally even champagne. Be adventurous. Try different liqueurs or spirits. The ingredient may change, but the technique remains the same.
Cherry Clafoutis
Ingredients
1

Pound

stemmed and pitted fresh cherries

worth the work

4

Eggs

1

Cup

sugar

1

Teaspoon

almond extract

1½

Cups

milk

1

Cup

flour

1

Tablespoon

Peter Heering Cherry Brandy

Powdered sugar

Unsweetened whipped cream
Instructions
Preheat oven to 350 degrees.

Toss the cherries, brandy and half the sugar. Let sit 20 minutes.

In bowl whisk eggs and sugar. Add in flour and almond extract. Whisk in milk until smooth.

Divide cherries into 6 eight-ounce greased ramekins. Top with batter.

Bake 40 minutes until sponge-like. Cool five minutes.

Serve warm with powdered sugar or unsweetened whipped cream.
Peach Pie
Ingredients
2 9-

inch

pie crusts

Use your favorite recipe or buy pre-made

6

Cups

peaches

peeled and sliced

1

Cup

demerara sugar

⅓

Cup

plus1 tablespoon flour

½

Teaspoon

cinnamon

Pinch

nutmeg

Juice of 1 lemon

3

tablespoons

cold butter cut in pieces

Milk to brush top crust

Sugar to dust top crust
Instructions
In bowl mix sugar, peaches, lemon juice, cinnamon and nutmeg. Let sit 10 minutes.

Mix with flour.

Put in pie shell.

Dot with cold butter.

Cover with top crust. Crimp closed.

Brush with milk and dust with sugar. Cut vents.

Bake for 50 minutes at 375 degrees. Cool.